Beat / What can you tell about your musical life so far?
Louisahhh / My musical career thus far has been foundationally as a DJ since the early 2000s. I started doing vocals for artists like Danny Daze and Brodinski around 2010, and from there developed as a songwriter and producer, most often collaborating with Maelstrom, with whom I co-founded the label RAAR in 2015. This album is my most intentional move towards a more live sound that can work in context with a band. A lifelong dream in addition to the DJ sets!
Vice / I am a producer based in Los Angeles who has been making music since 1998. I have been lucky enough to have toured the world mostly making noise and have around 100 releases out.
Beat / You were involved in productions by Peaches and Ladytron, among others. What was your role there?
Vice / Peaches' "Rub" I produced, engineered and wrote. We did the whole album between her garage and my house over a two year period. It was really fun and I learned a lot through the process. In regards to Ladytron me and Mira Aroyo wrote "Paper Highways" and "Horrorscope" from their last self titled record. Those two songs in particular were fun because Mira wrote all of the drum lines. Since she is not a trained drummer she ends up making these really strange and interesting choices with her drum writing. As a lifelong drummer that is always really exciting to hear. I love working on music with that kind of creative atmosphere.
Beat / Louisahhh, you were born in New York but you live in Paris. Do you feel more like an American or a European?
Louisahhh / This is a complicated question! I moved to France at the behest of my then-label, Bromance, in 2013, not speaking any French, feeling totally like I was jumping out of an airplane and abandoning everything I knew for something new, which was kind of challenging as I'm kind of psycho-rigid.
I'm a person that finds change really chal- lenging. It's going on for eight years now and I feel like I'm kind of in a perpetual liminal state; not European but no longer American. I am real- ly happy and grateful to be living in France at this time, however, and I can't imagine going back to the USA any time soon, which is kind of sad.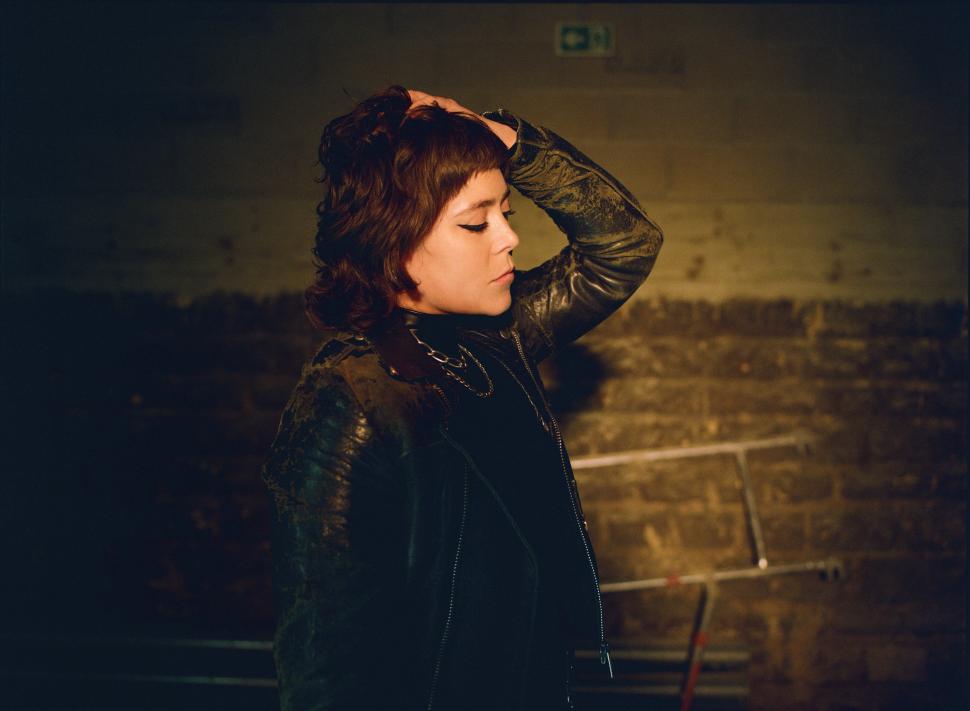 Beat / Your daily business is still the label work, right?
Louisahhh / Yes. RAAR is the label I started with Maelstrom in an effort to "make techno music for punks and punk music for techno-heads". Right now we're working on releasing Maelstrom's second album, "Rhizome", coming out on March 12, 2021. Things are rolling forward pretty smoothly, business-wise.
On a personal level, daily business is like ... staying creative and managing mental health with a lot of physical activity. Because we're still in a pandemic holding pattern, my day-to-day is very low key, mostly yoga, horseback riding, running, riding bikes and screaming into the void, interrupted by some live-stream DJ sets.
Beat / Where does the name Louisahhh with the three hs come from?
Louisahhh / Too much cocaine at its inception. I figure it's too late to change now. (laughs).
Beat / How did you two meet?
Vice / I believe it was through our mutual friend David Scott Stone who has played in the Melvins and LCD Soundsystem. Though honestly I don't clearly remember when or how we met.
Louisahhh / Yes, Dave introduced us. At some point Vice reached out and proposed that we make stuff together. That was around 2017. The first day went really well and I guess we just kept going.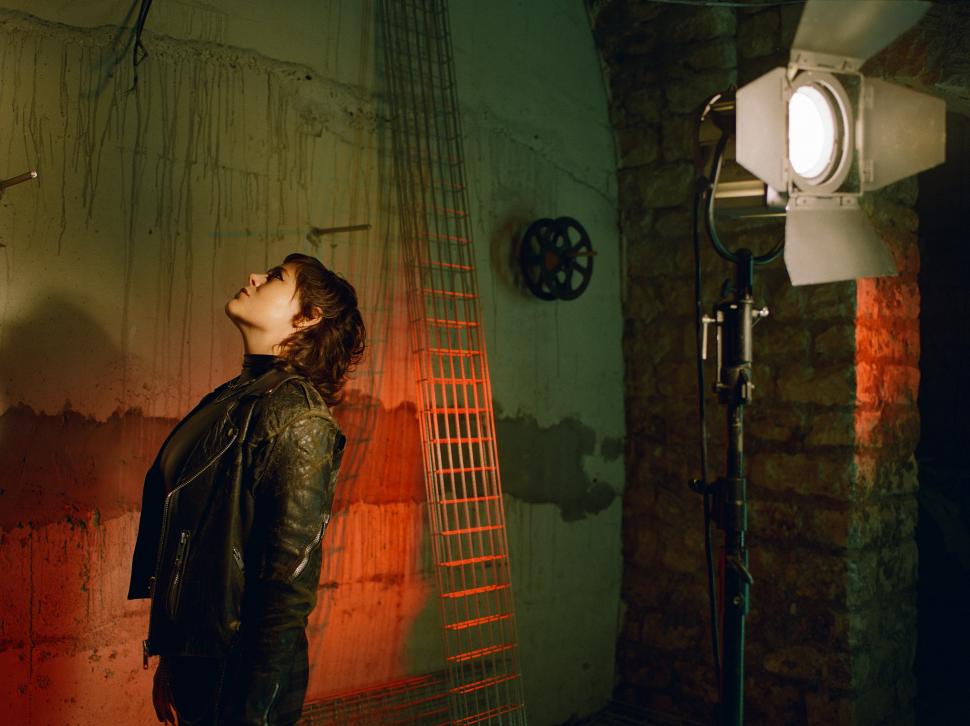 Beat / You mix techno with industrial, punk and alternative rock as well as many other influences. Which music influenced you significantly?
Louisahhh / I grew up on a lot of "women in rock". I was obsessed with Garbage and Shirley Manson, and this led me down the wormhole to discover Siouxsie Sioux, Chrissie Hyde, Patti Smith and Debbie Harry.
Other early influences were definitely more industrial and rock-centric: Nine Inch Nails, Iggy Pop, Elvis Costello, The Smashing Pumpkins and John Frusciante. Music with guitars AND drum machines was kind of the space that most inte- rested me, and low-key this is still what I'm into. Vice / Neither of us listens to any genre exclusively. I think our goal is to have something that sounds aggressive and interesting over it sounding like another band or a category of music.
Beat / What do you think is the essence of "The Practice Of Freedom"?
Louisahhh / I think this record is about both a departure from the safer world of club music, which can be very formulaic, and an arrival back at my roots of more song-structured, lyrical ideas. I also think the record is about retaining and becoming more emboldened in my inherent sonic aggression and the idea that the music is still very body-based. One can still dance to it, but it's really about something, it has guts. I am so grateful that this is the debut record, I don't know if I was ready earlier.
Beat / The music sounds very rough. Were there any tricks how you made the music so edgy?
Vice / Various distortions ...
Louisahhh / I think working with Vice was a real gift here as he is totally fearless sonically and is entirely untethered to any kind of "right way" of doing things. If it sounds cool, he will find a way to use it that is fucked up and innovative in equal parts. For me, a lot of the tracks were recorded using a shitty USB mic in generally imperfect conditions.
I think the "mistakism" of the actual recording process combined with Vice's healthy perfectionism and insistence and that Dave Pensado mixed the record made the whole thing sound really special and unique. It's both intimate and very violent.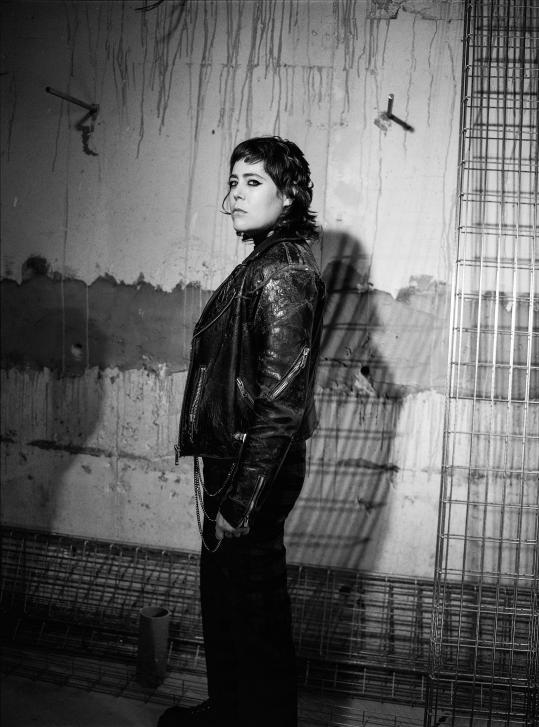 Beat / How does your collaboration work in detail?
Louisahhh / It's great to have a collaborator like Vice as I trust him very much in terms of taste and honesty. He will tell me when something is not working, and because he's really direct and has high standards, if he says something is good I know he means it. Also, I believe our collaboration is evolving. We already have a second album in progress and it's getting easier and more comfortable with every track. I feel like our trust and communication are building and it's evident in the music.
Vice / We work in a few different ways depending on if we are physically in a room together or not. Due to Covid we are currently working exclusively over email between Paris and Los Angeles. It begins with some of my loops or instrumental ideas and she writes over it. Once we have a good idea we begin to adjust from there. Our workflow is relatively quick at this point and we can have a song written and finished in a day or two.
Beat / What was your songwriting and production setup like?
Vice / I often work with nothing more than a laptop. I tend to favor minimal setups with less choices over more complex ones. Due to Covid I currently have a home setup with HR824 monitors, lots of Moog stuff, a basic modular skiff, some fender guitars, a supro amp and a drum set all that are all plugged in and ready to go. I have a considerable amount of pedals as well that are mostly made by Earthquaker Devices.
I used these on almost every song for reamping. During the period of writing with Louisahhh for the album there was a lot of equipment coming in and out of my space. That said the sounds all incorporate a lot of stuff from Earthquaker Devices, Moog, Native Instruments, Izotope, Gamechanger, Korg, Realistic, TAL, Serum, Istanbul and Roland.
Louisahhh / This year, as a result of rehearsing for the live band, has been a lot about vocal training, which has made me a lot more confident in my ability to write and sing more ferociously and dynamically. I do vocal warm-ups while doing the dishes every night and work out melodies and top lines. If I can't remember what the melody was from when I am doing the dishes later during the recording, it wasn't strong enough. I write constantly, taking notes in my phone if a line pops into my head or if I hear something in a tv show or read something in a book that feels like a good lyric. I think it's important to get it down.
I've been more disciplined recently about working on lyrics during morning pages. Being more in practice and making space for it on a daily basis has helped me get sharper and generally have more ideas. When it comes to recording, I keep it very simple: Apogee Duet with a Shure Beta 58A. I have an Elektron Analog Rytm and a NI Maschine and an awesome '65 Fender Jaguar into a horrendous Marshall Valvestate amp. But I employ these more on remixes than on my work in collaboration with Vice.
Beat / Vice, you released the DFAM sample pack with semi-modular drum sounds a while ago. Did you use it for Louisahhh's music?
Vice / For me the Moog DFAM is one of the most inspiring instruments that I have ever written on. So much so that I currently have three of them. The first song that I wrote on one was the instrumental for Louisahhh's song "Love Is A Punk". That song is mostly variations of one sequence written on it with some live drums sprinkled on over it.
For years I wanted to make a sample pack with the sounds of the DFAM but never had the time to dedicate to it. Once Covid hit I seized the worldwide pause to spend a few weeks making hundreds of drum samples off of the instrument. I think the sample pack turned out great and I'm in awe by the music that producers have been making with it.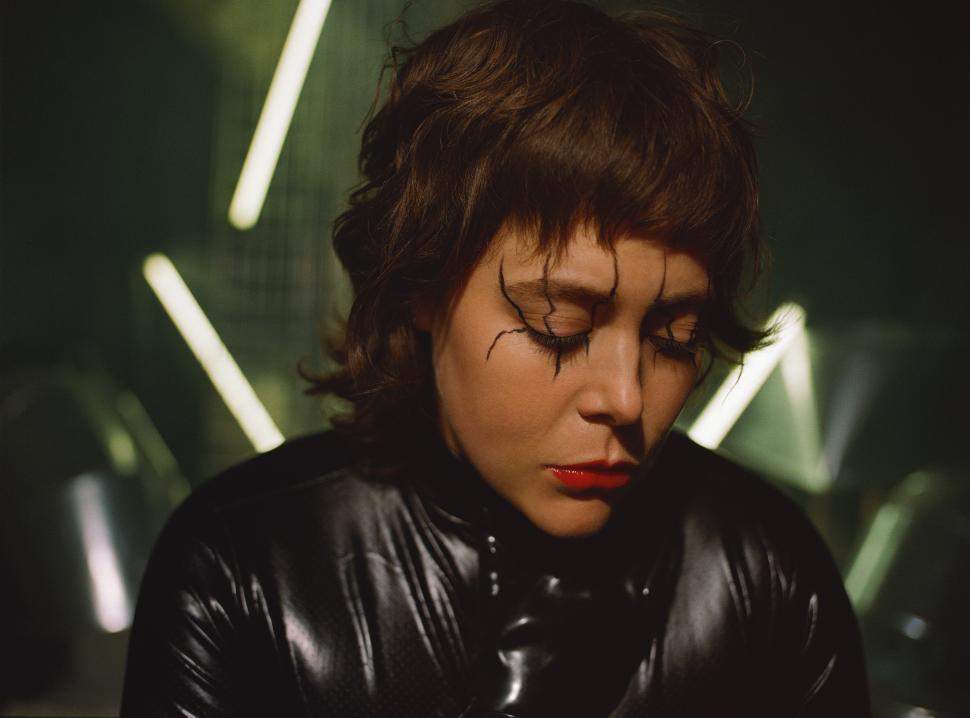 Beat / Did you use modular equipment for the production?
Vice / Though technically semi-modular, there is a considerable amount of Moog DFAM sounds on the album. I have since gotten a skiff that has modules from Earthquaker, Make Noise, Intellijel and Doepfer in it.
Beat / Louisahhh, you're also involved in activism. Was there an initial spark for this?
Louisahhh / I have been in recovery from drug addiction since 2006, and the tenants of my sobriety are very clear about "love and service". For me, this means taking action where I perceive there is injustice, and standing up for what I love. This can take many forms, from being an advocate for mental health, to intersectional feminism, to demanding a more sustainable economic infrastructure in the music industry and more globally, in being vocally and actively in opposition to the white supremacist capitalist patriarchy that is the iron heel on the neck of equal opportunity for all.
Beat / Feminism and sex positivity in particular are two aspects that you stand up for. What's your vision of a better world?
Louisahhh / Gender equality and consent-based sex practices as social and economic norms would be a great start. I think that the movement towards sex positivity and feminism is important, but it takes a lot of unwinding from a culture that is inherently sex-phobic and dominated by a capitalistic, white-supremacist patriarchy that thrives on telling people that they're not enough. I guess my work right now is looking at where I'm still - even subtly - locked into that system and consciously untangling myself from those old ideas, envisioning something more equal and liberated, and encouraging others to do the same..
Beat / You also have your own podcast Sober Sex. Do you think your podcast or your music has more impact on people?
Louisahhh / I'm not sure about influence. We started the podcast because it felt like it was important to have conversations about what spiritual integrity and authenticity looked like in terms of sex and sexuality. And it's been really fun and inspiring and educational. The contents of the podcast inform my work in music, and vice versa.
www.facebook.com/louisahhhofficial
Want more? Get more!
Subscribe to the digital edition of BEAT Magazine via Plugins-Samples.com and get more gear, in-depth workshops, reviews and 11 GB exclusive plugins and new sounds with every monthly issue!
Subscribe to Beat Magazine for only 4.99€ per month