Beat / Paul, you've been running your successful YouTube channel for many years. How did you come up with the idea of setting up a training platform like MeinHomestudio.de?
Paul / Since 2015, a new video about music production has been released on my channel "Paul Marx Media" almost every week. In the comments there was already a lively exchange about questions dealing with Cubase and various production topics. Over time, I've noticed that some questions keep popping up and at certain points often remained unanswered for beginners and advanced users. That gave me the impulse to produce my own courses that take up these questions and answer them comprehensively but in a practical way.
In autumn 2016 I programmed the MeinHomestudio.de website and, in addition to the first video courses, I provided downloads that can be useful for learning and producing, such as project files, samples, midifiles, checklists and later also virtual instruments and effects. MeinHomestudio.de should become a practical platform for music production, for learning, getting to know each other, exchanging and getting creative.
The platform now includes 18 video courses from 3 different tutors with more than 250 lessons. In addition to the courses, we also offer books, plug-ins and a member's area, in which producers get access to our content as free members or with paid pro member membership. More than 4,000 producers are currently active on MeinHomestudio.de and exchange ideas with one another in our producer forum and on our Discord server.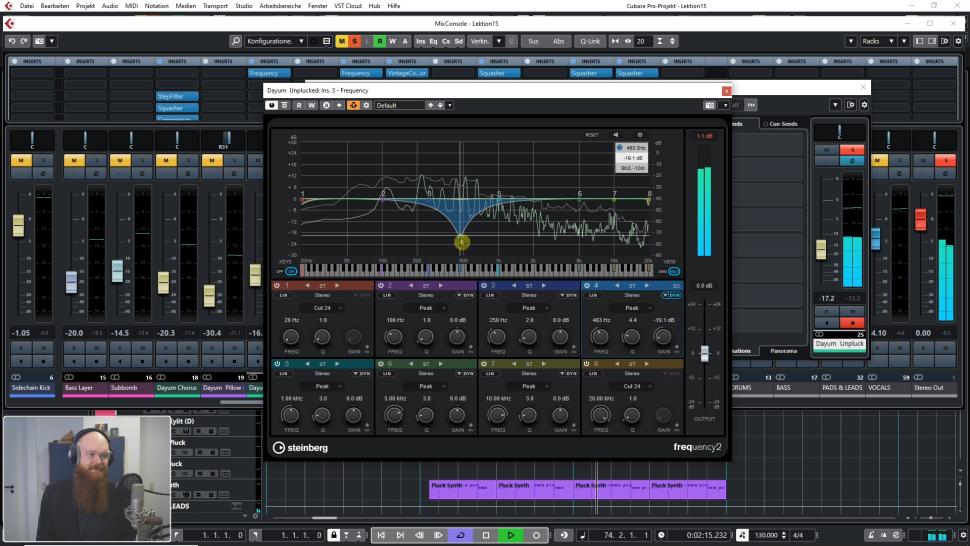 Beat / What are the advantages of being a member of MeinHomestudio.de and for whom is it suitable?
Paul / In most courses we work with Steinberg Cubase. Anyone who has decided to use Cubase, regardless of their level of knowledge, will find suitable courses on our platform. There is something for everyone: for every level and area of interest, even for different genres.
Beginners want to find their way around Cubase and make their ideas audible. We also have courses that introduce the basic functions in a very practical way, even without prior musical knowledge and without an instrument. Advanced users usually have topics in which they would like to immerse themselves: for example composition, arrangement or mixing. These areas are so complex and comprehensive that we offer various courses on the respective topics in which we go into sound and detailed information on techniques and methods. It is important to us not to overload our members with information, but to provide exactly the techniques that you need to be able to implement the topic of the current lesson yourself. We deliberately don't specify too much exactly and leave room for trying things out and creative experimentation.
There are also different approaches to production when it comes to genres. In the last six months we published a pop and rock production course, which is also available on YouTube. We are currently releasing our third genre series in the hip hop style.
Beat / What are the main topics in the pro membership?
Paul / Basically, pro member membership is focused on more advanced topics and offers valuable, comprehensive methods and tools in various production areas. For example, in the fields of mixing, composition and sound design, pro members can find exciting additional workshops and courses on the platform.
In addition to the numerous free member courses, there are also additional downloads, such as project files, samples or MIDI libraries, which we make available specifically to our pro members. In addition to the genre-specific courses, pro members also receive virtual instruments that they can integrate directly into their DAW with the free Halion Sonic SE from Steinberg. In addition, there are promotions on our platform, some exclusively for our pro members. For example, in our current team challenge, groups of five producers get together to produce a song in the genre of their choice within 7 weeks. For this, we provide various challenges in the process, the teams exchange information internally about the production and can learn a lot from each other.
Beat / How much does a course cost and how long does it take?
Paul / The prices for our courses and instruments vary between approx. 15 and 50 Euros (including VAT). Some courses, on the other hand, are only available exclusively for pro members and cannot be purchased individually. Pro membership, on the other hand, is a subscription that can be canceled at any time. Membership is available for 14.99 euros/month (including VAT) or as a half-year subscription for 9.99 Euros/month (including VAT).
Beat / The learners don't want to dwell on technical details, they want to be creative and active and try things out. How do you support this as a learning platform?
Paul / We attach great importance to the fact that our courses are designed to be particularly practical. We don't spend too much time on theory, but try to show and explain the necessary tools in each lesson in order to be able to implement the practical task that follows. Our course participants should be able to try out their own ideas and implement them using the newly learned methods. The focus is on creativity and experimentation in production because, as we all know, you learn the most in practice.
Creative ideas rarely follow the same pattern. That is why we use our "creative impulses" to give a wide variety of suggestions for starting points in new productions. In many cases, they provide our members with ideas for compositions, lyrics, recording or mixing, whereby they often stimulate their own creativity through unconventional approaches. In our "Creative Impulse" newsletter, our members receive five of these suggestions every Monday, so that they can stay creative and experiment every week.
Beat / Does this mean that everyone learns for themselves or is it possible to exchange ideas with like-minded people or, as a beginner, maybe learn from advanced learners?
Paul / In addition to the courses, we offer numerous opportunities for the community to be creative and active with one another. In the member area there's our producer forum, where users present their productions, get feedback from the community, get to know other producers, can network and exchange ideas.
There are also our community activities, such as the team challenges, in which our members can learn from each other while producing together. In addition, we run a Facebook group and a Discord server for exchanging information with other producers. In the latter, there are also challenges for the entire community, which can be musically interpreted in every genre and style. In addition, there are frequent community activities on the YouTube channel. Last year, for example, we launched the #100Songs1Melody campaign together with Beat magazine. Producers from many different countries have written songs based on the same melody and now all 100 songs can be heard on YouTube.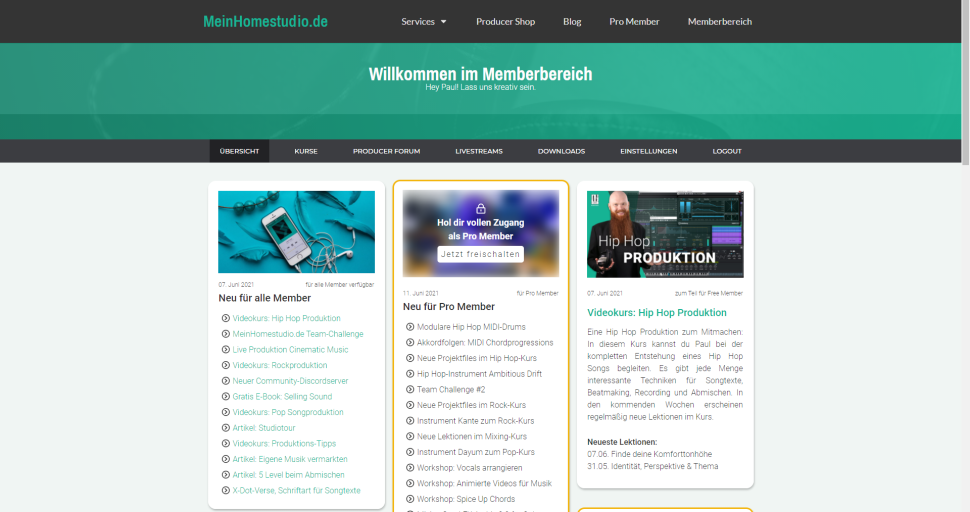 Want more? Get more!
Subscribe to the digital edition of BEAT Magazine via Plugins-Samples.com and get more gear, in-depth workshops, reviews and 11 GB exclusive plugins and new sounds with every monthly issue!
Subscribe to Beat Magazine for only 4.99€ per month