Click here for downloads
W.A. Production - Free Serum Presets Mega Pack (84 presets, 15 wavetables)
Bass House, Dubstep, Trap
BVKER - Free Future House Presets For Xfer Serum (49 presets)
Deep House and EDM
Cymatics - XFER Serum Starter Pack (100 presets, 50 wavetables)
Various
ANNMS Music - 1000 Free Presets for Xfer Serum (1000 presets)
Dubstep, Hip-Hop, Trap and others
Higher Dimension Sounds - Martin Garrix Serum Presets (50 presets)
EDM
Higher Dimension Sounds - HardStyle Serum Presets Vol.1 (100 presets)
Hardstyle
baltic audio - Free Serum-Presets (21 presets)
EDM, Future House
Sound Factory - Free artist soundbank 2022 (50 presets)
House, EDM, Trance
Scrolly – Free 200 Serum Presets of Dubstep (200 presets)
Dubstep
Angelic Vibes – Free Serum Presets (80 presets)
Bass and 808 Sounds
BVKER - Free Mellotron Presets For Serum (51 presets)
Vintage-Mellotron
BVKER – Future House For Serum (49 presets)
Future House
Synth Ctrl - Vaporwave Keys and Pads Free (15 presets)
90s Keys and Pads
Standalone Music - 7 SKIES - Free 70 Serum Wavetables (89 wavetables)
Various
Gravitas - Catalyst – 120 Free Serum Presets (120 presets)
Dubstep, Trap, Electro
waynemora - Serum Lofi Presets 1-7 (50 + presets)
Lo-Fi, Chiptune und Retro
Soundtactic – Paradise (30 presets)
Tropical House
What you should know about Xfer Serum:
Sound generation
Two oscillators with sub and noise, one filter, three envelopes and four LFOs. However, all sections offer much more detailed access and more options, so the division four subwindows makes sense.
For example, a wavetable can consist of 256 sections, compared to 128 in Codex, and the waveforms are also displayed as graphics here, in 2D or 3D if desired. There are over 100 wavetables to choose from, which can be edited via an editor. In this editor you can also draw your own wavetables, save them and import samples. Eight methods are available for the import, in order to convert the respective source in the best possible way. The editor is extremely easy to use, so that your own creations can be made in no time.
Once the wavetable is selected, it can be multiplied up to 16 times via unison. A random controller provides varying starting points per note if required.
Warp
A great feature of the playback: The waveforms can be warped. There are 22 different modes available for this. Besides stretching and compressing the waveforms, typical sync sounds are included, as well as frequency or amplitude modulation with the other oscillator, quantization of the waveform, and so on. So the possibilities are already enormous with the oscillators alone.
In addition, there is a sub-oscillator and noise. The former offers 6 waveforms, can be transposed octave by octave and can be routed directly to the output via a switch. Noise, on the other hand, is not just simple noise, but can choose from a pool of 187 samples of all colors. The selected sound can be fired as a one-shot - for example to give drums more crunch - or run in a loop.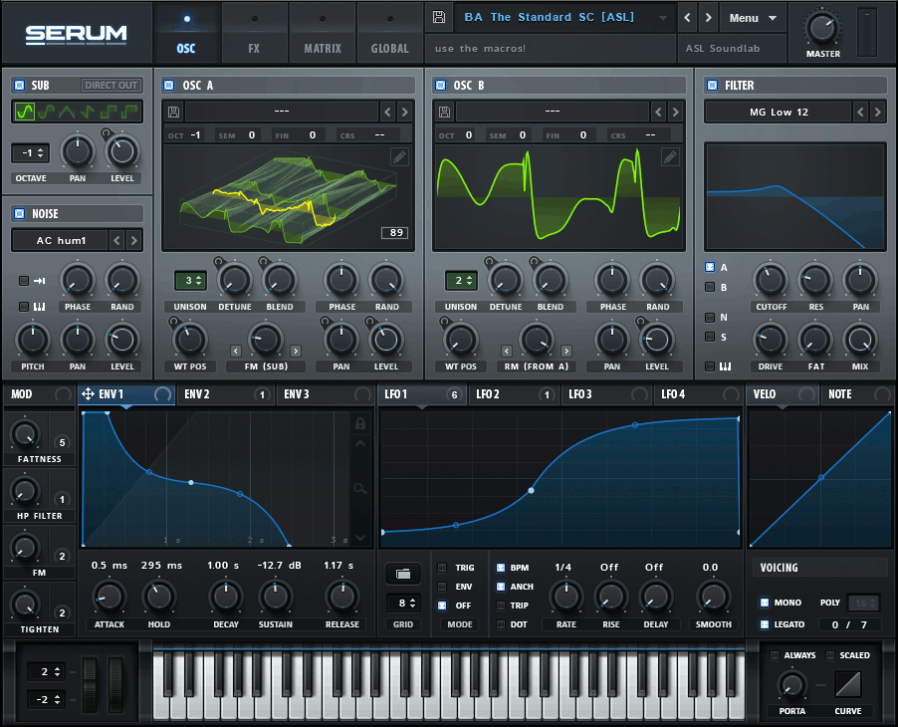 Sounddesign
Once all oscillators are set, it's the filter's turn. In addition to the usual high-pass and low-pass variants, there are multi-filters that can be crossfaded from bandpass to notch, for example, using the mix control. The more than 90 filter types also include phasers, flangers, comb and peak filters, as well as experimental models such as reverbs, ring modulators and formant filters. A dream for every sound designer.
Serum is similarly flexible with its LFOs. These act either as a cyclic waveform as usual or as a step sequencer with freely drawable steps. Programming melodies requires some patience here, but wacky modulations in sync with the tempo can be programmed in no time.
Assigning a modulation source to a destination works via the mod matrix or by simple drag & drop on the desired knob. A blue icon indicates that the knob is assigned to the currently selected source. Very practical!
Effects
As you might expect, the effects section of the plug-in is not stingy with a rich selection. The 10 effects offered include modules such as distortion, flanger, chorus, delay and reverb, which are quite familiar fare, but on a very high sonic level. The order of the effects is flexible and almost all controls can be modulated. Top!
Hardly surprisingly, the mod matrix doesn't just list the connected parameters either. Because each modulation has an additional "Aux Source" if desired. Thus, for example, an LFO modulation of the pitch could be threaded via mod wheel.
Sound
But how does the synth sound now? That is quickly brought to the point: Fantastic! The lows and mids are punchy, the highs clear and transparent. If you listen through the presets, it quickly becomes clear that Serum is at home in every category. Whether it's basses, leads or pads, the patches are bursting with richness, punch and width. Thanks to the variety of options of the oscillators and the filter, the strong side can be tickled out of every wavetable. And if you don't want to tinker yourself, you can help yourself to the extensive and modern sound bank.
Want more? Get more!
Subscribe to the digital edition of BEAT Magazine via Plugins-Samples.com and get more gear, in-depth workshops, reviews and 11 GB exclusive plugins and new sounds with every monthly issue!
Subscribe to Beat Magazine for only 4.99€ per month