In version 12, the DAW for composition, recording, editing, mixing is offered as usual in three editions: Pro, Artist and Elements . Already a few weeks before the release of Cubase 12, the change from the USB dongle to a new copy protection was hotly discussed. For Cubase users, this change is pleasantly simple: For an activation, only an Internet connection is required to log in with the Steinberg ID.
The DAW now also runs natively on Apple Silicon processors, although the VST2 format is no longer supported on these. As you would expect from Steinberg, the manufacturer has listened to user requests and given Cubase numerous detail improvements, such as support for MIDI via Bluetooth for Windows 10, a now almost sample-accurate volume automation, Dolby Atmos support and some professional functions from the post-production software Nuendo. For example, you can now use a second video track and a fourth MixConsole, and export multiple events at once.
More flexible MIDI and audio editing
One of the core competencies of any DAW is MIDI and audio editing. The new features in Cubase 12 Pro make this even more efficient. Particularly noteworthy are the enhanced Crossfade Editor and the improved AudioWarp function, which also allows timing corrections of multiple tracks simultaneously in the Project window. The "phase-coherent AudioWarp" option ensures that, for example, no phase problems occur with multi-track recordings of drums.
Other performance enhancements include sidechain support for audio export and optimizations for navigation and zooming within large projects, audio editing, and working with ARA extensions. New keyboard shortcuts make project navigation, moving event data, and creating fades even faster, among other improvements.
Old synths make way for a piano
There is a bit of melancholy as the synthesizers Prologue, Mystic, Spector as well as the creative effect LoopMash are no longer included. The new plug-in FX Modulator can be used to elicit effects similar to LoopMash. On the other hand, Steinberg could have made up for the omission of the sound generators with a synthesizer from its Absolute bundle. A missed opportunity. However, there are big plus points for the new Verve instrument, an expressively playable virtual piano with a warm and detailed sound. The detailed piano sound can be layered with a selectable sound texture, and you can choose from a large pool of synthesizer and instrument sounds.
High-quality dynamics and multi-effects
Cubase Pro's effects arsenal boasts two promising new additions. The new FX Modulator is reminiscent of plug-ins such as Cableguy's Shaperbox 2 or DS Audio's Tantra: Up to six effect modules can be combined and impressively modulated using LFOs. Since you can freely draw in the waveforms as with Shaperbox 2, classic sidechain and trigger effects as well as complex rhythm patterns are possible. Thanks to the sidechain function, the LFO can also follow an audio signal of your choice or be triggered via MIDI.The new dynamics processor Raiser, on the other hand, inspires as an excellent tool for increasing the loudness of mixes. We also like the fact that the Supervision monitoring and analyzer plug-in introduced in version 11 has been given additional modules, such as VU meter, spectrum keyboard, phase balance, level and loudness histograms.
More comfort in chord work
Want to try out matching the chord progression from one of your favorite songs to your latest track? Instead of painstakingly trying out chords, in Cubase Pro and Artist you can simply drag the audio file onto the chord track and it will create chord events that you can use to control any VST instruments. This feature delivered surprisingly good results in the test. The scale wizard of the VariAudio function is also an enrichment, making suggestions as to which scale fits a recording. Since the pitch is automatically quantized to match the scale during editing, you can quickly adjust melodies accordingly or create impressive vocal harmonies.
Logical extension
With the Logical Editor, Cubase Pro has always integrated a powerful tool for modifying MIDI data or objects at the project level. For example, you can double or halve the tempo of a MIDI sequence or lengthen or shorten all note lengths. In version 12 of the DAW, this editor is now much more convenient, not least thanks to the new preset browser with search function. The new presets, which allow (de-)crescendos, dynamic accents on certain beats or the extraction of individual MIDI notes with just a few clicks, offer a high level of musical utility. The Transformer MIDI plug-in and the Input Transformer have also been improved. With the latter, you can, for example, convert the aftertouch data of a MIDI keyboard into other controller data or create keyboard splits.
MIDI remote integration
It's also very pleasing that Cubase 12 makes it much easier to integrate hardware MIDI controllers. Detection of your device and assignment of parameters to the controls is automatic. If no script is offered for your device yet, you can simply create your own MIDI controller interface and assign the desired parameters and functions to the controls using the assignment wizard. In practice, a wide variety of Cubase functions can be conveniently assigned to the controls of a MIDI controller, for example to control transport functions, parameters of VST instruments or effects (via Quick Controls), mixer and equalizer settings, or audio and MIDI functions. Great! Hopefully, more scripts for popular MIDI controllers like Native Instruments' Komplete Control series will be added soon.
Cubase 12: Plug-in-Highlights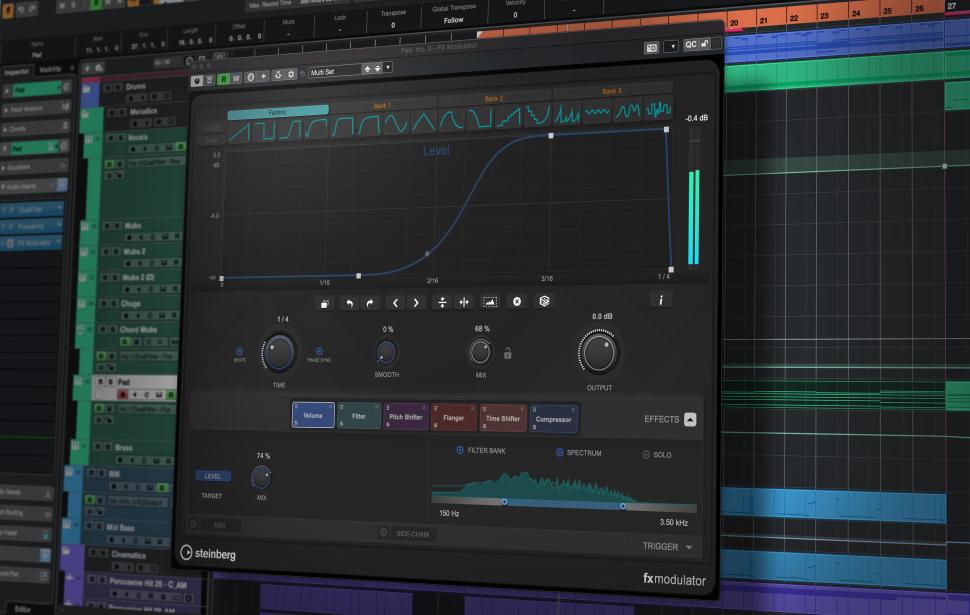 FX Modulator
One of the most exciting new features of Cubase 12 is without question the flexible modular multi-effect FX Modulator. You can choose from filter, pan, distortion, LoFi and modulation effects, as well as time shifter, compressor and reverb, which can be controlled with an LFO.
Verve
The inspiring new Verve instrument lets you create cinematic piano sounds or atmospheric textures. Its sound can be flexibly adjusted and enhanced with effects to create dreamy ambient sounds as well as intimate piano tones.
Raiser
The new Raiser limiter is a variable tool for dynamics processing, not least thanks to its various release modes. It plays to its strengths both in the transparent processing of stereo sums and in the aggressive limiting of drums, guitars or synths.
More infos:
Order now: Steinberg Cubase Pro 12
Want more? Get more!
Subscribe to the digital edition of BEAT Magazine via Plugins-Samples.com and get more gear, in-depth workshops, reviews and 11 GB exclusive plugins and new sounds with every monthly issue!
Subscribe to Beat Magazine for only 4.99€ per month