Elektron Syntakt
Like almost all Elektron devices, Syntakt will divide musicians and producers into two camps. One half will rightly criticize that only monophonic digital sound generation, only global reverb/delay, no song mode and a pixelated display are not quite up to date - especially at a price of almost 1,000 €. And you also have to come to terms with Elektron's special sound and operating concept.
On the other hand, you get a lot of things that no other groovebox offers: The flexible sequencer is still unrivaled and can also control other sound generators via MIDI, and the machines offer exceptional sounds from crisp, transparent digital sounds to fat analog kicks and basses as well as assertive cymbals - sonically we found Syntakt really convincing all around! In addition, the analog effects in conjunction with the FX track also bring real added value as an effects unit. And thanks to the overbridge connection, the Syntakt can be easily integrated into a computer-controlled studio environment, while up to 12 polyphonic MIDI tracks also allow you to create complete tracks without a computer. This, together with the robust and durable workmanship, justifies the rather high price.
www.elektron.se | Wertung: 5,5/6 | Preis: 949 Euro | Buy now at Thomann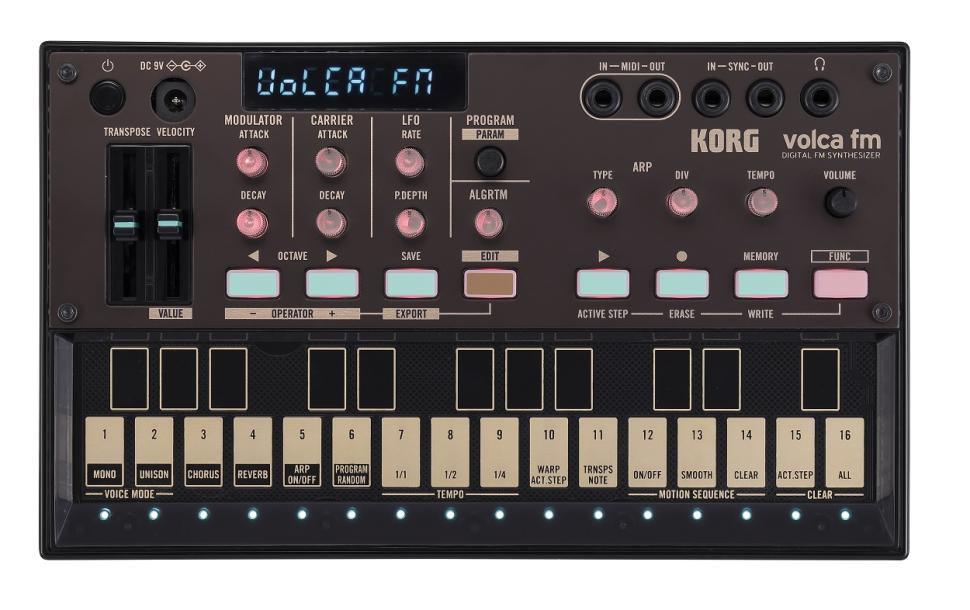 Korg Volca FM2
It was not without reason that the DX7 ousted many of today's much sought-after analog synthesizers from studios and stages when it first appeared, because hardly any other sound generation is as flexible and can be played as dynamically as FM. All the nicer that the new edition of the Volca FM can also be controlled externally velocity-sensitive.
In addition to the classics such as electric piano, glassy surface and wiry bass, those who like to experiment can also screw wacky metallic-slanted sounds and sequences. Classic Volca features like Motion Sequence and Active Step support this. Thanks to the DX7 import, thousands of presets are immediately available, which can be embellished with arpeggiator, chorus and the new reverb - if required, the FM2 can also sound very analog! Doubling the number of voices allows for fuller chords and fewer cut notes, and thanks to standard MIDI output, you can also use the built-in sequencer to control external sound generators.
DX7 editors like the free Dexed1 can be used to load DX7 presets and custom sounds into the Volca FM.
www.korg.de | Total: 5,5/6 | Price: 179 Euro | Buy now at Thomann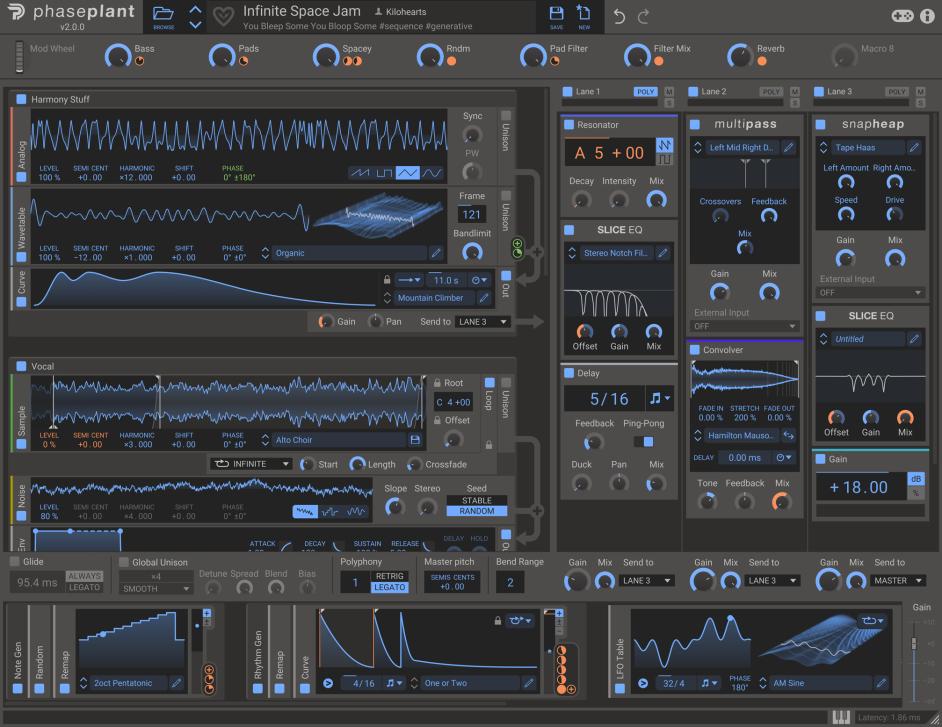 Kilohearts Phase Plant & Multipass 2
Have you always dreamed of building your dream synthesizer or effect? Then Phase Plant and Multipass are just what you need! Thanks to the modular design, the wide range of great-sounding oscillators and effect modules, and the extremely flexible modulation options, experimenting is a lot of fun. To get the best out of the two plug-ins, a basic synthesizer know-how and some familiarization are necessary. However, the well thought-out operation makes it easy to get started. Sonically, both creative tools are convincing all along the line. Thus, you get an enormous amount for the called price. Definitely a synthesizer and an effect plug-in for the desert island.
https://kilohearts.com | Total : 5,5/6 | Price: 199 Euro (Phase Plant), 94 Euro (Multipass2) | Buy now at Plugin-Boutique
You can read all tests in full length in BEAT #200 and purchase them here in the falkemedia Shop.
Want more? Get more!
Subscribe to the digital edition of BEAT Magazine via Plugins-Samples.com and get more gear, in-depth workshops, reviews and 11 GB exclusive plugins and new sounds with every monthly issue!
Subscribe to Beat Magazine for only 4.99€ per month