Chris Hein Horns Pro Complete
Chris Hein Horns Pro is a comprehensive sound library for brass and woodwinds for the next jazz or pop or big band recording, but is also suitable for cinematic or orchestral productions. There are 54 solo and 32 section instruments, divided into 4 volumes with matched different instrument groups. There are also phase synchronized samples for perfect velocity crossfades.



Chris Hein Solo Strings Complete
For solo strings, Chris Hein Solo Strings Complete is the perfect collection, consisting of Chris Hein Solo Violin EXtended, Solo Viola EXtended, Solo Cello EXtended and the Solo ContraBass EXtended. The fourteen solo instruments were recorded in great detail, post-processed and assembled into a Kontakt Player instrument. The14 Iinstruments are composed of about 100,000 individual samples with up to 38 different articulations, four different legato transitions and up to eight velocity layers.



The Orchestra Complete
The Orchestra Complete 2 is the flagship of "The Orchestra" family of products, extending the strengths of the original 80-piece orchestra with additional articulations and more features. The Complete Edition includes not only "The Orchestra", but also the separately available products "Strings of Winter" and "Horns of Hell". The all-in-one package offers the sound of a colossal symphony orchestra. The ensemble engine allows you to quickly turn your ideas into music. There are a total of 324 presets to choose from.
Ethno World 6 Complete
Ethno World 6 Complete is a high-quality library of ethnic instruments and voices. The library has 320 instruments and vocals in stock, which are combined in about 800 patches. For an authentic sound, the instruments were recorded in different playing styles, which can be called up quickly and specifically in the patches with keyswitches. The library has a size of 33.4 GB (uncompressed) and 28,789 samples. All instruments are available in a resolution of 24 bit and 44.1 kHz.
ERA II Medieval Legend
ERA II Medieval Legend offers more than 70 historical instruments back to the Middle Ages for soundtracks, fantasy games, folk music and medieval rock. In detail there are 10 flutes, 8 woodwinds, 4 hunting horns, 3 brass instruments, 9 strings, 13 string instruments, 3 keyboards, 20 percussion instruments and 1 vocal part. ERA II uses elaborate multisamples with a wide range of dynamics, as well as various articulations, round-robin and true legato samples. The 22 GB library includes all instruments and sounds of the first part.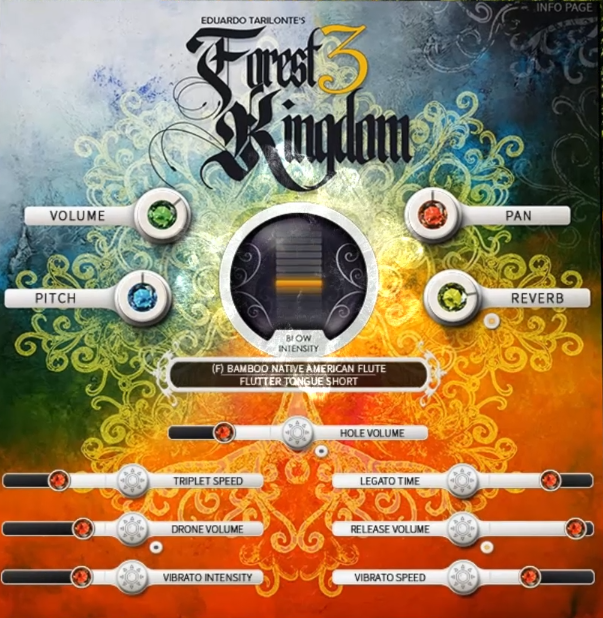 Forest Kingdom 3
Featuring over 17GB of exotic forest and jungle instruments and sounds penned by Eduardo Tarilonte, Forest Kingdom 3 features 30 wind instruments (including 10 wonderful Native American flutes), 90 ethnic percussion instruments, mythical creatures and shaman voices, 210 mesmerizing soundscapes, 300 inspiring multitrack performance MIDI grooves, over 700 presets, and over 20,000 individual samples.
Galaxy II Pianos
The Galaxy II K4 Kontakt instrument consists of three grand pianos: the Vienna Grand (a powerful Bösendorfer Imperial 290), the 1929 German Baby Grand (a vintage Blüthner Stutz grand from 1929), and theGalaxy Steinway in stereo and 5.1 surround. There are over 6000 samples with over 30 GB.
Elysion 2
Elysion 2 is a scoring tool that lets you quickly create chords. The tool is based on hand-crafted synthesizer sounds sampled like acoustic instruments. The hybrid twin of "The Orchestra" contains 207 playable instruments and over 400 complex animated themes. A synthetic sound palette with aggressive, powerful and driving sounds awaits here. New presets, themes and effects are included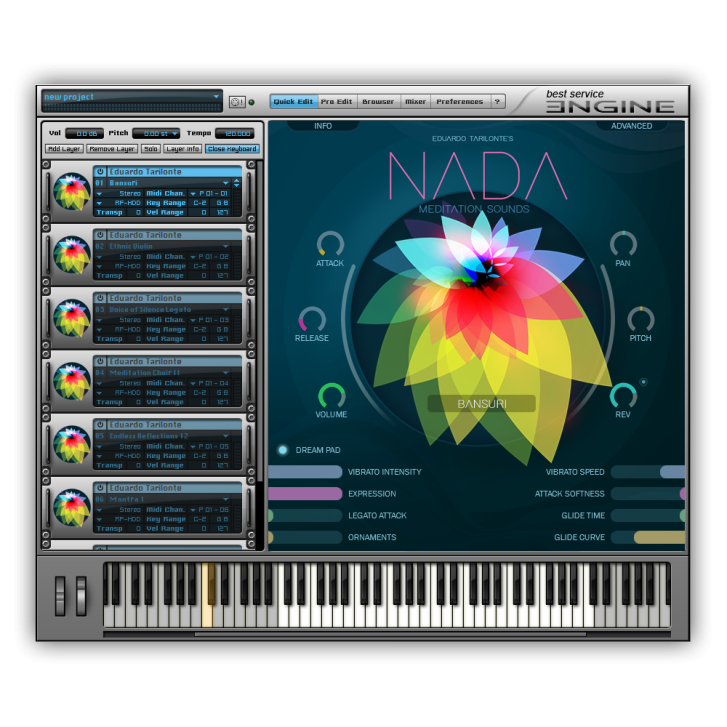 NADA
If you are looking for sounds for meditation, new age and relaxation music, NADA is the right place. Meditation, New Age and relaxation music. The ambient expert has over 500 sounds with over 10,000 samples ready with instruments like strings, winds, percussions, pianos, singing bowls, glasses and bells..
Want more? Get more!
Subscribe to the digital edition of BEAT Magazine via Plugins-Samples.com and get more gear, in-depth workshops, reviews and 11 GB exclusive plugins and new sounds with every monthly issue!
Subscribe to Beat Magazine for only 4.99€ per month