Brain to DAW – with Smart templates
In line with this, the templates that you can choose when starting the program have also been significantly expanded. These smart templates are optimized for playing an instrument, a recording session, beat production or even creating a podcast, for example, and provide suitable tracks, sound generators and effects. Your own audio, video or MIDI files can be imported directly into the templates by simply dropping them onto specially designated zones. This significantly reduces the barrier between creative ideas and technical implementation.
Track presets for faster workflow
The new track presets make the creative workflow even easier. This allows individual or multiple tracks to be saved together as a preset and called up again with a click if required. Track presets cover the entire spectrum of a track, from track delay and time stretching to volume, panning, insert effects and send routing. These track presets can also be inserted into running projects and are particularly interesting if you always work with similar setups - e.g. a complete vocal strip including background tracks that is specially tailored to the singer, or suitable drum tracks for the perfect beat. Track presets complement Studio One's already very flexible group features. Groups can be nested, named, colored, and assigned to keyboard shortcuts. There are edit or mix groups, including linked parameters such as volume, pan, mute/solo status, etc. The visibility of the groups can be set on a channel-by-channel basis.
Monitor mix for better overview
Cue mixes can now be assigned to the main mixer faders to quickly create complete mixes. Conveniently, by default, cue mixes correspond channel by channel to the main mix. Therefore, you can adjust panning and levels for the desired channels as you wish, or leave them as they are, so that every musician to be recorded gets the perfect mix. This further enhances Studio One's capabilities as a multitrack recording platform.
Meanwhile, external instruments such as an analog synthesizer or drum machine can be integrated more easily and clearly thanks to the AUX channels. And when it comes to fixing the audio signals of the external hardware, Studio One scores with a flexible render-in-place function. The instrument can also be frozen first and then the MIDI and audio files can be arranged in parallel in the song, so that the hardware can be reactivated later at any time and changes can be made to the sound.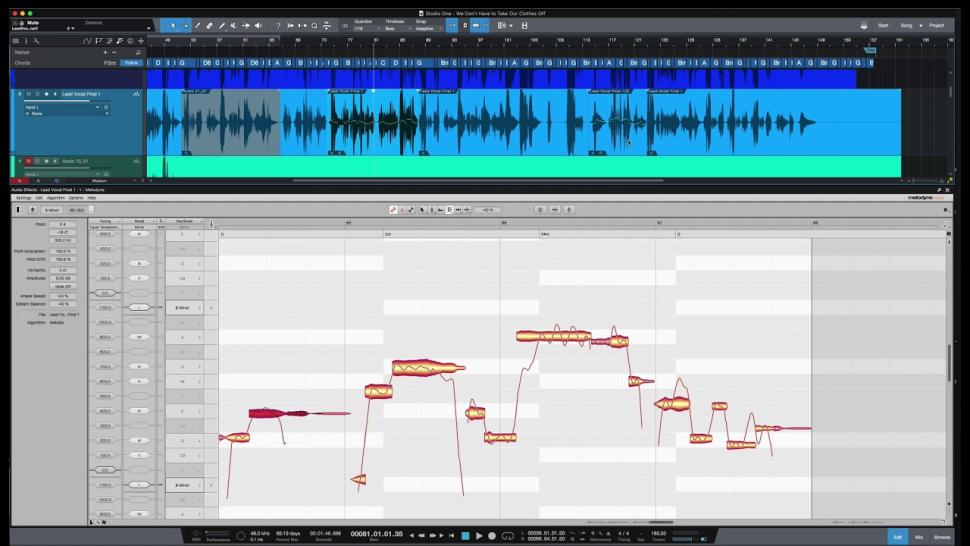 Melodyne integration
Another advantage, especially compared to Ableton Live, is the deep ARA2 support. Via this interface, programs specializing in vocal editing, such as Synchro Arts Vocalign or Antares Auto-Tune, can be seamlessly integrated into the audio editing process. The deep integration of Celemony Melodyne, which in the full version even reliably recognizes polyphonic singing and licks and can edit individual notes from them, is still an outstanding unique selling point of Studio One.
Two new effects are also available, primarily optimized for vocals: De-esser suppresses the dreaded S-sounds in vocals, but can also effectively cut other high-frequency noise and thus, for example, tame too sharp recorded hihats. Also a vocoder has finally been added to Studio One, even with a customizable patch matrix in the style of analog hardware. To make it easier to integrate the vocoder, it has been given a direct sidechain input, just like other virtual instruments in the new version.
Dynamic equalizer
There are also enhancements to the existing effects, whereby we particularly like the new features of the ProEQ3. Here, individual bands can now be soloed to hear the effects of equalization in isolation. Even better is the new dynamic mode, which, unlike a static equalizer, makes the gain or reduction of a frequency range dependent on its volume. In this way, individual peaks can be effectively cut while the rest of the audio material is not changed in frequency. Such editing can actually sound more natural and dynamic as a result.
Channel overview
In the new channel overview, which offers an overview of all important track elements in a compact window, the equalizer can be adjusted directly in the small preview image. Other effects and even third-party plug-ins can also be modified there in the most important parameters without having to open their user interface. This is especially useful if you're working on a laptop with only a small screen. This channel overview can be pinned at a suitable point, the display follows the selected channel - very nice!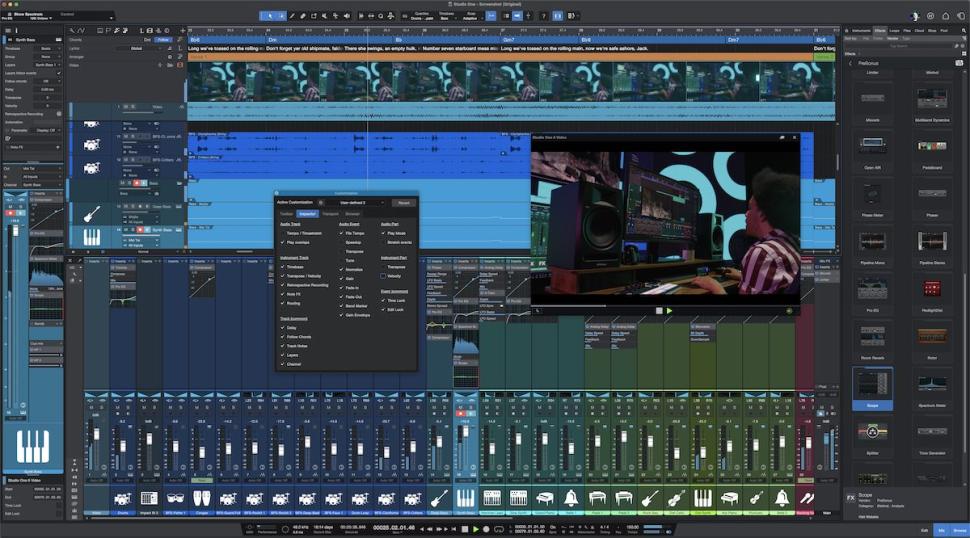 Videos, spots & lyrics
The integration of videos has been neglected so far, but now Studio One has finally got its own video track. In-depth editing is not possible, but thanks to drag & drop, you can quickly learn how to use it, even without much experience in video editing. In this way, you can easily add a video to your own track or add moving images to the podcast. Another very useful function, depending on the area of application, is the new lyrics track. This can be used to underline notes in the score editor with the appropriate text or to store reminders for the singer in the song production. You can assign words or individual syllables to individual MIDI notes in Piano or Score view. Lyrics can also be transferred to the show page for use as a reminder during live performance. The Lyrics view lets you view, edit, and format lyrics.
The new spot command lets you place audio and note events more precisely based on event attributes such as start/end points or at the original timecode position. On the one hand, this is interesting for the scoring of videos and other tasks of a sound designer, but it also helped us a lot in the test when working with stems for a remix.
Linear with workarounds
Studio One remains a strictly timeline-based DAW at heart, and still lacks a clip view comparable to the session view in programs like Ableton Live or Bitwig. However, the arrangement track, scratchpad, and multiple audio clips per track allow you to break up the linear flow and try out alternative combinations and edits without changing the actual arrangement.
Collaboration via Sphere
The integration of PreSonus Sphere has also been greatly expanded. Sphere is more than a subscription model for PreSonus products, it also enables joint projects with other musicians and producers via the Internet. Songs, shows and complete document folders can be archived in the cloud and shared with other contributors on PreSonus Sphere, straight from the Studio One browser. Once a shared workspace is created, any Studio One 6 user can collaborate on it. In practice, the whole thing works very intuitively and feels less sluggish than the competing programs, especially since Studio One's intelligent exchange system only uploads or downloads changed files, thus ensuring minimal upload/download times and file sizes.
Mix engine FX
Sphere subscribers also have access to a large number of sample libraries, instruments, effects and associated presets. Of particular interest are the cross-channel mix engine FX, which, among other things, emulate the summing effect of analog mixers and in this way ensure special harmonic distortions and the individual audio tracks sticking together.
Another new mixer feature was previously more familiar from DAW controllers and digital hardware mixers: Flip lets you apply FX/bus sends, sidechains, and cue mix sends to the mixer's large faders instead of volume for more detailed editing. And for advanced panning settings like dual and binaural, the new large popup is very helpful. The channel list in the mixer section can be filtered even more extensively for a better overview, e.g. for audio, instrument or effects channels. In addition to these filter options, the display can be filtered based on channel name, solo status, mute status, and active/inactive status.
Conclusion
Studio One can be customized even more extensively to suit your own needs, enabling both beginners and professionals to achieve a perfect workflow with full focus on the result. Enhanced presets, templates and overviews make operation even more efficient, even on laptops with smaller screens. Video and lyric tracks extend the application possibilities beyond pure music production. A rather unspectacular update at first glance, but very effective in practical use.
Price and availability
Studio One 6 Professional and PreSonus Sphere are available for 399€ or 15€ as monthly subscription via the PreSonus website.
Want more? Get more!
Subscribe to the digital edition of BEAT Magazine via Plugins-Samples.com and get more gear, in-depth workshops, reviews and 11 GB exclusive plugins and new sounds with every monthly issue!
Subscribe to Beat Magazine for only 4.99€ per month