Waldorf Iridium Keyboard
One of the most extraordinary and versatile synthesizers of our time has now received a fitting premium packaging: Chic design, high-quality workmanship and haptics as well as an outstanding Fatar keyboard with polyphonic aftertouch for dynamic and organic playing make Iridium a real instrument. And in terms of sound, Iridium plays in the upper class anyway and masters both bombastic cinematic sounds, crystal-clear FM sounds or characteristic PPG classics. Special features such as CV/gate connections and granular live processing of incoming audio signals in real time invite experimentation in conjunction with modular gear. And if you're lacking analogue warmth, just add a suitable multisample, because Iridium can sample in stereo or import matching sounds. Once you have grasped the concept, operation is surprisingly easy, despite the complex possibilities.
www.waldorfmusic.com | Total: 5,5/6 | Price: 2699 Euro | Hier bei Thomann kaufen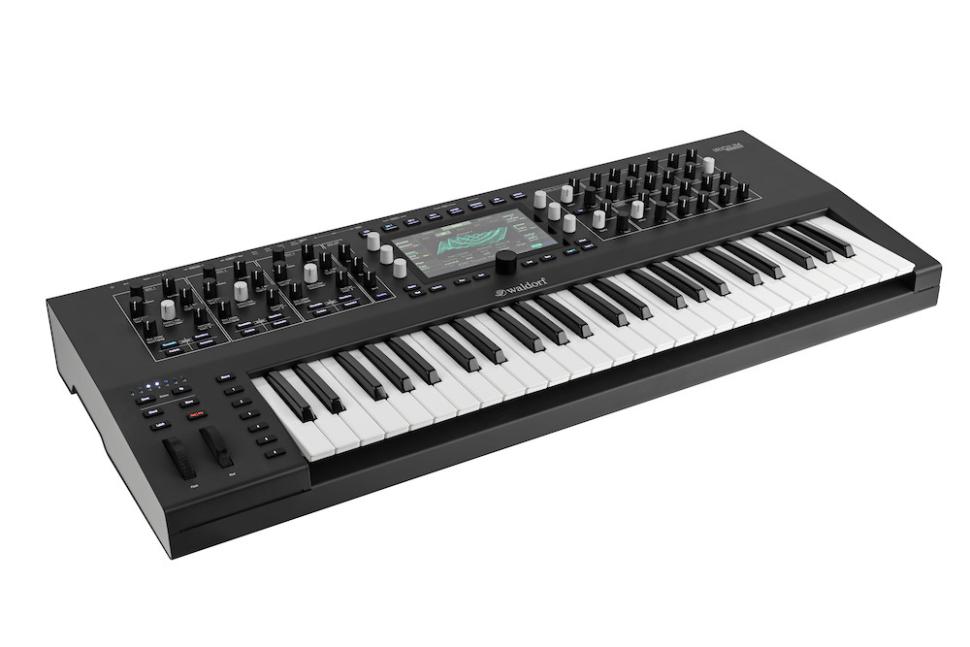 Roland JD-08
The small JD-08 can only replace a JD-800 to a limited extent. Those who love the flagship from the 90s because of its elaborate user interface will find it difficult to cope with the small faders of the JD-08. And if you expect an absolutely accurate reproduction of the very special filter and digital effect, you won't be 100% satisfied either. But if you are looking for a very compact and well-equipped synthesizer with the characteristic digital sounds of the 90s and with many voices and motion sequencer, which can be easily integrated digitally into your setup and whose sounds you can screw directly on the device if necessary (even if only with a little patience), the JD-08 is a good choice.
www.roland.com | Total: 5/6 | Price: 379 Euro | Hier bei Thomann kaufen
Native Instruments Komplete 14
Komplete 14 clearly shows the direction in which Native Instruments is moving: away from innovative synthesizers and creative effects for producers of electronic music even outside the mainstream, towards sample libraries suitable for the masses for sound designers and budding chart producers. For this purpose, the powerful sampler Kontakt has been expanded even further, and the quality of the libraries and expansions is professional in every respect. Nevertheless, we find it somewhat regrettable that NI has allowed its actual roots to completely wither away, foregoing updates of tried and tested synthesizers and even leaving Absynth completely out of the package.
www.native-instruments.com | Total: 6/6 | Price: 599 Euro (Standard), 1.199 Euro (Ultimate), 1.799 Euro (Collector) | Hier bei Thomann kaufen
You can read all the tests in detail in BEAT #203 and purchase them here in the falkemedia shop.
Want more? Get more!
Subscribe to the digital edition of BEAT Magazine via Plugins-Samples.com and get more gear, in-depth workshops, reviews and 11 GB exclusive plugins and new sounds with every monthly issue!
Subscribe to Beat Magazine for only 4.99€ per month