Access to all course content via the HOFA online campus. For better structuring of the course content, workshops, videos and practical exercises, this has also been completely redesigned. For these purposes, an innovative ear training tool for mixing and mastering has also been integrated.
The distance learning school attaches great importance to practical relevance in its distance learning courses. For this reason, HOFA College V3 has focused even more on practical exercises. Within the training, various recordings and productions for different genres are therefore offered. The personal support of the HOFA-College tutors is another factor for a successful career in music production.
With the HOFA online campus you have access to all your course content at any time
In the web browser on your desktop computer, tablet & smartphone. So you learn multimedia with video tutorials, studio workshops, texts, sound examples, complete studio productions & practical tasks - whether at home or on the road ...
The AUDIO DIPLOMA consists of 24 levels that build on each other. So you get the complete knowledge from all HOFA-College courses. Every month you will receive a new level and, if you wish, a printed version. With a selectable course duration of 24 to 48 months, you can determine your own pace. If you have more time, you can bring levels forward. For more flexibility, you also have the option to interrupt your distance learning course. You will receive the DIPLOMA certificate at the end of the course. You will also receive certificates for all successfully completed subject areas. With the DIPLOMA certificate you qualify for the Bachelor's degree in Audio Engineering & Music Production. This top-up study program to a bachelor's degree takes only one year and can be completed while working from home.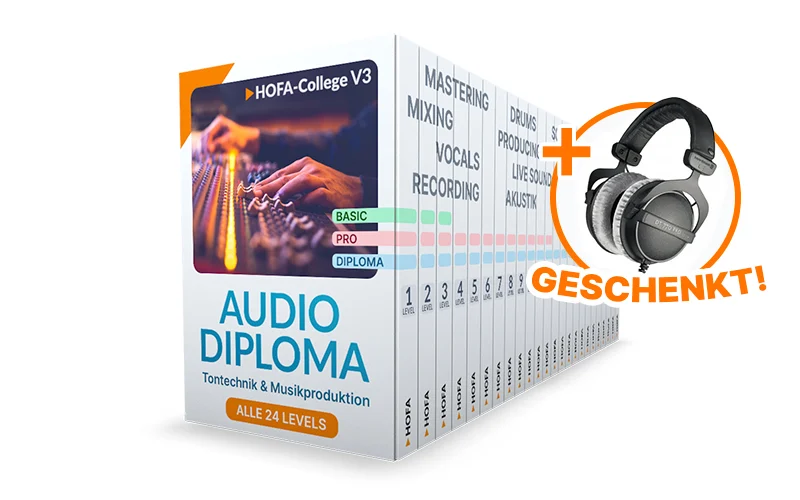 After successful completion of the diploma at HOFA-College, Bachelor and Master degrees in Audio Engineering & Music Production are also possible.
Price and availability:
The HOFA-College V3 is offered at an introductory price of 111 Euro. Pre-order now here. By the way: Anyone who registers for the AUDIO DIPLOMA course before December 15, 2022 will get the DT 770 Pro headphones for free.
Want more? Get more!
Subscribe to the digital edition of BEAT Magazine via Plugins-Samples.com and get more gear, in-depth workshops, reviews and 11 GB exclusive plugins and new sounds with every monthly issue!
Subscribe to Beat Magazine for only 4.99€ per month