PORTA ONE is perfect for hands-on users who want a quick result: load the effect on a track, turn up the BIAS slightly and adjust the EQ, and in most cases everything necessary is already done and the sound is ten times thicker than before.
Want an example? We added the PORTA ONE to an epic chillout track.
Before:

After:

The plug-in can give individual instruments and groups an "analogue feel" and compress them in a musical way. Of course, the plug-in can also be used for sound design, e.g. for distorted 808 kicks, overdrive effects for electric guitar and synth sounds or a lo-fi touch for drums.
Who can enjoy the tape sound?
The T-RackS PORTA ONE giveaway is aimed at users of numerous TASCAM recording products. The 25 models include: Model 12, Model 16, Model 24, SERIES 8p Dyna, TA-1VP, Portacapture X8, Portacapture X6, DP-006, DP-008EX, DP-03SD, DR-05X, DR-07X, DR-40X, DR-44WL, DR-100MKIII, GB-10, MiniSTUDIO US-32, MiniSTUDIO US-42, Mixcast 4, SERIES 102i, SERIES 208i, US-16x08, US-1x2HR, US-2x2HR, US-4x4HR.*
Those who visit the TASCAM ID portal to create an account and register one of the eligible products will be rewarded for their efforts. TASCAM will then send you a free code for the IK Multimedia T-RackS PORTA ONE software. After receiving the code, users only need to visit the IK Multimedia registration page to use the software.
The promotion will run until 31.08.2023.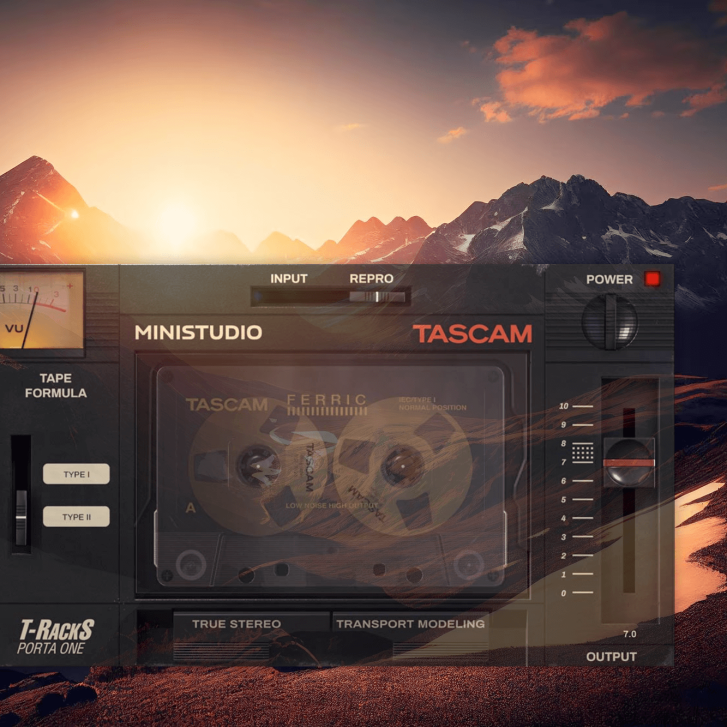 * TASCAM ID registration for the products listed are available for countries which are part of North America, South America, and members of the EU including UK, Norway, Switzerland, Iceland. All other countries are limited to registration of the Model 24, Model 16, Model 12, and TA-1VP only.
Want more? Get more!
Subscribe to the digital edition of BEAT Magazine via Plugins-Samples.com and get more gear, in-depth workshops, reviews and 11 GB exclusive plugins and new sounds with every monthly issue!
Subscribe to Beat Magazine for only 4.99€ per month