Compact and Solid
The metal case is painted in well-known Nord red. Despite its solid build, the Nord Wave 2 is still relatively compact and weighs less than 10 kg. That makes it easy to transport. The 61-key waterfall keyboard allows for very nuanced and precise touch dynamics and aftertouch. The weighting of the keys feels good and offers a very nice compromise between playing synth/organ sounds and pianos. Compared to the Nord Wave 1, the performance control features have been significantly improved. In addition to the pristine lacquer finish, the wooden pitch stick and the slim, yet robust modulation wheel leave no doubt about the synthesizer's origin. The Pitch Stick is based on acoustic instruments and promotes "natural" modulation of various parameters.
No Individual Outputs
The back panel is sparsely populated compared to other flagships synths in this price range (like the Yamaha Montage and Roland Fantom). In addition to a headphone output, there is a stereo output; unfortunately there are no individual outputs for the layers. Because of the excellent sounding built-in effects, this is fine on stage. In the studio, separate outputs for individual post-processing would have been nice. You can connect an MP3 player, smartphone or tablet via mini-jack input and loop in playback tracks.
Morphing by Pedal
The control pedal input is particularly useful on the Nord Wave 2, since a pedal can be used to change multiple parameters simultaneously with the help of the morph function, which allows dynamic sound changes even when playing with both hands. More on the morph function later. A sustain pedal jack, MIDI IN/OUT, and a USB port are also available. The USB port is responsible for importing samples and transmitting/receiving MIDI signals. Unfortunately, the USB bus cannot transmit audio.

Power Supply Hum
Power is provided by a built-in power supply with standard IEC plug. This is a good thing because a missing power supply won't ruin a gig – and many people don't like wall warts in the studio; however, the Nord Wave 2's coils don't seem to be very well grounded from the case. It hummed audibly on two different test units. In live use the noise isn't a problem, but in a studio environment it can be quite disturbing.
Four Layers
The Nord Wave 2's (Checkout Nord Wave 2 in the Thomann shop) user interface is divided into four sections: Performance, Program, Layer Control and Effects. A Nord Wave patch is composed of up to four layers. Each of these layers can have its' own sound generation type (VA, FM, wavetable, sample). The center section on the front panel has four faders, LED chains and buttons that give you direct access to volume and panning.
Each layer has its own multi-effects that can be freely panned in the stereo field. The Nord Wave can, therefore, also be used as a multi-timbral synthesizer with four independent sounds. Or you can use three split points and a crossfade function to divide the keyboard into four zones and fade between sounds. To help you keep track, the split points are indicated by green LEDs. Alternatively, the sounds can be layered on top of each other. For example, you could combine a classic analog synthesizer sound with a sample or FM sound. You can edit several sounds at the same time and define groups that share the same filter, envelope, arpeggiator and effect settings. The combination of four layers can be saved together as a patch.
Four Synthesis Types
Each of the four layers offers a completely separate synthesis type including effects. First, select the oscillator model and adjust it accordingly. Here you immediate access to parameters without menu diving. This makes the Nord Wave 2 perfectly suited for live performance. Even in the studio you can quickly get the right sound from an initialized patch. Almost no other synth has such complex possibilities.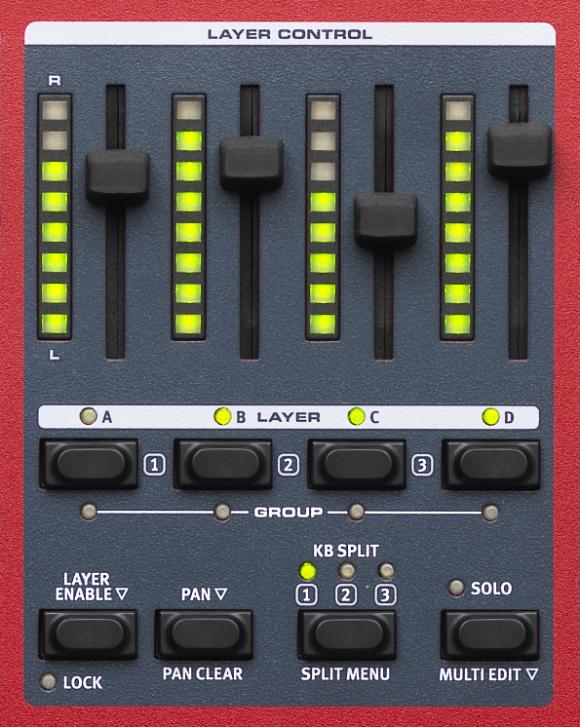 Virtual-Analog (VA)
Virtual Analog (VA) combines one or more oscillators (all the way up to Supersaw) and includes even more complex modulation options like Sync and Bell and has that typical Nord Lead sound: Extremely clear and detailed, big and dominant in the mix. Most other synthesizers and plug-ins just can't compare.
Wavetable, FM
Wavetable, on the other hand, has been simplified, so you won't be able to recreate a Serum patch with it. This is because these are not tables consisting of several waves that can be cycled through, they're just simple digital waves. Combined with the other synthesis types, however, these waves work surprisingly well and are able to really shine, especially in the upper frequency range.
Although FM is limited to a few predefined algorithms, it also benefits from the Nord Wave 2's uniform and very well thought-out operation. With just a handful of knob tweaks, you can create a crisp bass, electric piano or synthetic brass in no time at all.
Sample Player
The fourth sound generation option is a sample player. There are a lot of factory multi-samples supplied, from synthetic and acoustic strings to pianos and Mellotron tapes. The included bank of samples sounds very good and can be used "as is" without any further editing. They work very well as layers with synthetic sounds. It's amazing how much character many of the samples have, even though they are only a few megabytes in size.
Uncomplicated Sample Import
Custom user samples can also be imported. This worked on the first try without any problems using the included software. Big praise for that! The software can also read pitches from file names and automatically create loops – which makes it even easier to import your own samples. Additionally, Clavia offers a wide range of high-quality, pre-formatted samples for free. In the Nord Wave 2, sample editing is rudimentary and is primarily limited to adjusting the attack phase of the sample.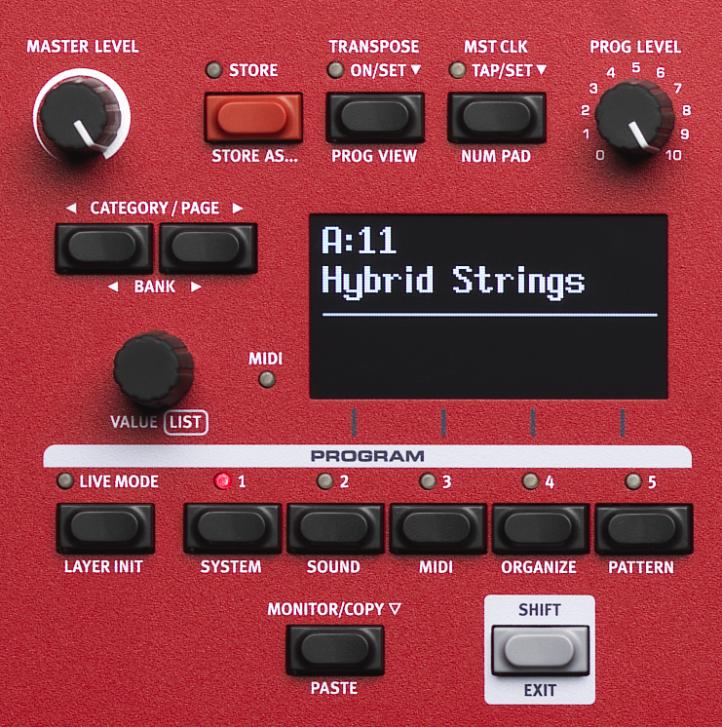 Morph Function
Regardless of the selected synthesis form, each layer features complete subtractive post-processing with a multi-mode filter, two ADSR envelopes and an LFO. In keeping with the operating concept, the modulation sources are assigned via buttons with LED indicators so you can see at a glance what's modulating what. That means you don't have to worry digging through menus to find a hidden modulation matrix. This does not mean that the Nord Wave 2 is limited to simple modulations like PWM and vibrato. It features the same morph function that other Clavia synths are known for. Simply press one of the four buttons for Velocity, Wheel, Pedal or Aftertouch and then turn a knob for the parameter to be modulated (e.g. Filter Frequency). The selected source (e.g. velocity) will then modulate this parameter by the amount that you've turned the knob.
Negative modulation is also possible, and several parameters (including the effects) can be assigned different intensities and directions. In this way you can, for example, morph between two completely different sounds with the modulation wheel allowing impressive sound exploration without complicated programming.
Multimode Filter
The filter has the typical Clavia sound established by the Nord Leads. We would describe it as rather clean and transparent, a Moog or Prophet filter colors the sound a lot more. But with the drive parameter, which can be adjusted in three steps, you can increase the drive and add more dirt to the sound. There's also an emulation of the Moog ladder filter, which provides a very different character… especially at higher resonance values, but it doesn't sound quite as fat and rich as the original. On the other hand, the band-pass and high-pass filters cut beautifully through the frequency spectrum, and the low-pass/high-pass combination sounds great.
Four Effects Per Layer
Each layer has four effects of its own that can be activated in parallel. In keeping with the overall operating concept of the Nord Wave 2, all adjustable effects parameters have their own knobs and can be programmed and adjusted directly.
The Effects Section contains good quality modulation effects like chorus, phaser and ring modulation. We particularly liked Vibes – this effect has an analog feel with slight frequency fluctuations. There's also an equalizer, which can be used either parametrically or with fixed bass and treble. Combined with the global drive effect, you can make quick frequency adjustments to the mix or band sound.
The most comprehensive feature is the delay effect, which can emulate both digital and analog delays. A special feature is that you can filter and modulate the delayed signal. The delay can also be synced to the master clock. The result is an excellent sounding Hall with various algorithms, which can be adjusted between dark and light and can also be chorused, providing nice depth and three-dimensionality.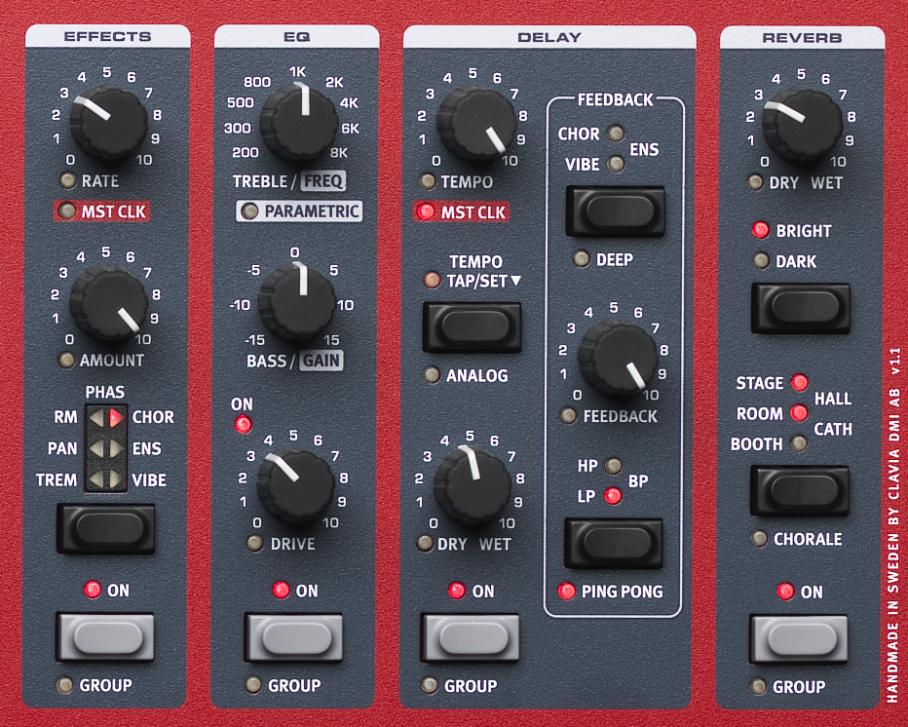 Programmable Arpeggiator
The Nord Wave 2 features a polyphonic arpeggiator that triggers all keys held in different modes. A Gate Mode can create choppy rhythmic patterns and the Pattern Mode contains a variety of predefined patterns, all of which can be edited. The large OLED display makes it easy to program your own patterns, too. Personally, we would have liked a classic step sequencer but, admittedly, that wouldn't have fit into the concept of the Nord Wave 2.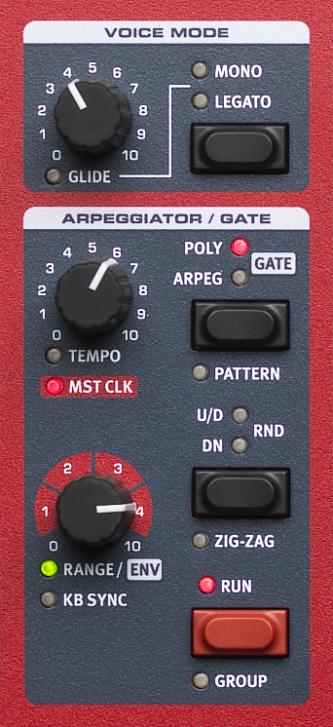 Verdict
The Nord Wave 2 (Buy Clavia Nord Wave 2 in the Thomann shop) is unlike any other synthesizer – uncompromisingly designed as an instrument and not as a production machine. It wants to be played and tweaked and only then does it show its full potential. There's no sound that the Nord Wave 2 can't master to perfection: fat and warm virtual-analogue sounds are just as convincing as crystal-clear digital sounds, and the morph function makes quick work of making complex sounds. The easy-to-use sample player complements the 4-layer concept perfectly, and the excellent effects ensure that the Nord Wave 2 can sit perfectly in the mix straight out-ofthe-box – making the lack of individual outputs less of an issue. The Nord Wave 2 is fun to use – both on stage and in the studio – and in terms of transparent and powerful sound, no other synth can compete with it. This sound, together with the hardware designed for durability, justifies the relatively high price compared to its competition, especially if you don't want to limit yourself to ready-made presets.
Want more? Get more!
Subscribe to the digital edition of BEAT Magazine via Plugins-Samples.com and get more gear, in-depth workshops, reviews and 11 GB exclusive plugins and new sounds with every monthly issue!
Subscribe to Beat Magazine for only 4.99€ per month