Creatively limited
With Novation's Circuit series, you should be able to produce electronic music in just a few minutes. The Novation Circuit, which was released in 2015, was able to fulfill this claim in the long-term test, whereby the restriction to the essentials proved to be quite creative. So there was no reason for Novation to fundamentally change the concept for its potential successor, Circuit Tracks. The revised version of the standalone groovebox also consists of four sample-based drum tracks, two 6-voice polyphonic synthesizers, matching sequencers and an effects block. Rhythms, bass figures and melodies can be either recorded or programmed with 32 multi-colored, velocity-sensitive mini-pads. Further controls include eight endless knobs for editing the sound parameters and effects of the selected track, as well as two pots for the global parameters Volume and Master Filter, plus a total of 28
backlit buttons.
Deeper editing via software
This essentially corresponds to the original Circuit. There is no display and no deep menu structure in Circuit Tracks; the most important sound generation and composition parameters are still available for direct access - this is an important part of the concept. For more in-depth editing, as well as sound and sample exchange, you can use Novation's free Components software as a standalone installation or browser software.
Overhauled hardware
Although the price has remained almost the same compared to the Circuit, Circuit Tracks also shows an improvement on the outside. The slightly slanted case is still made of solid plastic; however, the angled sides and curves not only make Circuit Tracks easier to grip, but the new version also looks more stylish than the plain rectangle of the original Circuit. At the same time, hardly anything has changed in terms of dimensions; at 240 x 200 x 30 mm, Circuit Tracks remains very compact and, at just 760 grams, is even a good deal lighter than the old Circuit. The robust pots are solidly attached to the housing and, therefore, are also suitable for rougher use on stage or on the road. The rubberized caps are a bit narrower and, as a result, seem less clunky, but fortunately this does not detract from the good feel and grip.
Fancier, but not more practical
As with its predecessor, a multicolored LED visualizes the currently set value of the parameter by means of brightness. The buttons are also illuminated, but here the color only shines through the lettering of the otherwise black buttons (similar to Ableton Push2, for example). This looks a bit fancier than the old Circuit, but in difficult lighting conditions on stage or in a sunlit penthouse studio, the status is harder to see. The multicolored illuminated pads offer the familiar and proven good feel, but they are still too small for excessive finger drumming.
Full-size MIDI
The connections come as a positive surprise: three MIDI jacks (IN/OUT/THRU) in full DIN size, which is something you don't see very often these days, especially not on compact and inexpensive devices such as this. Of course, this is particularly pleasing in a computerless setup in conjunction with the two newly added MIDI tracks, which can be used to control external sound generators. Here, the knobs can also be assigned to selectable MIDI controllers to control the parameters of the connected synthesizer or drum machine. The audio outputs have also not fallen victim to the downsizing trend, as a pair of full-sized 6.3mm jack sockets are available.
No sampler, despite audio inputs!
Two new audio inputs have been added and these can be used to loop external sound generators into the mixer and provide them with Circuit Tracks effects. There is also an analog clock output to synchronize Volcas and the like with the Circuit's sequencer. But please don't get too excited: Circuit Tracks can't record samples directly, despite the audio inputs. Maybe we'll see this later - maybe with a firmware update? Novation is known for exemplary long-term product maintenance; perhaps the British will surprise us in the future. Currently, you can only get your own samples into the Groovebox via the Components software and the SD card. For this, "Tracks Packs", consisting of samples, synthesizer settings and other data such as patterns and scenes, can be created with Components and imported into Circuit Tracks.
Internal rechargeable battery
The battery slot has been omitted, and instead Circuit Tracks now has a built-in battery with a decent runtime of a good 4 hours. Whether this is an advantage due to the direct integration and charging option, or a disadvantage due to the more difficult replacement (in the case of a defect or decreasing performance) is in the eye of the beholder - we tend to lean toward the former. Alternatively, power can be supplied via the USB-C port, which is also used for connecting to the computer. Practical for live use: If you accidentally pull the plug or power fails on stage, Circuit Tracks switches to the battery without loss - emergency power supply is, thus, already integrated!
Slightly aged VA synthesis
Circuit offers twice the number of synthesizer presets (128), which are controlled from two polyphonic sequencer tracks. The sound synthesis is virtual-analog and was inherited from the old Circuit without much revision and, therefore, basically corresponds to the Ultranova and Mininova synthesizers. So it has quite a bit of potential, but also some years under its belt. A handful of parameters like filter frequency, resonance, envelope and modulation can be changed directly via the knobs. This seems like a big limitation at first; however, the presets are mostly chosen for practical use and cover the most diverse ranges and musical styles, so that the adjustments via the macro controls are usually sufficient to reach the musical goal. Detailed programming of sounds from scratch is also possible using the software. Sonically and in terms of the possibilities, this area corresponds to the old Circuit as mentioned; here the new Roland MCs with Zenology technology offer a classier and more transparent sound that is also unrestrictedly suitable for studios.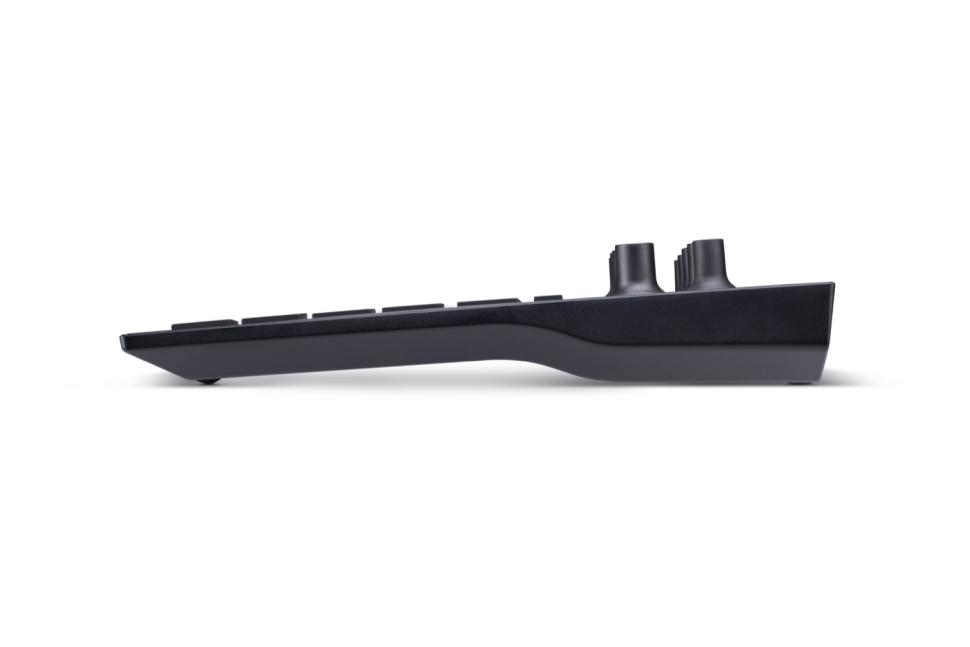 Compressor and sidechain
The same applies to the Delay and Reverb effects, as well as the filters: solid average and sufficient for the intended purpose, but for final studio production, one will probably resort to other effects in the end.
A new compressor has been added, which makes Circuit Tracks sound a bit punchier and more dynamic. At least as important for modern sound is the new sidechain option that allows you to pump bass and pads and make room for the kick. By the way, this also works with external audio signals, so the audio inputs make the Circuit Tracks a compact hub for a small jam session. It's almost unfortunate that Circuit Tracks does not feature a built-in speaker.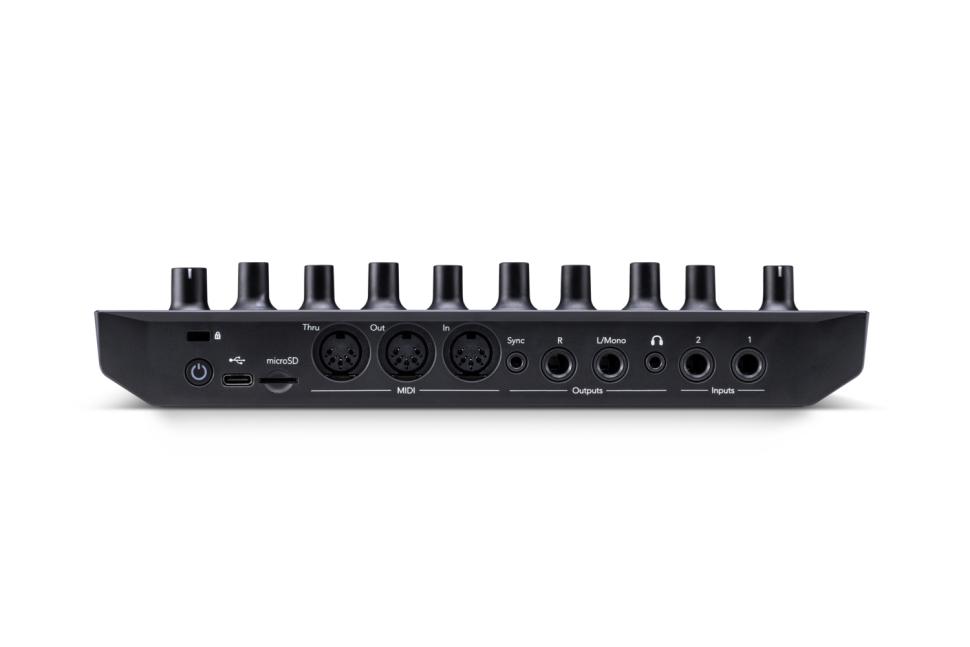 Sequencer expanded to 32 steps
The sequencer is basically the same as its predecessor, but it has been expanded in some places. A pattern now includes 32 steps instead of 16. A step in the right direction, but we would have preferred to see 64 steps, which has already become the standard in other products. Fortunately, the patterns can be loosened up with some new functions, so that even with 16 or 32 steps they don't seem too static and boring. Particularly interesting is the Probability inspired by the Elektron machines: For each step, you can set a percentage probability that it will be played during a run of the sequence. At 100% the step always plays, at 50% there is a 1:1 chance and so on.
Also familiar from Elektron are the parameter locks, which can be used, for example, to set different filter frequencies for each step. New playback directions like Ping-Pong and Random also serve to loosen things up, and with MicroSteps you can bring more groove into strictly quantized beats. With a little brain power and abstraction, you can also use MicroTiming to achieve 4-bar patterns and to split chords to create a strumming effect like a guitar - experimentation is the name of the game here.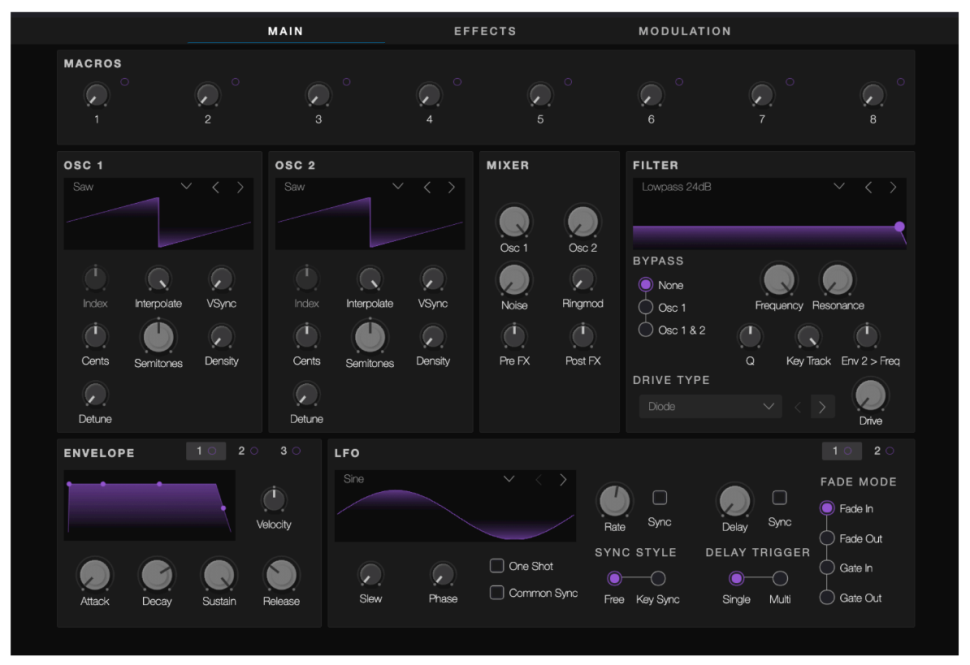 Mutations and Pattern Chains
With the Mutate function, you specifically swirl the entire pattern: MicroSteps, note length, recorded automation, and even the sample flips. Sample flip means that you can use several different samples on one track. Although not simultaneous, since the tracks are monophonic, different samples can be selected for individual steps. As with the Circuit, up to eight patterns can be chained together, which for tracks also allows chains of up to 256 steps due to the double-length patterns.
Scenes for Complete Tracks
One of the highlights of Circuit Tracks for many users will be the long-awaited Scenes, which finally allow you to create complete tracks (nomen est omen) with the Groovebox. For a Scene, different patterns and also pattern chains can be selected and saved; in Mixer mode you can then switch between different Scenes via the lower two pad rows and, therefore, prepare the flow of complete songs in a performance-friendly way. The number of storable projects has also been doubled, from 32 to 64.
Verdict
Circuit Tracks is a worthy successor to the popular little groovebox, Circuit. Both feel and features have been thoughtfully expanded without abandoning the concept of creativity-enhancing restriction to essential elements. Thanks to audio inputs, compressor, sidechain, DIN MIDI connections and additional MIDI tracks, Circuit Tracks is now also suitable as a control center for a small setup. And the new Scenes make it easier to perform live and create complete tracks. For a Circuit Pro, however, we would still like to see sequences with more than 32 steps, a more modern synthesis type for sound generation and direct sampling.
Want more? Get more!
Subscribe to the digital edition of BEAT Magazine via Plugins-Samples.com and get more gear, in-depth workshops, reviews and 11 GB exclusive plugins and new sounds with every monthly issue!
Subscribe to Beat Magazine for only 4.99€ per month