However, the fragile micro-USB port is no longer up-to-date; even cheaper controllers already offer the more reliable and durable USB-C variation. A power supply for independent power could have been included, instead of offering it as an option for 40 Euro. The SQ-64 is primarily designed as a control center for an analog hardware setup and modular systems, as a look at the lavishly equipped rear panel shows.
Many analog outputs
The SQ-64 offers 19 analog outputs in eurorack-friendly 3.5mm jack design, beating the Beatstep Pro. For each of the three melody tracks there is a CV/Gate output and an additional Mod output, for example, to modulate the filter frequency of the connected synthesizer. And for the drum track, SQ-64 offers eight trigger outputs, which can be adjusted in voltage and polarity. We found it extremely practical that each output has a status LED, so that you can see directly whether a signal is being sent to the output or not. In addition, there is Clock IN/OUT for synchronization with drum machines and groove boxes, such as the Volcas, as well as a MIDI input and two MIDI outputs. Of course, MIDI is also sent via USB.
One pad for each step
Each track can be up to 64 steps long. Four tracks are available, one more than the Beatstep Pro. Three of them are polyphonic for melodies. In addition to pitch, note length and velocity, MIDI CC can also be integrated, allowing you to modulate other parameters of the connected sound generator via MIDI, USB or the analog mod outputs. The drum track offers 16 sub-tracks, so you can trigger up to 16 drum and percussion instruments with it simultaneously.
For programming, the pads can be used as a keyboard, or you can play in the melody via an external keyboard: step by step or in real time. We did find it a bit irritating, however, that pre-listening was not possible in every mode and we were, therefore, partly flying blind. We couldn't find automatic quantization in the current firmware either. Classic step input is also possible, of course.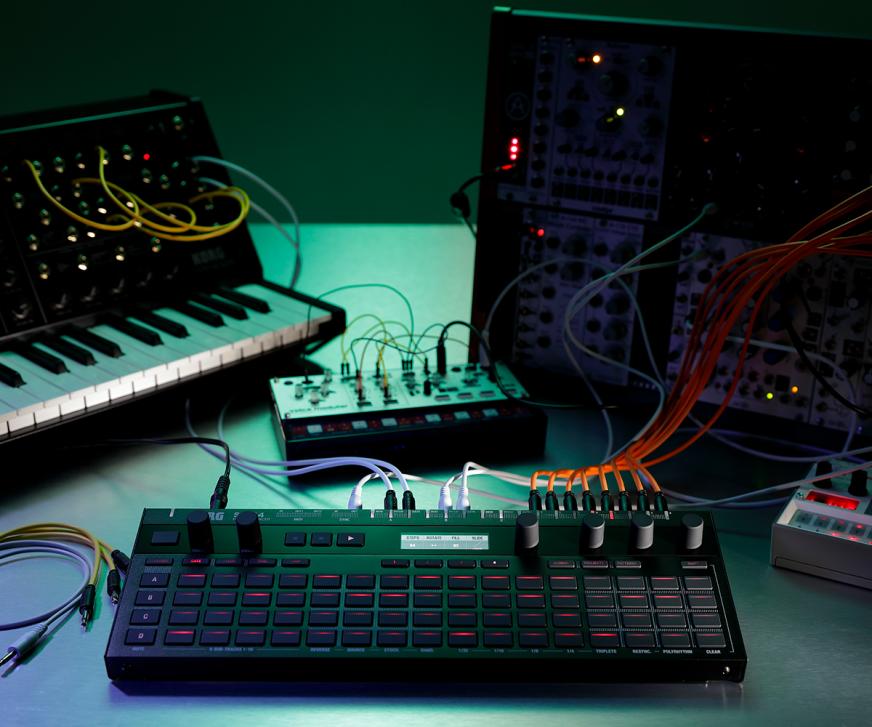 A dream for tweakers
The SQ-64 really shines with the sequence manipulation options. Various playback directions are available and polyrhythms are child's play. With Probability and Alternate, static patterns can be wonderfully loosened up without slipping completely into random chaos. In addition, there is a Stepdivision feature that goes far beyond the typical flams, rolls and ratchets. The fill function is also very flexible. The arpeggiator and chord functions, with adjustable key to avoid skewed tones, are also creative.
The option to control all 64 steps of a track via the pads or to have simultaneous access to 16 steps of each of the four tracks is particularly practical. Unfortunately, the low contrast of the pad illumination makes it difficult to distinguish between set and unset steps.
For each track, 16 patterns can be stored; pattern chains are also possible and the whole thing can be organized in 64 projects - that's enough even for longer gigs!
Verdict
The SQ-64 scores points with solid workmanship, compact and stylish design, many analog connections and numerous unusual features that invite experimentation. But this flexibility has to be bought with a somewhat complicated workflow in some places, however, which is why we would recommend the SQ-64 primarily for creating unusual, constantly changing sequences with a certain random element and less as an intuitive step sequencer for classic melodies and rhythms.
Want more? Get more!
Subscribe to the digital edition of BEAT Magazine via Plugins-Samples.com and get more gear, in-depth workshops, reviews and 11 GB exclusive plugins and new sounds with every monthly issue!
Subscribe to Beat Magazine for only 4.99€ per month