In addition to the singer's expression, the quality of the vocal recording determines whether a song is convincing as a whole and whether it can convey its message or story to the listener in a credible way. On the technical side, a high-quality microphone that matches the voice, a musical preamplifier and a good audio interface, as well as reliable acoustics, play the main role. And, of course, the know-how to use your own recording equipment in the best way as possible.
Basic Equipment
Microphone
In general, microphones are divided into two basic transducer principles: The robust dynamic microphone, which is often used on stage, works with a moving coil, rarely has a linear frequency response and is usually used specifically because of its typical sound coloration. Particularly with powerful rock vocals, it's worth trying out high-quality dynamic models.
Large-diaphragm condenser microphones are characterized by their linearity and a detailed, finely resolved sound. This makes them the first choice for capturing vocals in all their nuances. There is often a switchable high-pass filter, which helps to suppress low-frequency noise such as foot sounds. When recording particularly loud instruments, you can use the Pad function to reduce the sensitivity of your microphone.
A switchable polar pattern makes the microphone's range of use more flexible, but is not essential for pure vocal recordings. When recording solo singers, the cardioid polar pattern is usually selected. The decision to use a tube or transistor model is ultimately a question of personal taste: tube microphones deliver a warm, pleasant sound, while transistor versions sound more precise and clearer.
Dynamic vs Condensor Microphones
Condenser microphones (Image 1) are generally used for recording vocals or for picking up acoustic instruments. Dynamic microphones (Image 2) are designed for high sound pressure levels and are, therefore, recommended for guitar and bass ampli- fiers and drums or as vocal microphones on stage.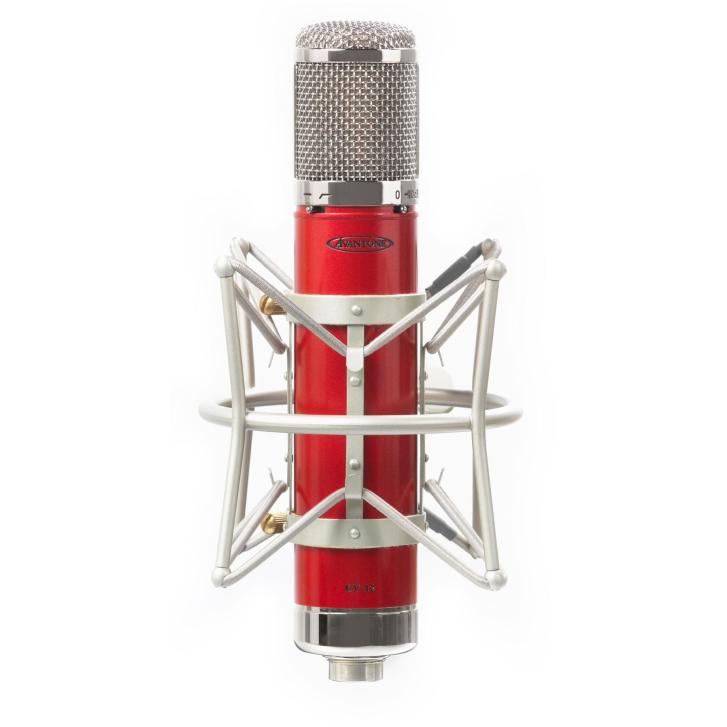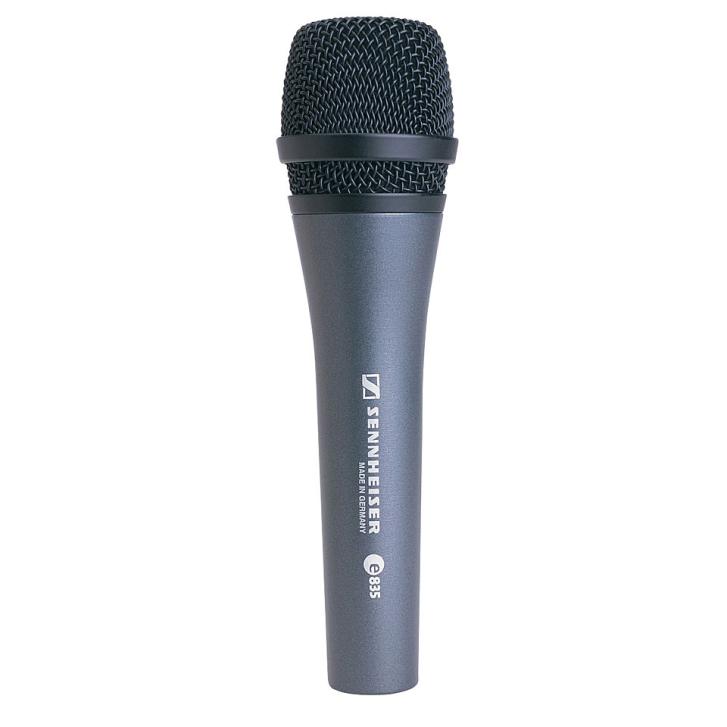 Audio Interface
Many microphone preamps or channel strips are now equipped with an integrated A/D and D/A converter. Almost every audio interface also has at least one mic preamp. As a rule, audio interfaces do not offer any other functions such as compressors or equalizers apart from the actual converter. In order not to lose dynamics unnecessarily during recording, the vocals are often compressed slightly; however, current audio interfaces offer a wide dynamic range, so that even quieter signals can be recorded in very good quality. In this respect, you can do without compression during recording. If you already have the appropriate outboard equipment, an audio interface with a high-quality preamplifier or a preamp with a suitable converter is sufficient.
Channel Strip
The channel strip typically combines all the tools necessary for a successful recording: like a microphone preamplifier with phantom power, de-esser, compressor, limiter and equalizer in one compact unit. As with microphones, either tubes or transistors are used. When several microphones are used together, for example, in stereo microphones, it may be necessary to rotate the phase of one or more signals. Many preamplifiers or channel strips offer a corresponding phase reverse function. Channel strips are all mono and, in many cases, are available with an optional digital interface.
Effects
To keep all options open for mixdown in the DAW, the vocals should be captured with minimal effects during recording. Again, less is more. Other recording effects such as a De-Esser or Gate (for drum recordings) should only be used if you have very specific ideas about the final sound. It usually makes more sense to apply these editing steps in the DAW.
Røde NT1 Kit
The NT1 large-diaphragm condenser microphone has become a classic – used not only in home recording – but also in many large studios for vocal or instrumental recording. Thanks to its cardioid polar pattern, it is particularly recommended for recording solo vocals. The microphone has a solid aluminum housing. It does not have a filter, pad or switchable polar pattern, but concentrates on the essential: a good sound. In addition to the microphone, the Røde NT1 kit includes a matching, well-made spider shock mount with integrated pop protection, a 6-meter XLR microphone cable and a dust bag.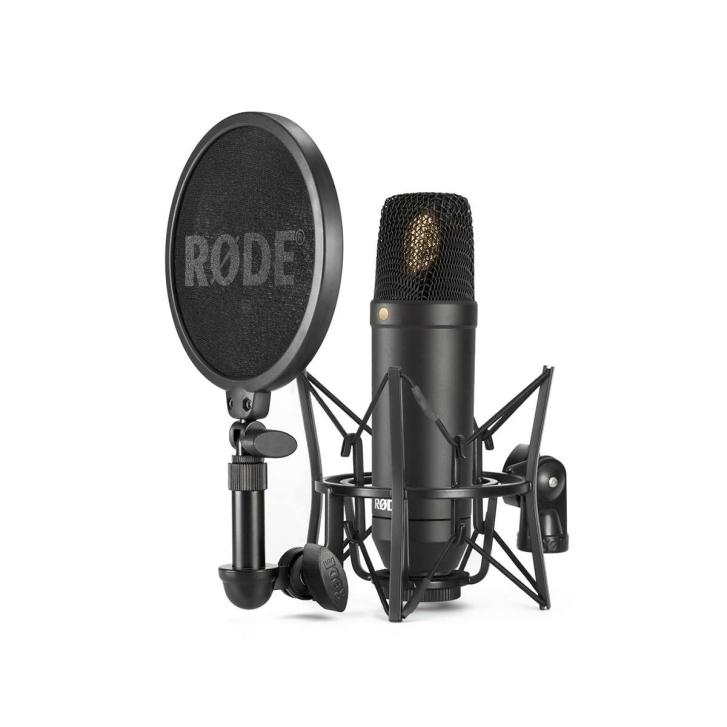 The robust Røde NT1 records audio signals in detail with a well-balanced frequency response. The treble is slightly emphasized for a clear sound. Another positive feature is the microphone's very low self-noise and the 10-year manufacturer's warranty. A great all-rounder!
www.rode.com, www.hyperactive.de | Price: 252 Euro
Steinberg Production Starter Kit
With its Production Starter Kit, Steinberg has put together a complete set for music production. Included are the Nektar Impact LX25+ MIDI controller keyboard, Steinberg's popular UR22C USB 3.0 audio interface, the ST-M01 studio condenser microphone, the ST-H01 studio headphones and a high-quality software bundle. The bundle consists of Cubase Artist, HALion Sonic, WaveLab LE and the Cubasis LE app - so everything you need to get started in music production is on board. The condenser microphone is solidly built and covers a wide frequency range. The audio interface supplies the microphone with the necessary phantom power and transmits the signal in 32-bit/192 kHz quality to your DAW. For those who can do without the software and MIDI keyboard, the Steinberg UR22C Recording Pack is an affordable alternative.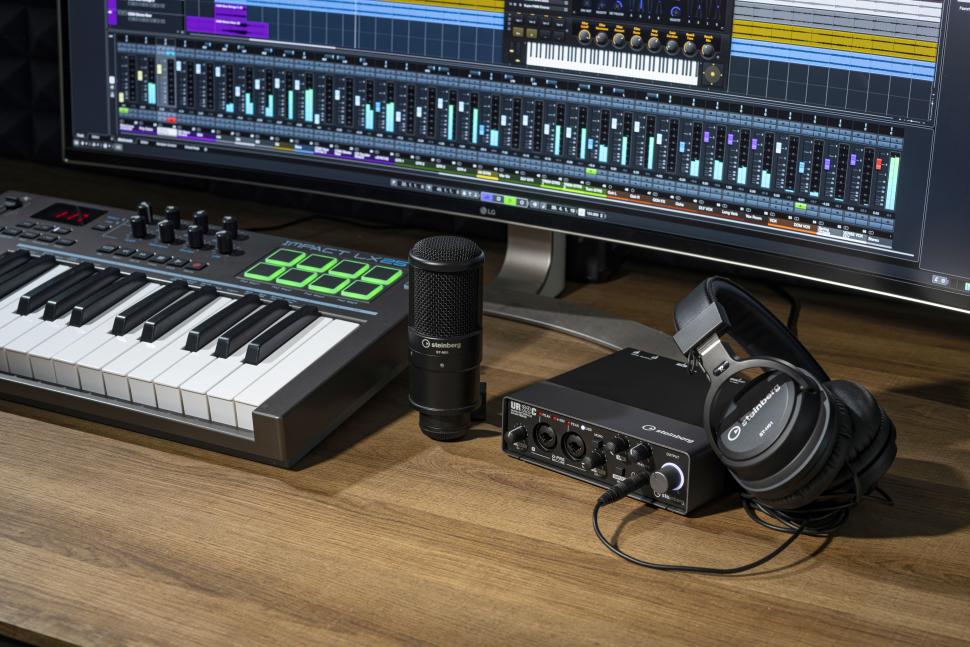 With a very attractive price, this bundle provides you with excellent basic equipment for music production. The condenser microphone not only shows it strengths in vocal and speech recording, but can also capture instrument signals in good quality.
www.steinberg.net | Price: 549 Euro
t.bone MicScreen XL
Anyone who has ever recorded vocals or instruments in a home studio knows that the reverberation of the recording room is usually clearly audible, as are disturbing noises like the hissing of the PC fan. This is where compact microphone absorbers can help. The t.bone MicScreen XL has five segments that can be opened and closed in different positions. The closer the wings point inward (i.e. they enclose the microphone), the less room is captured. The portable absorber and diffuser can be mounted on a stand or placed directly on the tabletop. And the closer the microphone is to the absorber, the less space it captures.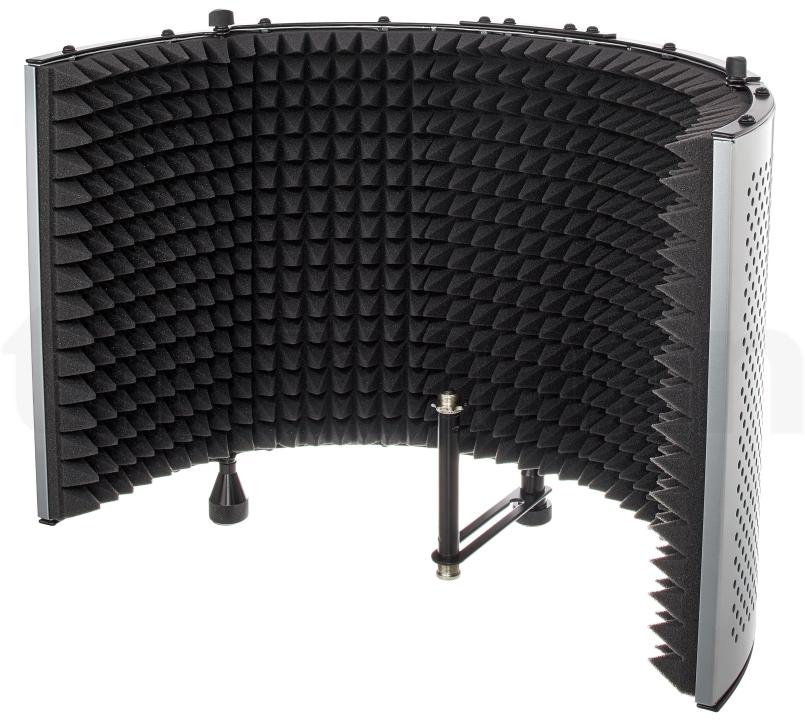 The MicScreen XL allows effective attenuation of room tone in a recording... even in problematic recording environments. It also scores points for a well thought-out design, solid workmanship and a reasonable price. Due to its rather hefty weight, however, you should include a heavy tripod.
www.thomann.de | Price: 77 Euro
Sontronics STC-3X Pack
The British manufacturer Sontronics is known for its first-class microphones. The model STC-3X is a large-diaphragm condenser microphone with adjustable directionality, so you can choose between cardioid, omnidirectional, or figure of eight. It also features dual pad circuitry and a high-pass filter with two selectable frequencies. It's also ideal for recording instruments – even loud signals from drums or percussion are captured cleanly. A spider shock mount, pop screen, a bag and an XLR cable are included. If the cardioid polar pattern is enough for you and you can do without all accessories (except the shock mount), the cheaper model Sontronics STC-2 is worth a look.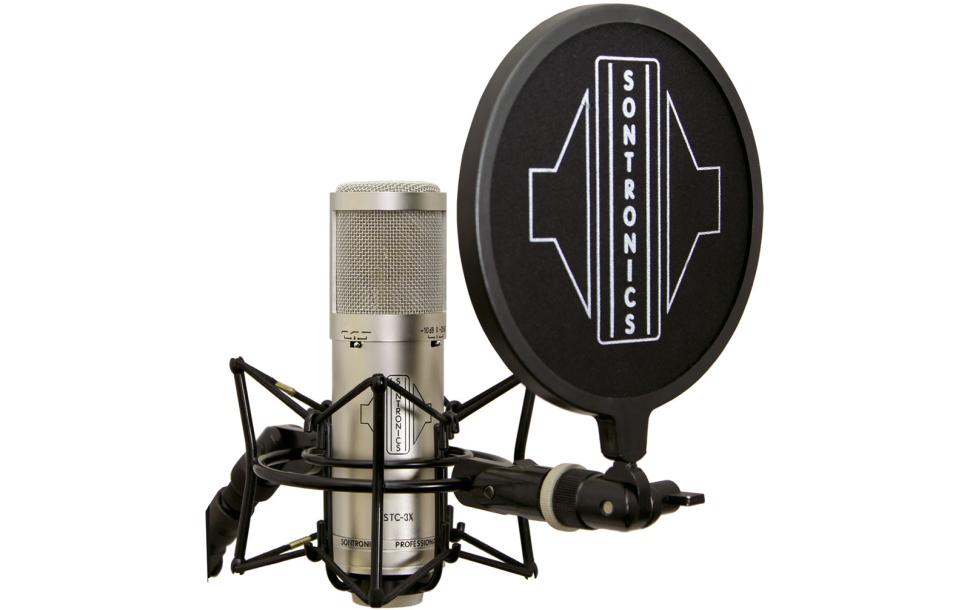 The greatest strength of STC-3X is its versatility: Thanks to its adjustable polar patterns and high-resolution sound, it is equipped for a wide-range of recording situations. Other strong buying arguments are the high-quality workmanship and lifetime warranty.
www.sontronics.com, www.audiowerk.eu | Price: 359 Euro
Apogee HypeMiC
Apogee's compact USB microphone is very similar to the Apogee MiC Plus, but has an additional built-in analogue compressor with three presets and an extended delivery range. Also included are a sturdy tripod, USB C and Lightning cables for connection to Mac, PC or iOS devices, and a convenient case. This cardioid microphone is designed for both studio and portable use. A large control on the front panel lets you adjust the input level. At close range, especially when using the proximity effect, the HypeMiC sounds very direct and intimate. At greater distances, the sound is clean, transparent and relatively neutral. The very good Apogee converters really pay off with quieter recordings.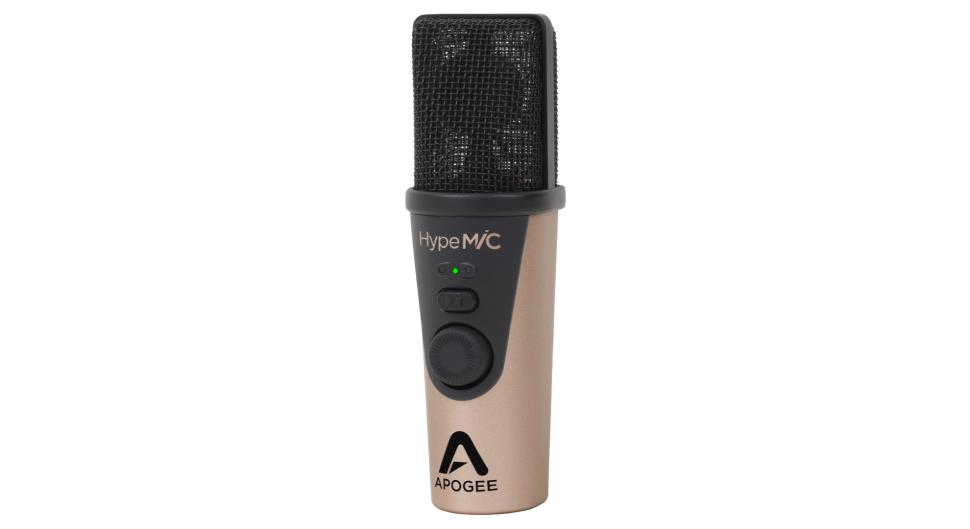 The HypeMiC is a very compact microphone with professional sound and character. Not only does it sound fine for voice recordings, but those recordings also benefit from its integrated compressor when used at moderate settings.
www.apogeedigital.com, www.sound-service.eu | Price: 343 Euro
Focusrite Scarlett Solo Studio Pack
Focusrite's Scarlett Solo Studio Pack is designed to help you get started recording. The bundle includes the CM25 MkIII condenser microphone, the popular Scarlet Solo third-generation audio interface, the HP60 MkIII headphones, a 3-meter XLR cable and a USB cable. As you would expect from Focusrite, the cardioid microphone is very well made. It records in a frequency range from 20 Hz to 20 kHz. The audio interface offers very good audio quality in 24 bit and up to 192 kHz. Its microphone preamplifier has a switchable Air function, a digital simulation of the Focusrite ISA mic preamps with a boost for the upper mids.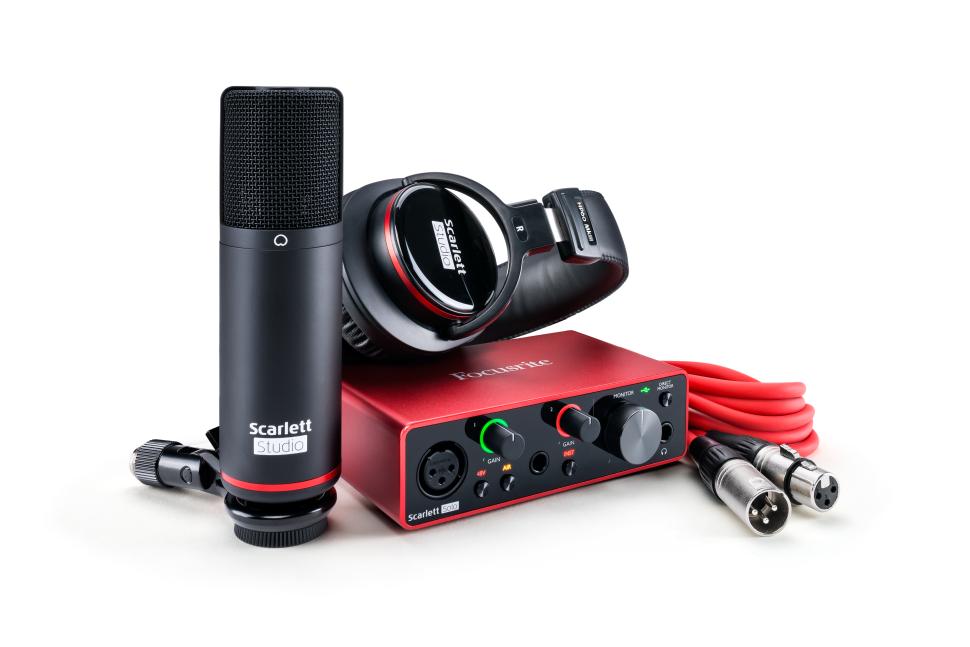 With the Scarlett Solo Studio Pack, Focusrite has put together an excellent bundle that's especially aimed at home recording enthusiasts. It offers an excellent price to performance ration and knows how to prove it's quality. Due to the Air function in the audio interface, vocals recording sound more open and present.
www.focusrite.com | Price: 230 Euro
Neumann TLM 102
With the U47, Neumann created a true legend among studio microphones. The TLM102 makes the great Neumann sound affordable even for home studios. It is equipped with a large diaphragm capsule with cardioid pattern, and reliably captures even loud signals. The housing also has an integrated pop screen. Compared to Neumann's TLM 103, the microphone is quite small. It is excellently crafted and has low self-noise and high impulse fidelity. The versatile transducer also performs excellently in capturing instrument signals or in amp miking, but its greatest strength is in the detailed recording of vocals.
Neumanns TLM102 not only looks superb on the outside, it also sounds that way. Its direct, clear and balanced sound flatters both female and male voices. The moderate treble boost gives vocals silky highs.
www.neumann.com | Price: 533 Euro
Roland VT-4
Behind the name VT-4 is a compact effects processor to alienate the voice in real time. This enables you to achieve good quality vocal effects such as harmonizer, vocoder, pitch change and formant shifting from Mickey Mouse to Darth Vader. With the four faders, you have direct access to the pitch, formants, balance between effect and original signal and reverb. Delay and reverb are also on board. Autotune does not have the same quality as effects specialized in this field, but it does a good job; especially in live operation. We particularly liked the vocoder with high speech intelligibility and the harmony function. Thanks to USB power and battery operation, the device can be operated independently of any power outlet.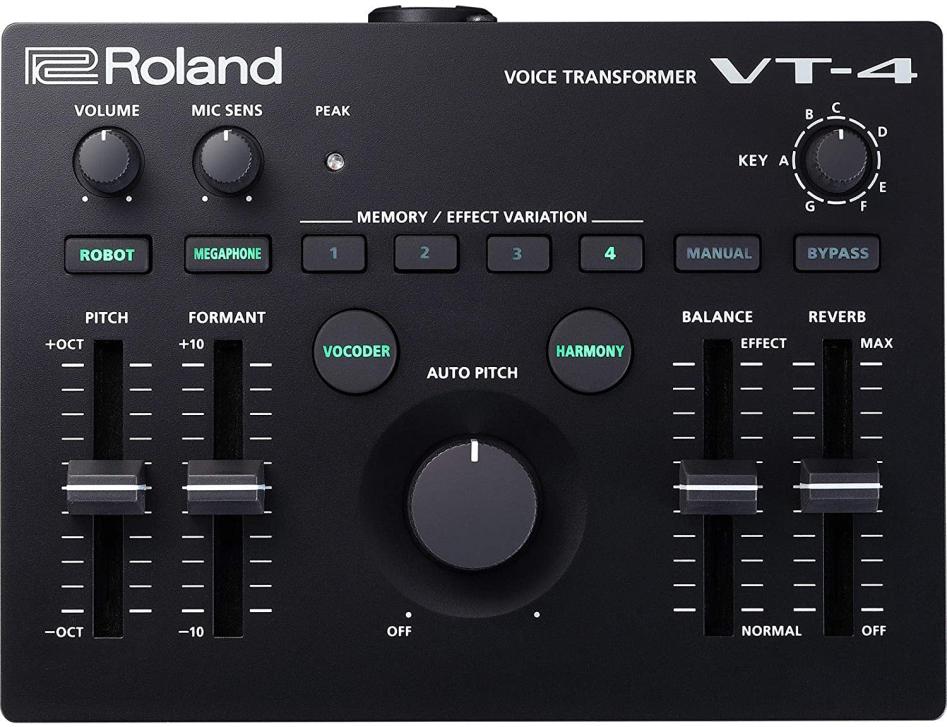 The VT-4 shines as a flexible and versatile creative tool for vocal effects of all kinds - in the studio or on the stage - at an affordable price. Connecting a MIDI-Keyboards opens up expressive possibilities, since you can control the VT4's auto-pitch, vocoder and harmonizer engine in real time via the played notes.
www.roland.com | Price: 206 Euro
Shure SM58 LC
Dynamic microphones like the SM58 have their advantages. Because the induction coil attached to the membrane requires more mass to be moved, such mics are less optimal for precise transient tracking, but they are unbeatable for pleasantly rounded results. This microphone with its cardioid polar pattern is very robust and not at all expensive. Due to its character, the SM58 is a perfect match for rocking vocals, shouts or rap. So even rock greats like Bono and Lenny Kravitz swear by the SM58 or its brother the SM57. The microphone is also a good choice for recording loud instrument signals from snare drum, percussion or guitar amps. Microphone bag, clamp and thread are included.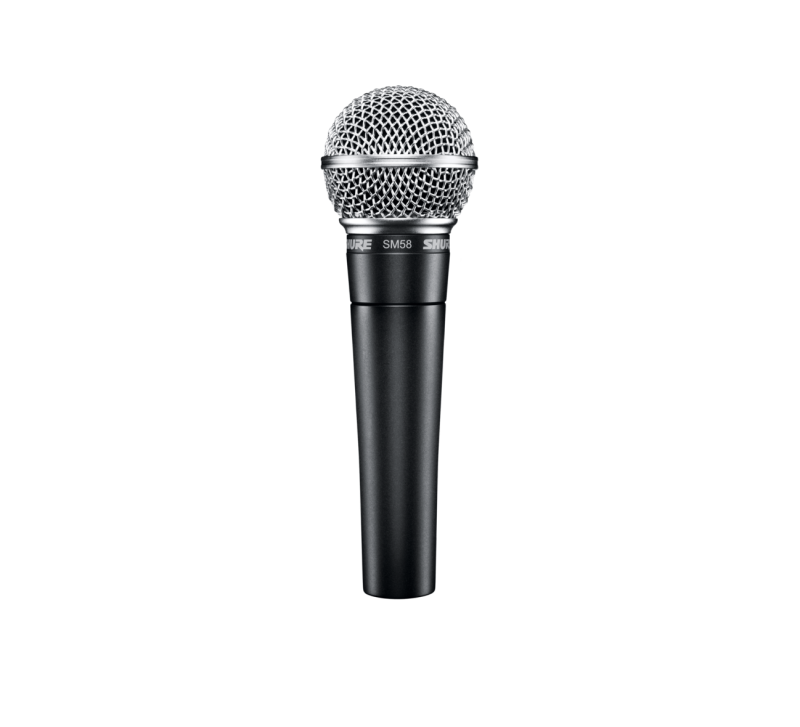 The SM58 is not without reason a classic, especially for rough live use. But even for vocals, this durable microphone is a real alternative to condenser models, because less space is captured and it makes it less prone to spikes.
www.shure.com | Price: 96 Euro
Want more? Get more!
Subscribe to the digital edition of BEAT Magazine via Plugins-Samples.com and get more gear, in-depth workshops, reviews and 11 GB exclusive plugins and new sounds with every monthly issue!
Subscribe to Beat Magazine for only 4.99€ per month