Behringer BCR32
The BCR32 is a combination of sequencer and MIDI controller and is a successor of the BCR2000. It also invites the use of external analog synthesizers thanks to the respective four CV/Gate connectors.
JP-4000
The JP-4000 is a reproduction of the JP-8k sound engine with supersaw waveform. It is a four-voice hybrid paraphonic synthesizer with two analog-modeled oscillators that still embodies the 12-bit character. 49,- USD

Behremin
The Theremin became known as a touchless playable instrument. Behringer wants to create a market-ready Behremin from it. 99,- USD

Toro
Based on the Moog Taurus Revision 1, the announced bass synthesizer Toro was created, which wants to convince with a pure analog signal path. The Eurorack solution has two VCOs, ladder filters and four presets. 199 US Dollar
Proton
With the semi-modular paraphonic synthesizer Proton Behringer clones its own Neutron. There are 64 patch sockets, two VCOs, ADSRs, LFOs and two self-oscillating filters each.
UB-1
The Oberheim Matrix 6 is the sonic model of the portable UB-1, which is equipped with two analog oscillators, filter and arpeggiator. 49 US dollars
2-XM
The analog synthesizer 2-XM is the clone of the former SEM 2-Voice, which can claim four VCOs and envelopes each. Two multi-mode filters, LFOs, as well as external audio inputs are also part of the Eurorack device's range of functions. 299 US Dollar
Model 15
Model 15 was the former model and is re-released under the same name as a semi-modular synthesizer. Dual oscillators, filters and 48 patch jacks, as well as an arpeggiator are among the other features. 299 US Dollar.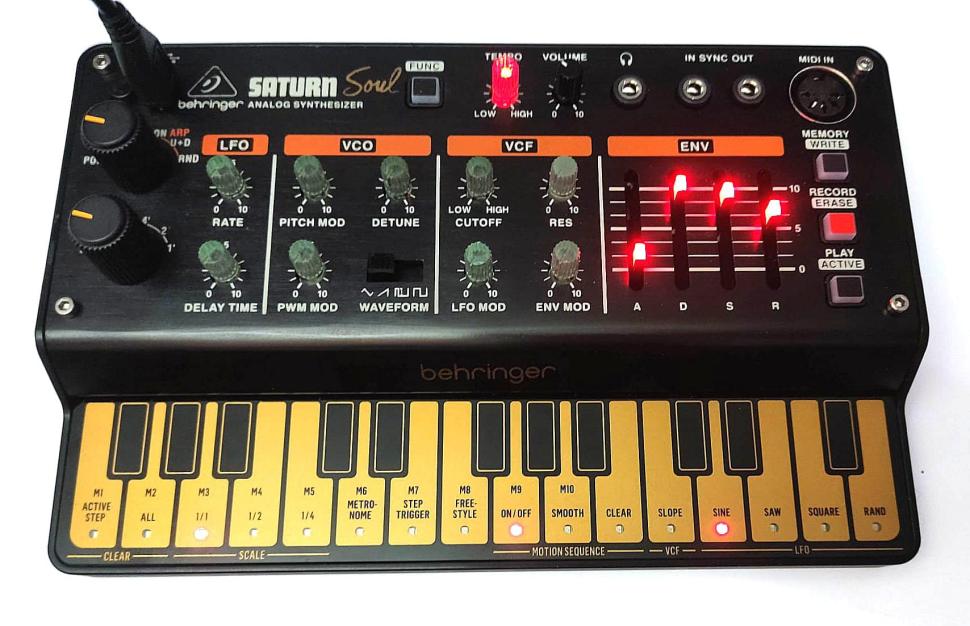 Saturn Soul
An emulation of the Jupiter-80 is the compact USB synthesizer Saturn Soul with a 27 keyboard. The sound generation is based on three VCOs, plus vintage multimode filters and a 16-step sequencer. 99 US dollars.
Pro VS Mini
Modeled after the Prophet VS is the four-voice hybrid vector synthesizer Pro VS Mini. It can be used to recall 127 wavetables and 32 presets on the internal sequencer and arpeggiator. $99
All other info:
Want more? Get more!
Subscribe to the digital edition of BEAT Magazine via Plugins-Samples.com and get more gear, in-depth workshops, reviews and 11 GB exclusive plugins and new sounds with every monthly issue!
Subscribe to Beat Magazine for only 4.99€ per month