NiftyKEYZ / West Pest
Cre8audio's contributions to the modular Eurorack world are convincing all along the line. NiftyKEYZ combines a robust controller keyboard with a good keyboard and a flexible Eurorack for customizable modules. Whether you are just looking for a master keyboard for a semi-modular synthesizer like Behringer Pro-1, Moog Mother-32 and an additional oscillator, filter, FX or you want to build your own wacky synthesizer from scratch, both are possible without much technical effort.Of course Cre8audios own synthesizer modules East Beast and West Pest also fit into the system, preferably both together. Because while the East Beast tested in the last issue delivers classic warm and creamy East Coast sound in the style of Moog&Co.West Pest complements the sound spectrum with overtone-rich and weird West Coast sounds that cut through any mix with independent character. Multi-mod tool, patchbay, sequencer and random functions allow for more complex sound progressions. And the price/performance ratio is excellent for both the Keyz and the modules, especially in view of the usual prices in the Eurorack sector.
www.cre8audio.com | Total: 5,5/6 | NiftyKEYZ price: 599 Euro ; West Pest price: 249 Euro | Order at Thomann

Roland Juno-X
The sound, design and build quality of the synth are impressive. Very good sounding VA models of the Juno classics with added extras like super-saw, thousands of butter-and-bread sounds, an excellent piano, punchy drum kits and solid effects. With a robust case, good keyboard, many controls, vocoder with microphone input, drum computer and intelligent arp, the Juno-X covers almost all the needs of a live keyboardist and also proves to be a reliable sound supplier for all styles of music in the studio. The sound control via the numerous control elements is fast and intuitive. A deeper programming of the complex ZEN core engine via the outdated graphics display, on the other hand, is not much fun. Fortunately, there is an editor, but at least in the studio you could use the identical-sounding Zenology software instead of the hardware, which unfortunately does not allow direct exchange via USB with the Juno-X.
www.roland.com | Total: 5/6 | Price: 1999 Euro | Order at Thomann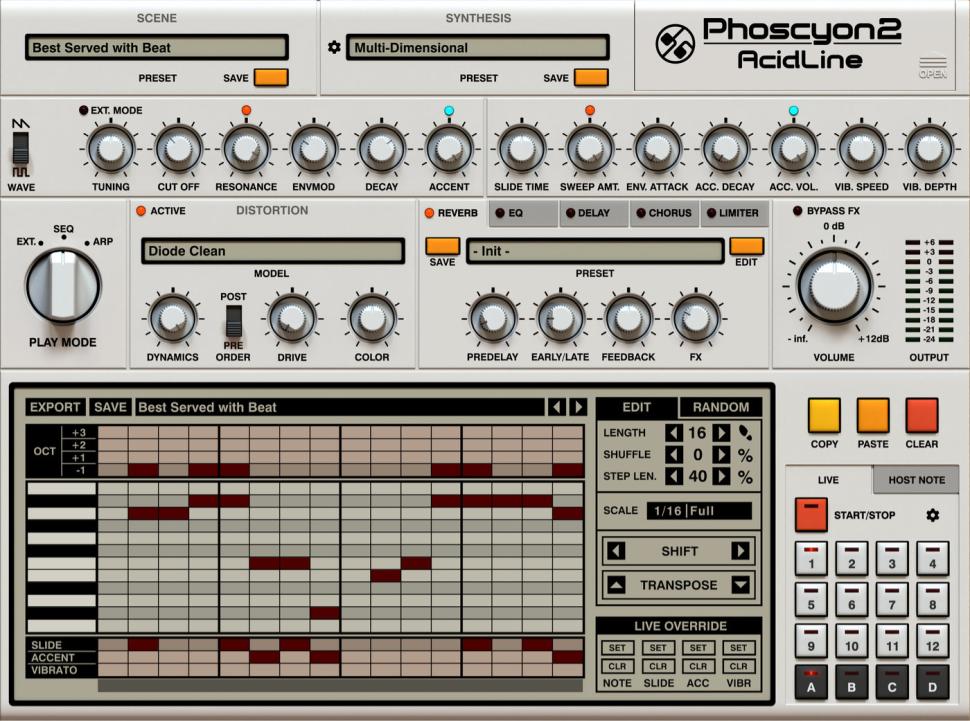 D16 Phoscyon 2
Many of us have already expected this and we are not disappointed: Phoscyon 2 skillfully secures a place at the top of the best emulations of Roland's TB-303, meeting the replicas of AudioRealism and Roland itself on equal terms. With its advanced sound generation, inspiring duo of step sequencer and arpeggiator, and excellent effects, Phoscyon 2 offers the best value for money. Classic 303 basslines, screaming riffs and pulsating sequences are quickly screwed and with the distortion effect many classic distorted 303 sounds can be convincingly recreated. The MIDI learn function also deserves a lot of praise: when you control the most important synth parameters with a MIDI controller, you get a real live feeling.
www.d16.pl | Total: 6/6 | Price: 119 Euro | Order at Thomann
You can read all tests in full length in BEAT #202 and purchase them here in the falkemedia store.
Want more? Get more!
Subscribe to the digital edition of BEAT Magazine via Plugins-Samples.com and get more gear, in-depth workshops, reviews and 11 GB exclusive plugins and new sounds with every monthly issue!
Subscribe to Beat Magazine for only 4.99€ per month