Live as standalone
Push 3 will be available in two versions: as a pure controller – as known from its predecessors – or with a processor and an installed Live version, which makes it a complete standalone DAW. First of all: not all features of the desktop computer will be taken over. Sound generators and effects are limited to Ableton's own plug-ins and many Max4Live devices. There are no plans to use VST plug-ins or AudioUnits. The arranger mode is also not included, currently only the clip view is available. Arranging entire tracks is therefore reserved for the desktop version.
Song files can be exchanged between standalone and desktop software as desired. If tracks that use external plugs are converted to audio beforehand using the freeze function, the sound is preserved 1-to-1; only the aux tracks are an exception here.
More on the hardware
On the hardware side, the 64 pads are now MPE-compatible: not only can velocity be used to modulate parameters, but also slides from top to bottom and left to right. Provided that the sound generators are equipped accordingly, this makes very expressive playing possible.
There are also massive gains in the connections compared to Push 2: "the new one" now has its own audio interface on board – so sampling is also possible directly, although not for vinyl – and two ADAT interfaces allow the channels to be expanded with any compatible interfaces. This is a unique feature for a standalone unit; only Akai MPCs offer connections for USB interfaces.
Depending on the sound source, three different preamps can be used, which we will discuss in detail in the test next issue. External controllers and keyboards can be connected via MIDI and USB, and two foot switches are also included. Another new feature is the integration of modular synths via the CV interfaces. We think that's great already!
Thanks to the new, pressure-sensitive jog wheel and audio previews, the use and integration of sounds and instruments should be made easier and faster. We will also test this extensively.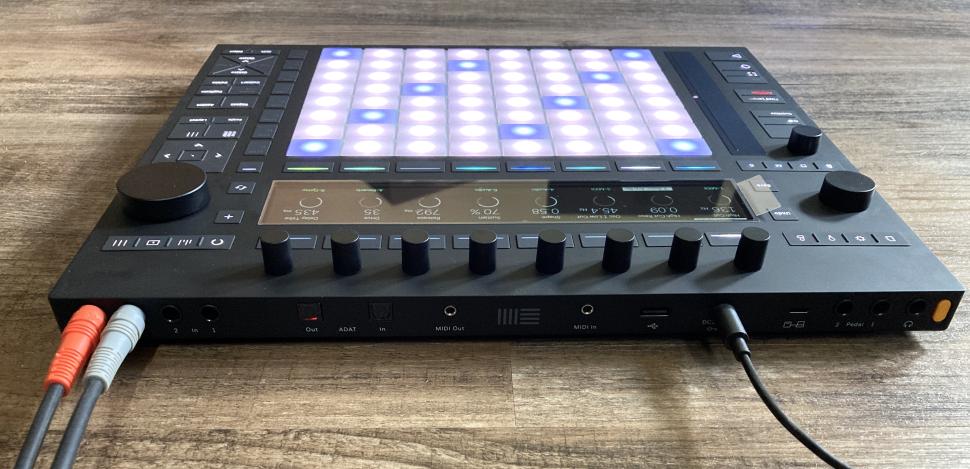 What's inside in terms of computer power?
Under the hood, there is an Intel i3 processor with 8 GB RAM and a hard disk with 256 GB memory. Since, in comparison to desktop computers, the CPU only has to take care of the software and the operation of the audio interface, the power is also sufficient for larger projects without having to go to its knees prematurely. According to the manufacturer, the internal battery lasts up to 2.5 hours, depending of course on the load.
Facts on Ableton Push 3:
Pads: 64 XY sensitive RGB backlit pads - MPE capable
Pads: Slide up & down, side to side, add pressure
Pads: Significantly more sensitive than Push 2
Jogwheel: Scroll fast for access to collections
Jogwheel: Duplicate & delete clips
Jogwheel: Nudge (Left for back, Right for "right click"
Display & Experience: Session Mode & MIDI editing - directly on screen
Display & Experience: Preview option
Display & Experience: Encoders
Audio-Interface: 2 balanced I/O (TRS) - link for stereo input (TRS)
Audio-Interface: 3 preamp types for various audio sources
Audio-Interface: EG High (quiet instruments) allows for an extra 20db of digital gain
Audio-Interface: Sampling Frequency: 44,1kHz
Audio-Interface: Frequency Response: 20Hz - 20kHz
Audio-Interface: Sample Rate/ Bit Depth: Up to 96k and 24 bit.
Connectivity: 1 x Stereo Headphone Jack
Connectivity: 2 x Optical ADAT jack
Connectivity: Expandable via ADAT lightpipe
Connectivity: 2 x Footswitch jacks
Connectivity: Switchable to be 12 Bit CV inputs or outputs.
Connectivity: Can use splitter cables to make 4 x CV (inclusion TBC).
Connectivity: Configurable to control CV Out, CV In (not implemented from the SW side yet), Sustain, Record, Connectivity: MIDI (Type A)
Connectivity: I/O via 3.5 mm TRS to 5 pin MIDI DIN adaptor (included - TBC)
Connectivity: 1 x USB-C
Connectivity: 1 x USB-A - Connect class-compliant USB 2.0 devices/controllers
Connectivity: WiFi and Link enabled
Storage, Processing & Memory: CPU: Intel 11thGen Core™i3-1115G4
Storage, Processing & Memory: RAM: 8GB LPDDR4X
Storage, Processing & Memory: MEMORY: 256 GB SSD PCIe Gen 3x4 NVMe
Storage, Processing & Memory: BATTERY: 12.8V / 3800mAh / 48.64Wh / LiFePO4, 2-2.5 Hours under typical usage
Price and availability
Ableton Push 3 is available now for 1,899 Euro with processor and 949 Euro without.
Want more? Get more!
Subscribe to the digital edition of BEAT Magazine via Plugins-Samples.com and get more gear, in-depth workshops, reviews and 11 GB exclusive plugins and new sounds with every monthly issue!
Subscribe to Beat Magazine for only 4.99€ per month