Connections & Processing
Even before the first start-up, Rane's flagship proves to be extremely robust and encased in steel; however, the DJM S-11 is more space-saving and a lot lighter, and its surface also looks more elegant. In terms of connectivity, it has a microphone jack, two line and two phono jacks, and an aux port for inputs. Two master outputs (XLR and RCA), a booth output and two outputs for headphones are onboard, as well as the two USB interfaces. That being said, the Seventy Two MKII has one microphone input and one more additional RCA stereo output than the DJM-S11. For the integration of an additional effect device, this is an advantage.
The internal processing of the audio resolution is, however, of a higher quality on the DJM-S11 thanks to the 64-bit DSP mix and dithering processors and the 32-bit D/A converter, while the counterpart relies on a 32-bit processor. But when listening to identical tracks on both, sonic quality differences are not really noticeable.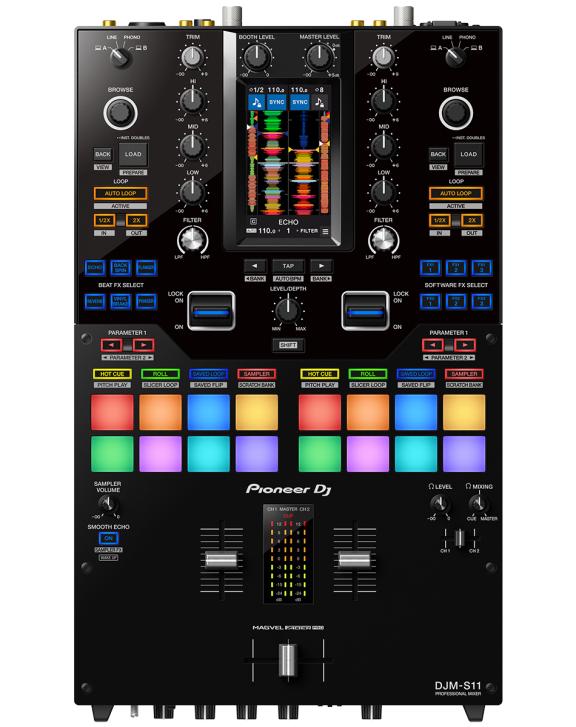 Mixer & Effects
At the heart of these mixers are two channels plus a crossfader, whose faders can now be driven even better, thanks to the three wear-free Mag-Four faders on the MKII, or only one Magvel Pro crossfader on the DJM S-11. The sliding resistance, however, is very pleasant throughout, even if it is more noticeable on the Rane mixer. A three-band tone control is mandatory, which is not only applicable as an equalizer, but also for hearty operations as a complete isolator and completely cuts the frequency band. But only Rane can show off with an additional high and low pass filter per channel and for the sampler.
The central element is also the 4.3 inch touch display, which can not only display the waveform, but also cleverly select the effects. The DJM S-11's very high-resolution display can also be used to control virtual Decks 3 and 4. The mixer, which is compatible with rekordbox and Serato DJ Pro, also allows you to control the programs on the display via touch MIDI.
Another essential component is the effects section with its six selectable buttons each, which can be fed with software effects. In addition, there are two effect toggles that let you quickly activate a selected effect. In addition, there are eleven integrated effects on the Rane model, which can be called up via the Flex FX button, even if switching between the effects is somewhat awkward. A positive feature of the DJM S-11 is not only the extended selection of beat effects with a total of 22 effects but, above all, the creative innovation of the Smooth Echo. For this, an echo is triggered as soon as you move an object, such as fader or pad, to which the effect has been assigned.
The eight performance pads per channel are no less important. They are somewhat larger on the Pioneer and can, therefore, be hit better. There are the modes: Hot Cue, Roll, Loop and Sampler, as well as subpads that can be called up via Shift, and include pitch play and the scratch bank. The Seventy-Two MKII has its modes: Cue, Loop, Roll, Sampler and Slicer, but with the help of Serato DJ Pro, it can also act as a standalone controller thanks to the transport mode in the pads without a player.
Verdict
If mixing is all about creativity, with large performance pads, lots of effect settings and loops for live remixing, the DJM S-11 and its higher-resolution display have the edge. Regarding the more stable construction and greater connectivity, the Seventy-Two MkII is ahead. As a bonus, Rane includes two Serato Control Vinyls with the purchase; however, both are quite equal in terms of performance, so that a personal test is recommended in case of doubt.
Want more? Get more!
Subscribe to the digital edition of BEAT Magazine via Plugins-Samples.com and get more gear, in-depth workshops, reviews and 11 GB exclusive plugins and new sounds with every monthly issue!
Subscribe to Beat Magazine for only 4.99€ per month