Carbon is a standalone sequencer in desktop format and based on the K4815 Pattern Generator module from the same company. The technology was built into a sturdy metal console case weighing a good 2 kg with compact dimensions of approx. 20 x 20 x 8 cm. The dark gray color, combined with the 19 round buttons, reminds us a little of the first generation of electronic devices. The workmanship looks at least as robust. You operate the sequencer via 6 rastered encoders with LED rings. The display is centrally located and, at less than 8 x 5 cm, a little too small. It can, however, display the 64 sequencer steps and the 6 tracks graphically.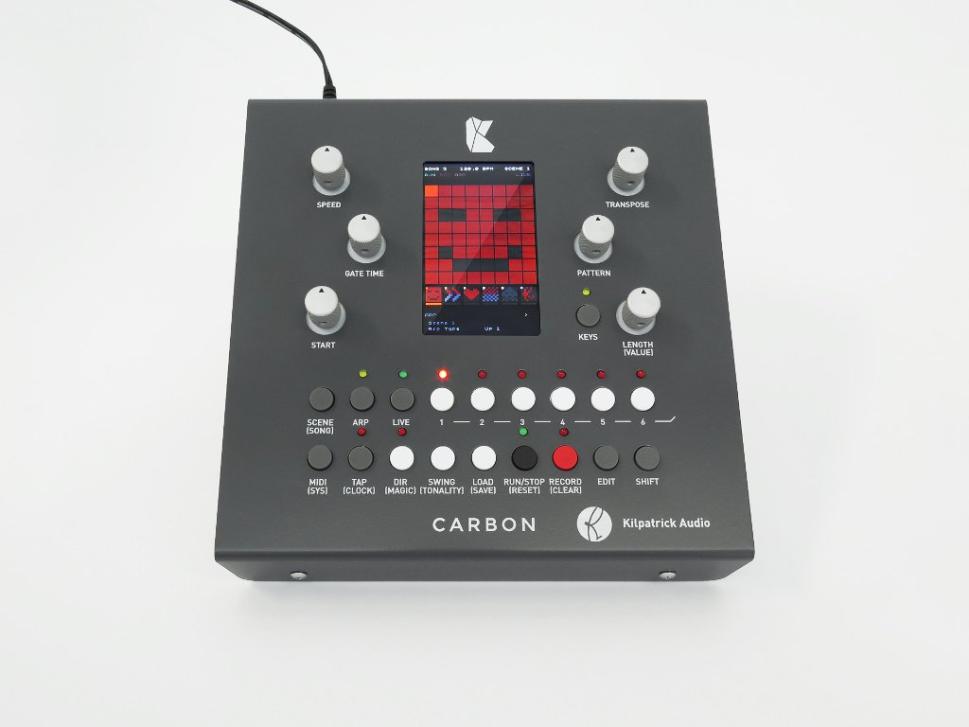 4 x CV/Gate
The back is tightly fitted. There are 4 CV and gate outputs each for controlling different analog synthesizers/modular systems plus clock and reset outputs for synchronization with analog equipment. There are also 2 MIDI outputs, a MIDI input and a USB port for connection to digital synthesizers and the computer. A special feature is the USB host port where you can directly connect and power USB devices like a MIDI controller or keyboard.
The Carbon is powered by an external power supply unit. Carbon can also be used as MIDI-to-CV/Gate interface. The individual outputs can be configured as individual mono tracks or for controlling polyphonic synthesizers. In addition, the CV outputs can be used to output not only pitch but also touch response or selected MIDI controllers and to modulate filters and such.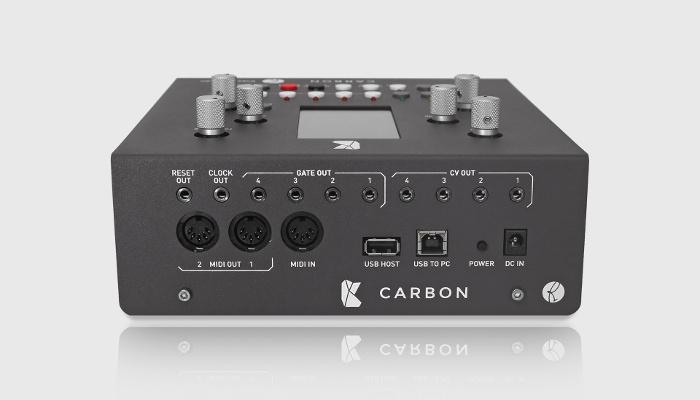 6-Track Step Sequencer
Up to 64 songs can be stored in Carbon, with each song containing up to 6 scenes. Each of these scenes consists of 6 tracks with up to 64 steps each. Each track sends either CV/Gate or MIDI signals and can be configured as a drum track or voice track. The buttons are used for direct selection of the 6 tracks, as transport buttons and for other functions. Unfortunately, they are not used as step buttons for activating and muting single steps of a sequence. Instead, every single step has to be selected by a slider and can only then be adjusted. At least the selected step is played in a loop, which makes it easier to make changes. Nevertheless, this mode is more suitable for detailed editing of a sequence.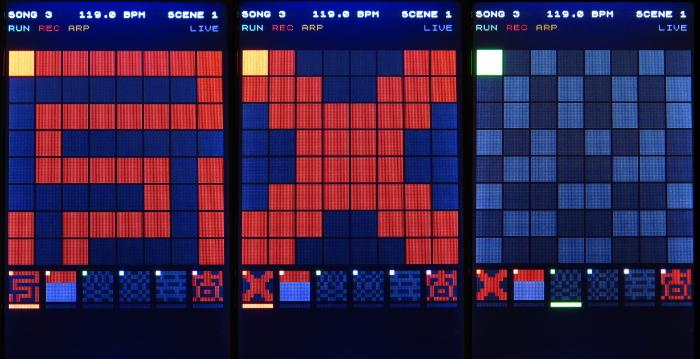 Step-/Realtime-Recording
For creating new sequences, the step- and real-time recording options are more suitable. Step-recording is a classic solution. When the sequencer is stopped, you enter your desired sequence of notes one-by-one using a keyboard. Carbon automatically jumps to the next step after each entry. The built-in mini loudspeaker, which can output a suitable metronome, is practical for real-time recording. Punch-ins and overdubs are also possible in this mode, and even a pre-run is programmable.
Creatively Customizable
In addition to the note information, a controller can be recorded, but only per step with correspondingly jumpy progressions and no overlap (e.g. a stepless opening of the filter frequency). The 6 tracks can have different lengths and resolutions (4th, 8th, 16th etc.), which alone allows interesting polyrhythms. A special feature is the option for triplets and dotted notes, and ratchets and swing are also adjustable.
The sequences can be transposed and shifted in time, changed in the running direction, and even completely rearranged using ready-made patterns (which often show funny pictures on the display). Individual tracks can be muted spontaneously during live performance and replaced by self-played ones, whereby the built-in arpeggiator is helpful.
Verdict
Above all else, it's the many creative possibilities for editing sequences that makes Carbon so special. Polyrhythms, triplets, up to eight-step ratchets, real-time transposition and, above all, the intuitive pattern generator invite you to jam and create sequences that you probably wouldn't have thought of with a DAW. Additionally, Carbon can be used as a flexibly configurable MIDI-CV interface. Operation with numerous key combinations takes some getting used to, though.
Want more? Get more!
Subscribe to the digital edition of BEAT Magazine via Plugins-Samples.com and get more gear, in-depth workshops, reviews and 11 GB exclusive plugins and new sounds with every monthly issue!
Subscribe to Beat Magazine for only 4.99€ per month