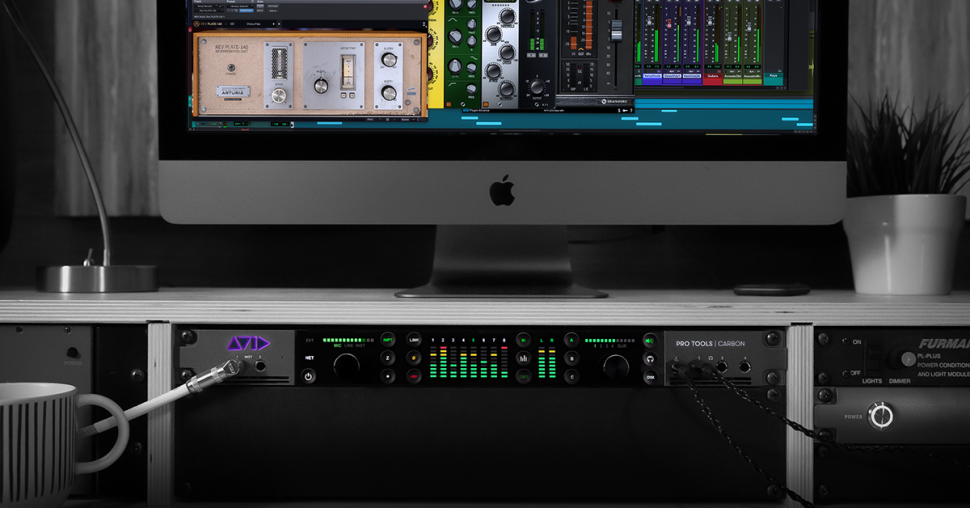 About the Technology
The heavy and high-quality Carbon comes in a rack format of one height unit and offers a lot of ports on the front and back. Neither USB nor Thunderbolt are included; the interface is connected to the computer via an Ethernet cable. If the computer doesn't have Ethernet, a separately available adapter from Ethernet to Thunderbolt will do. This format, called AVB (Audio Video Bridging), provides a decent bandwidth, but it only works with macOS 10.15.6 or higher and is, unfortunately, not even available on Windows.
Inputs and Outputs
The rear panel offers eight XLR/line combo inputs, each with preamp and phantom power; four of them with variable impedance for individual adaptation to the signal at hand. Eight alternative inputs can be connected via a cable whip in Sub-D format; the same applies to the separate outputs. However, these are not included in the scope of delivery and cost over 100 Euros each. At a purchase price of over 4,000 Euros, some should be included.
On the plus side, there are four headphone outs and - depending on bit depth and sampling rate - up to 16 inputs and 16 outputs via ADAT, giving the interface a total of 25 inputs and 34 outputs. Also included are Word Clock and a footswitch for activating the internal talkback microphone, which is located right next to the stereo input on the front panel. Practical!
Changing channels for leveling and switching between mic and line is done via an endless encoder knob that can be pressed for confirmation. Carbon recognizes itself whether an instrument is connected via line or microphone via XLR and automatically adjusts the channel. The outputs (Monitor, Alt 1 and Alt 2), as well as headphones, can be adjusted separately. What is played back on these channels can be defined via the mixer in Pro Tools.


Software & Plug-ins en masse
As mentioned in the introduction, Carbon comes with a considerable collection of software. Starting with a Pro Tools Standard license including an update plan for one year. This means that you own Pro Tools forever, but updates are only available after this year if you renew your license. So if you already own the software, you either get a second license or you can extend your existing license for one year. This year starts with the renewal, not with the purchase of Carbon.
Pro Tools' factory plug-ins are not only numerous, but cover just about every need for recording, mixdown, and mastering. In addition to standards like Delay, Flanger and Reverb, there are also replicas of Fairchild, Focusrite and Urei compressors, Pultec EQs, a Tape Echo and Delays, Spring Reverb, a Talkbox and even Moogerfooger emulations of the Ring Modulator, Lowpass Filter, Analog Delay and 12-Stage Phaser; not to mention quite a few stompboxes. Visually, some of the plug-ins could use a modernization and, particularly, a larger GUI, but qualitatively, the effects are beyond reproach. With UVI Falcon, as well as Vacuum, Xpand!2, Boom and some other AIR plug-ins, instruments and synths are also on board, but rather manageable in number.
In addition to the in-house plug-ins, there is a lot of third-party stuff included, such as bx_masterdesk, bx_console and bx_rockrack from Brainworx, the Arturia Plate-140 Reverb, Purple Audio MC77, the 6050 Channelstrip from McDSP, Melodyne Essentials and many more. A three-month trial of Auto-Tune Unlimited is also included. The total value of the package comes to over 2,000 Euro and is, quite frankly, more than a mere bonus.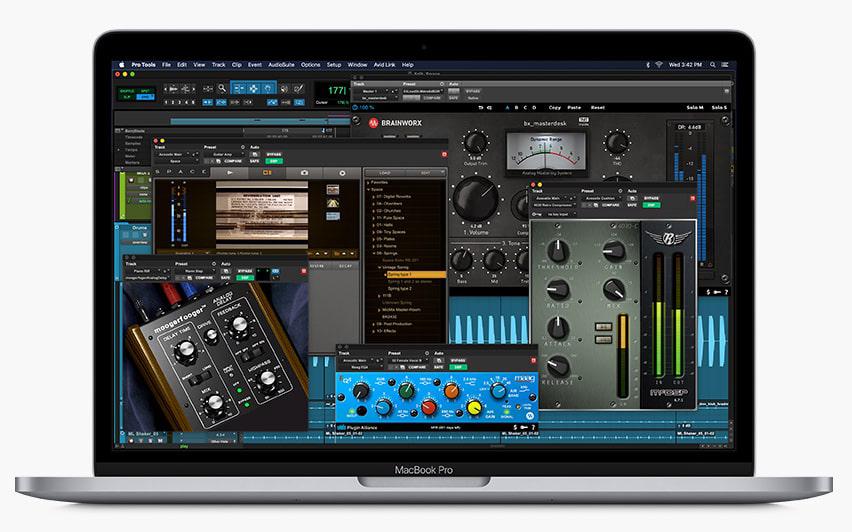 DSP Effects
The interface shows its strength in the DSP effects, which should enable latency-free monitoring; primarily for channel strips of singers or instrumentalists that are processed with effects and routed back again, for example, to the headphones. Of course, the DSPs can also be used to unload the computer.
To use this feature, just click on a "Native Mode" button in the mixer, and the computer power is offloaded to the interface. However, this only works with effects and naturally only those for which a Native Mode button is available. These are, on the one hand the internal effects of Pro Tools and on the other hand, some of the included third- party plug-ins. The included Arturia Plate Reverb, for example, cannot be swapped out and is disabled accordingly when using Native Mode; however, individual channels can be set to a "Safe Mode", which still allows the use of such plug-ins, but then at the cost of latency. For delay and reverb, this can be tolerated in most cases.
The distribution of the plug-ins to the eight processors is done automatically. The plug-ins are grouped together as much as possible to share a processor until it is 100% utilized. Effects like bx_ masterdesk, for example, occupied one processor each in the test and that with a constant utilization of 67% per processor. This means that with only eight such plug-ins, the computer's performance is already completely exhausted, and further effects are then automatically deactivated by Pro Tools or have to be used via Safe Mode. The use is, therefore, not quite trivial because, on the one hand, you are only required to use effects that are also available in Native Mode; on the other hand, the eight processors also have their limits, so that you have to work with caution and oversight.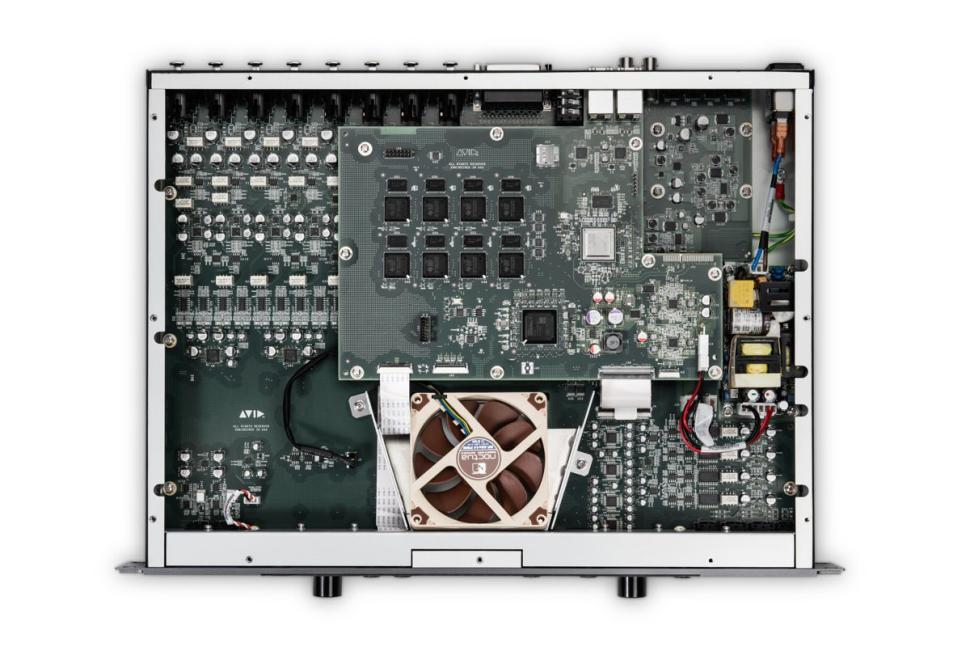 Who is Carbon suitable for?
Carbon is a classy audio interface, with high-quality preamps, converters and a lot of inputs and outputs that work with a resolution of up to 32 bit and 192 kHz. However, since the most important features and the more than 100 in-house plug-ins only work with and in Pro Tools, a purchase naturally only makes sense if you 1. already use the DAW or would like to use it in the future, 2. work with a current Mac, and 3. do multitrack recording with power-hungry effects, such as recording a whole band or live sessions. If you belong to this circle, the initially very high price and the supposedly limited DSPs are quickly put into perspective.
When you compare the acquisition costs for the corresponding amount of high-quality outboard equipment, you pay only a fraction of that for Carbon and also have a much more flexible selection. And while hardware setups tend to be more cumbersome to swap and re-route, with Pro Tools, you just need to load a template or an alternate session. Not to mention the space saved and the mobility gained with this setup. Sure, the demands here are high, but in the end, Carbon is made for exactly this purpose.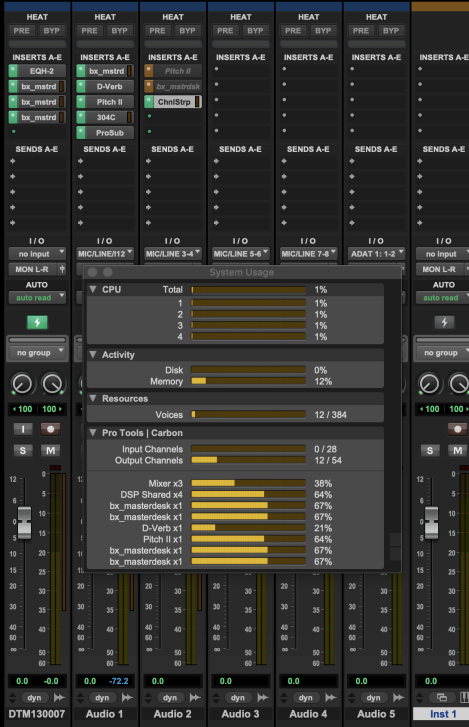 Alternative DIGIGrid
With DIGIGrid, the company of the same name (a merger of DIGICO and Waves with its SoundGrid protocol) offers a comparable product range, because the calculation of certain plug-ins - mainly from Waves - can also be outsourced to the processors of external hardware. The choice of models is much more comprehensive and not dependent on Pro Tools; however, the use itself requires more configuration, while Carbon is firmly anchored in the Pro Tools and offers a quasi autopilot - thanks to activation at the touch of a button.
Verdict
Carbon is a stunner in every respect. The inputs and outputs are numerous, the technology is beyond reproach and the included software package is a dream for every mixing and mastering professional. If the purchase price seems high at first, it is quickly put into perspective when you consider where the interface will be used. Sure, the inclined home recording engineer doesn't need a Carbon, but larger recording and band studios get an all-encompassing complete solution with this product.
However, its use is not a no-brainer, because working with Pro Tools is mandatory if the purchase is to be worthwhile, and you also have to handle the extra computing power wisely during operation. We would have liked to see the required Ethernet-USB adapters and at least a breakout cable for the line-ins or line-outs in the scope of delivery. If you belong to the circle of possible users and are thinking about getting a DSP system, you can buy it without hesitation. Quality and stability speak for themselves.
Want more? Get more!
Subscribe to the digital edition of BEAT Magazine via Plugins-Samples.com and get more gear, in-depth workshops, reviews and 11 GB exclusive plugins and new sounds with every monthly issue!
Subscribe to Beat Magazine for only 4.99€ per month