FM Sound Generation
Digitone Desktop and Digitone Keys (Checkout in the Thomann shop) are identical in terms of sound generation. Up to four sounds share the eight available voices. The built-in sequencer has four tracks for internal sound generation and four MIDI tracks for controlling external sound generators. This makes the Digitone also suitable as a control center in a small hardware setup.
Unusual Design
The desktop version was integrated into the Digitone Keys virtually unchanged. This is reminiscent of the large keyboard versions of the Access Virus or the Monomachine and provides a somewhat unusual look. It looks as if the playing aids (pitchbender, modulation wheel etc.) and the keyboard with additional controls were simply welded to the left and right of the desktop version. The separation of the playing aids and keyboard by the groovebox section might irritate classic keyboardists a bit.
The solid metal casing of the Digitone Keys, which frames this combination, is therefore hardly deeper than the Digitone desktop at 18.5 cm, but at a good 87 cm it is relatively wide for a 3-octave keyboard. The 6 kg weight is also a contradiction to easy transport in a backpack.
Very Good Keyboard
The build is typical of Elektron; very solid and great for live performance. The Digitone control panel is installed at a slight angle and is therefore easier to operate and read. The keyboard, with 37 semi-weighted keys, processes touch dynamics as well as aftertouch and offers a very good playing feel. This allows you to make musical use of the wide dynamic range of FM sound generation. In addition, you can split the keyboard and thus control different tracks/sounds simultaneously. Aftertouch and Modwheel can each be assigned up to five parameters simultaneously, allowing drastic sound changes and sound morphing during live performance.

Performance Controller
Another enhancement for live use is the addition of eight endless knobs above the keyboard. They are presets with sound-shaping parameters such as ratio, level and cutoff, but are basically freely assignable. Five additional buttons give you direct access to performance parameters like portamento. Arpeggiator and Chord, can be set to chords and can then be triggered with just one key.
Groovebox Integration
The other endless controllers with print function are completely identical to the desktop version, have a good feel, high resolution and make a long-lasting impression. The OLED display is typically Elektron - not very big; however, it can be easily read from different angles and numerous graphics such as the display of the envelope curve or the selected algorithm support the operation. Eight knobs to the right of the display allow you to change the parameters displayed there, and five buttons allow you to select directly between the Trigger, Synthesis 1 and 2, Filter, Amplifier and LFO menus.
Solid Multi-function Buttons
With the 16 keys in the lower section, arranged in two rows, you trigger the sounds, select patterns and program the built-in step sequencer. All buttons are backlit with numbers or symbols for easy operation. The haptics are reminiscent of mechanical gamer keyboards, so the buttons should be able to withstand years of continuous use. The disadvantage of this solution is that the keys are not velocity-sensitive or pressure-sensitive like a synthesizer keyboard or drum pads, but you can use the keyboard for that.
Individual Outputs & Overbridge
All connections are located on the rear panel. The sound reaches the outside world through one headphone and one stereo output. Unlike the desktop version, there are also four analog stereo outputs for individual recording of each of the four tracks. You can also transfer the Digitone Key's sound into your DAW via Overbridge, either as a whole or as individual tracks. MIDI, audio and clock/synchronization is realized via a USB cable only. In the test, this ran absolutely problem-free and stable. Big praise to Elektron!
The ouputs are complemented by a stereo input to loop in external audio signals and use Digitone as an effects unit and submixer. The three MIDI sockets are also very useful - two of these can be reconfigured as DIN sync for connection to older drum machines.

Usable FM Synthesis
The Digitone's built-in sound generation is based on frequency modulation (FM). Elektron has paid special attention to make difficult to calculate FM synthesis more accessible; thus, the Digitone has only the four operators A, B1, B2 and C instead of the six operators of a DX7. The combination is done by eight predefined algorithms, and each algorithm has a feedback loop for operators A, B1 and B2. With the mix control, crossfades between the two carriers are possible.
Additional Additive Synthesis
For more sonic variety, Elektron has added an additional additive synthesis, which allows either operator A or B1 to generate besides the classical sine wave also waveforms richer in harmonics like sawtooth and square wave. Two envelopes with the parameters attack, sustain, decay and release control the dynamic course of the frequency modulation. Anyone who is familiar with FM synthesis will quickly find their way around, but even beginners won't be overwhelmed.
Filter and Effects
In order to tame the often very overtone-rich and quickly aggressive and harsh FM sounds, further processing is done by classic subtractive synthesis. Two resonant filters, each with a 12dB slope, enable powerful 4-pole low-pass filters in Moog style or a serially connected combination of low and high-pass filters. In conjunction with the Drive parameter, the Digitone Key's filter can sound pleasantly full and round despite its digital origin. There are also two flexible LFOs available for each track, which can be routed to a variety of different parameters. A great detail: LFO 2 can even modulate the parameters of the first LFO.
Digitone Keys (More information in the Thomann shop) has a chorus, reverb and delay as send effects and an adjustable overdrive on the sum. Unfortunately, additional master effects such as compressor and limiter to limit the high dynamic range are not available. We would also have liked to have an effect for bit and sample rate reduction.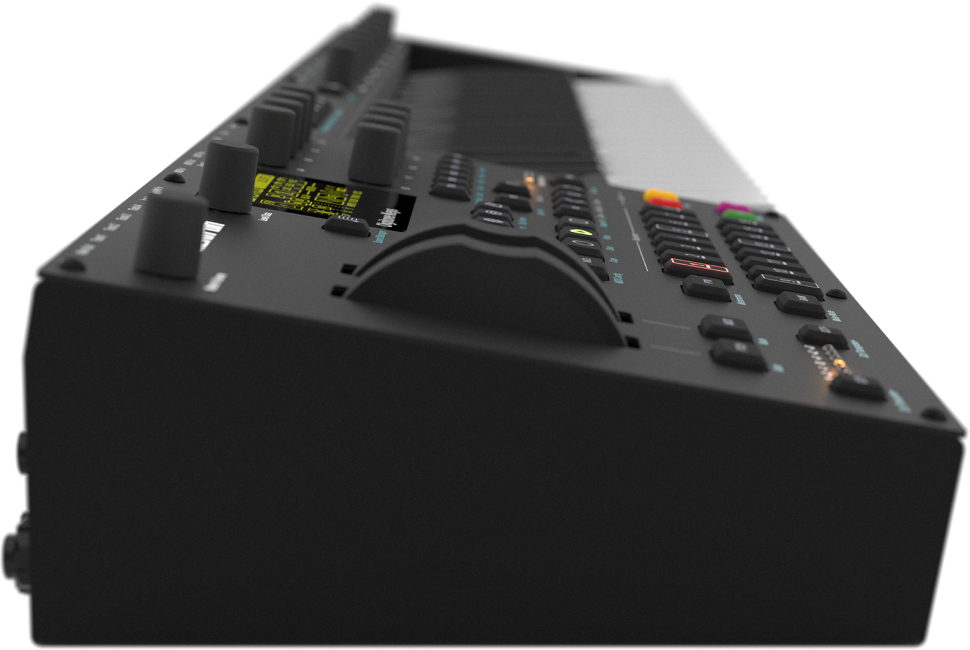 Flexible Sequencer
The flexible sequencer is the trademark of all Elektron products. Sequences can be played in real time, even chromatically - this is where the keyboard pays off! Alternatively, steps can be set by a chaser sequencer in the style of a TR-X0X, where the 16 buttons each represent one step. The sequencer is polyphonic, whereby the eight available voices are permanently assigned to the four tracks or dynamically distributed as needed; however, in the test we wished for a few more voices every now and then.
Polyrhythms and Parameter Lock
Each track can have different lengths, which allows exciting polyrhythms. Parameter changes can be recorded in real-time, but, of course the Elektron-typical parameter lock including trigger lock (changing values without triggering the sound) is also possible. If you hold down one or more steps and (e.g. turn up the filter frequency), the sound changes only for these steps. Dynamic, modulating sequences are created quickly, especially with the inclusion of FM sound parameters in the parameter locks, providing spectacular results. Even the selected sound can be changed per step, so that even with only four tracks, very complex patterns are possible. As an additional playing aid, each track also has its own arpeggiator.
Trigger Options
Trigger conditions allow you to program additional steps that will sound only every third pass of the pattern, or randomly with an adjustable probability of 1 to 99%, or that will only be played when you click the Fill button. This allows you to make even one- or two-bar patterns so varied that they never become boring, even over the entire course of a track. A retrigger/repeat function is also on board, for staccato fills through to glitch effects. The micro timing of individual steps can even be changed directly without menu diving. Just set ghost notes, prefer a bass note and delay a kick, and it will groove much more naturally. All in all, the Digitone Keys is relatively easy to use, especially when compared to other electronic machines. Owners of an Elektron machine will find their way around immediately, but even for beginners the synthesizer doesn't offer too many hurdles.

Four Polyphonic MIDI Tracks
In addition to the four tracks for internal FM sound generation, Digitone features four polyphonic MIDI tracks. For these tracks, several MIDI controllers can be configured, which can also be modulated within the sequence by parameter lock or built-in LFO. With Digitone and one or more other synthesizers, samplers or drum machines, you can easily create complete tracks. Unfortunately, there is still only a simple pattern chain function and no song mode.
Firmware Update 1.30
A new feature of the 1.30 update is the option to enter sequences step-by-step, which is very useful in combination with the keyboard. Trig Probability makes random changes, while Trig Preview allows you to preview individual trigs. With the new play modes Poly, Poly with mono LFOs, Mono and Mono Legato, Digitone Keys can be flexibly adapted to your playing style. Also interesting is the option to use Digitone as a class-compliant device without special drivers, which makes it easier to connect to tablets and smartphones - especially since Digitone Keys can also be used as a USB audio interface!
Verdict
Digitone Keys (Find Digitone Keys in the Thomann shop) extends Digitone's groovebox concept to a full-fledged instrument with additional controls for live performance. In addition to the classics such as electric piano, glassy pads and wiry basses, the FM sound generation, which is optimized for direct operation, also allows for wickedly weird metallic sounds, drones and, of course, modulating sequences with typical Elektron features such as parameter and sound lock as well as flexible trigger options. Thanks to its Overbridge connection, Digitone can be easily integrated into a computer-controlled studio environment, but the four additional MIDI tracks also allow the creation of complete tracks without a computer. In computerless setups, the individual analog outputs are helpful for individual post-processing of the four tracks. And the substantial price reduction makes the Digitone Keys much more attractive than before, if you can cope with the somewhat unusual layout.
Want more? Get more!
Subscribe to the digital edition of BEAT Magazine via Plugins-Samples.com and get more gear, in-depth workshops, reviews and 11 GB exclusive plugins and new sounds with every monthly issue!
Subscribe to Beat Magazine for only 4.99€ per month