Blackhole (Checkout in the Thomann shop) offers five direct footswitch access presets, and a total of 127 presets can be loaded via MIDI or the Eventide Device Manager software. Two different Infinite Reverb types are available, which are said to be infinitely modulatable. Unlike other reverb pedals, which partially arrange modulations before or after reverb generation, Blackhole's modulation capabilities are directly integrated into the structure of the reverb. 6 knobs, 2 footswitches, connection possibilities for footswitch or expression pedal as well as MIDI functionality via TRS or USB enable extensive real-time modulations according to the provider. The robust metal housing is said to withstand even the toughest touring conditions and since the input can be switched from mono to stereo and the outputs from guitar to line level, Blackhole cuts an excellent figure in every studio or synthesizer setup, according to Eventide.
To an unknown place
Choose from five presets - create atmospheres with the reverb of the blackhole. Float through nimbus clouds with the Dark Matter delay, achieve a stellar rotation of the sound with Pulsar - or get creative and create your own presets. Blackhole can load up to 127 presets via MIDI, which are also available in the Eventide Device Manager (EDM) preset list. With this level of flexibility, Blackhole, according to Eventide, will take you on a journey from cathedral-like rooms to a new frontier of sonic experimentation.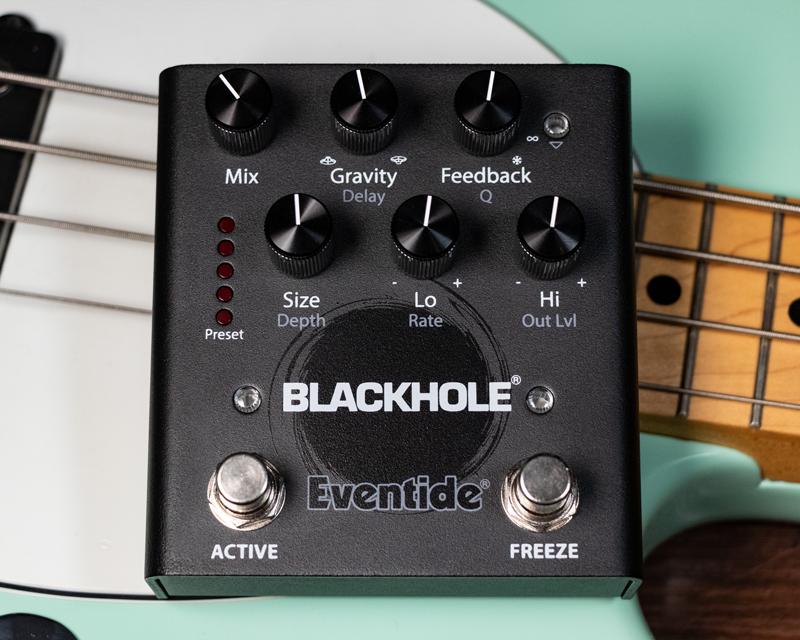 Through infinity...
Blackhole offers two types of infinite reverberation. Infinity continuously overlays the reverb tail with new layers of sound. Freeze holds the current reverb effect and allows you to play over it. The Freeze footswitch gives you instant access to this function.
And beyond that...
In contrast to other reverb algorithms, which partly arrange modulations before or after the reverb generation, the modulation possibilities of Blackhole are directly integrated into the structure of the reverb. In principle, it is a large, polyphonic chorus effect with possibilities for sound shaping. You can supposedly use extreme settings to remove any angularity.
Escape the expected
Blackhole is said to allow fine-tuning of every aspect of the effect. With the new and user interface, according to the manufacturer, almost anyone can target the moon and land beyond the stars. As the basis for the typical Eventide sound, the Blackhole pedal opens up a Milky Way of possibilities on your pedalboard.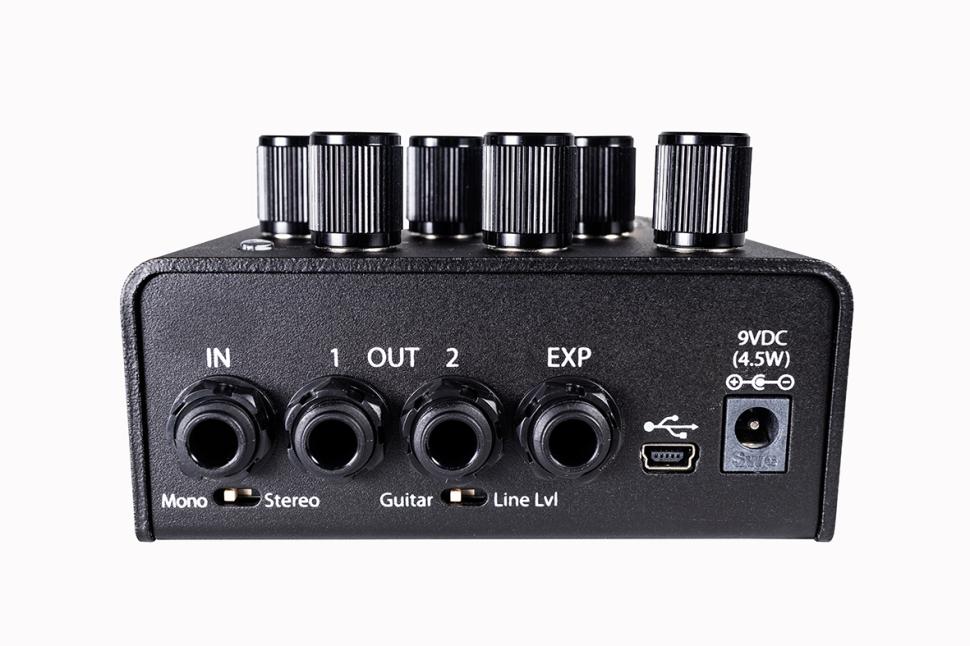 Features
Five presets can be accessed directly via footswitch and a whole lot more sounds via the Eventide Device Manager (EDM) software
Vary spatial dimensions from the size of a cardboard box to a boundless universe
Use the Pre Delay to delay the use of the reverb tail
The feedback slider allows you to exceed the event horizon
Further tune the timbre with controls for bass, treble and resonance (Q). Use the tone controls to create transparency or clean up the bass range. Map the EQ controls to an expression pedal to move the reverb tail
Press the Freeze footswitch to immediately "freeze" the sound image
Active footswitch with dual function for latch and momentary operation
Rear guitar/line level switch for use with guitars, synthesizers, in loop-in paths or at the audio interface of a DAW
Map any combination of parameters to an expression pedal
Use a single Aux Switch for tap tempo or a triple Aux Switch for easy preset changes (Up/Down/Load)
MIDI capability via TRS (using a MIDI-TRS adapter cable or a converter)
Multiple Bypass Options: Buffered, Relay, DSP+FX or Kill Dry
Catch-Up mode for easier adjustment of your sound when changing presets and parameters
Eventide Device Manager software for PC or Mac for updates, system settings and for creating and saving presets
"Gravity" to adjust the reverb tail in two ranges - normal or with inverted decay.
Create threshold effects or suck the dry source signal back into the reverb tail. For longer decay times, Blackhole allows you to maintain articulation without affecting the tail.
Price and availability
Eventide Blackhole (Get Blackhole in the Thomann shop) effect pedal is currently available for 319 Euro. For more information please visit the website of the manufacturer.
Want more? Get more!
Subscribe to the digital edition of BEAT Magazine via Plugins-Samples.com and get more gear, in-depth workshops, reviews and 11 GB exclusive plugins and new sounds with every monthly issue!
Subscribe to Beat Magazine for only 4.99€ per month