In addition to the Pro version of Cubase tested here, there are two cheaper versions with reduced functionality available. As usual, the new version of the DAW comes with workflow and performance improvements such as optimizations of the Note Editor. These include the ability to create curves and gradients for MIDI CC and pitch bend tracks in the Key Editor, just like in automation. We also liked the fact that you can now set pitch bend to semitones. Fresh inspiration is provided by the new Sample Sets, which are dedicated to hip- hop, tech-house, synth wave and trailer music, among others.
Of Scales and Loops
Tools that facilitate the composition process have always been one of our favorite features in Cubase. The new Scale Assistant also belongs to this category. Once you have set the desired scale, MIDI notes played on your keyboard are corrected in real-time so that they all match the selected key. The Scale Assistant can also determine the key that matches MIDI recordings and quantize the pitches of selected notes accordingly at the touch of a button.
Cubase 11 also makes the popular Sampler Track even better: In the new Slicing mode, imported loops are automatically sliced, allowing you to trigger each slice individually. The Vintage Mode provides a distinctive retro sound by reducing bit and sample rates and using turntable emulation, if required. Two LFOs are now available for modulating
parameters like pitch. The mono-legato-glide mode, which makes playing synthesizer samples or 808 basslines even more expressive, is also a very welcome addition. It's great that Steinberg has thought of users who like to work with loops! We would also have liked a performance mode that allows nonlinear, loop-oriented work.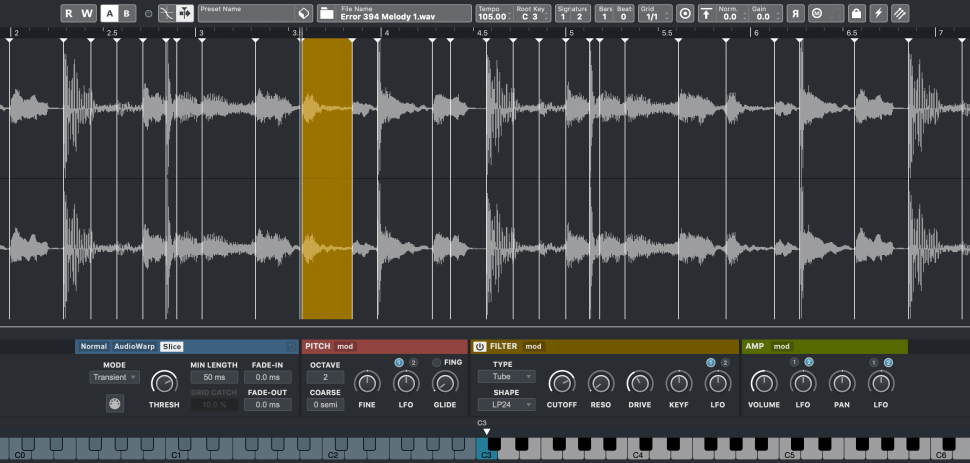 Time-Saver for Pros
By improving the audio export, bouncing audio tracks is now faster and more convenient than ever before. For example, queues allow you to export different variations of the selected tracks in one go. The new SuperVision audio analyzer, which you can configure as you wish, is also very useful. It provides clear information about Level, Phase, Frequency Spectrum and Waveform.
For those who produce remixes and mash-ups in particular, Steinberg Cubase Pro and Artist are pleased to announce that they have donated a small version of their visual audio editor SpectraLayers One. This allows for targeted editing of audio files at the frequency level. The separation of vocals and instruments is not without artifacts, but it often works surprisingly well if the vocals have not been edited too much with effects. Stems created by SpectraLayers can easily be dragged into the Cubase Project window. Very handy! An undo and redo function for VST instruments and effects, on the other hand, unfortunately remains a wish; as well as a "sandbox function" that prevents a third-party plug-in from freezing or crashing the DAW.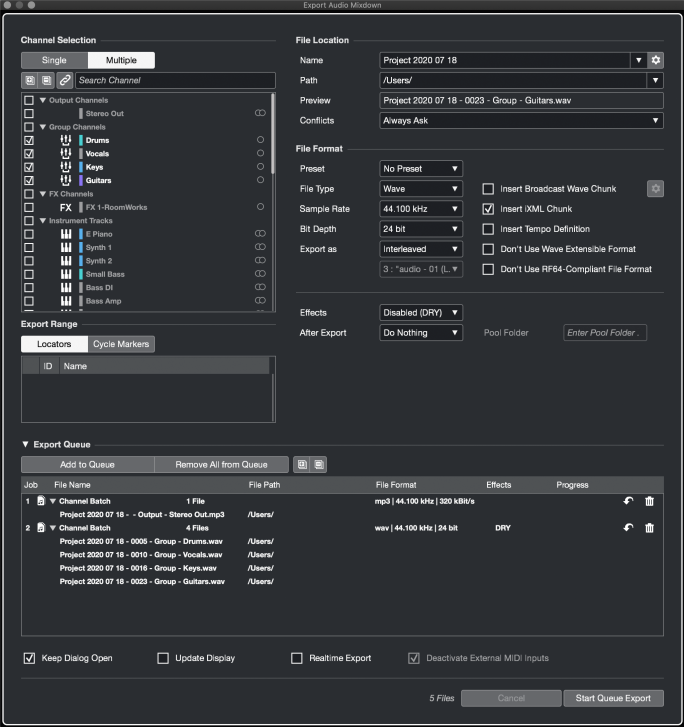 Mixing and Creative Tools
The new effect plug-in Squasher, which combines downward and upward compression, is a hot competitor to the OTT freeware must-have from Xfer Records. Squasher, however, is much more flexible. The dynamics processing can be set individually for three bands, with each band allowing internal and external sidechaining. This tool can be used to effectively give sounds more assertiveness and bite, or mix them to a higher loudness.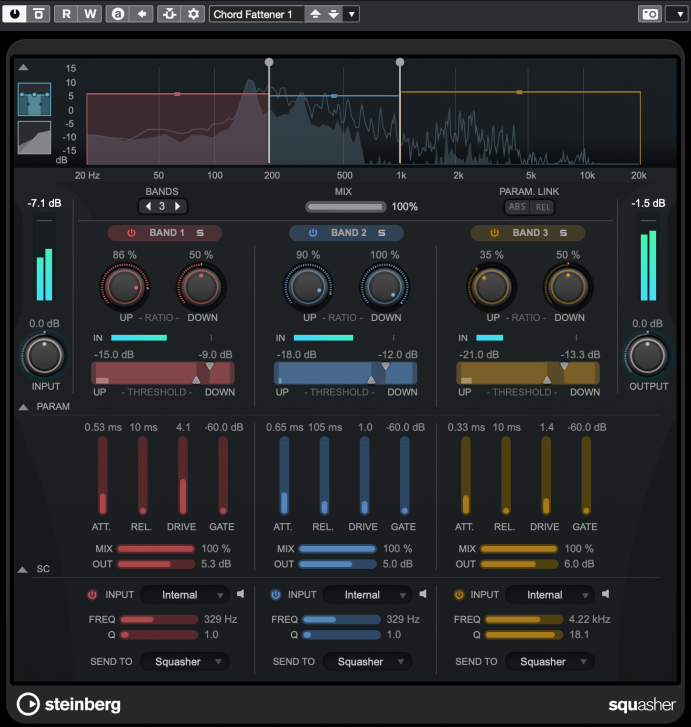 The update to the Frequency equalizer is no less successful. If the new dynamic mode is activated, the corres- ponding frequency band is only lowered or raised if a set threshold is exceeded. This allows very dynamic corrections or sound coloring adjustments. The Multiband Imager is also a welcome addition, allowing you to individually control the panorama position, stereo width and level of four frequency bands.
Verdict
At first glance, Cubase Pro 11 lacks a big highlight like a new synthesizer. But if you take a closer look at the current version, you will discover some great new tools and features. For many, the inspiring Scale Assistant alone is certainly worth the update price. Loop tinkerers will appreciate the improved Sampler Track. The new effects, the multiband compressor, Squasher, and the dynamic EQ are also very successful. And the small version of SpectraLayers One scores as an excellent helper for cleaning up old recordings or isolating vocals from a stereo mix. Features like the improved audio export, the enhancements to the Key Editor and the new Analyzer make working with Cubase even more comfortable. A successful update of one of the most powerful DAWs!
Want more? Get more!
Subscribe to the digital edition of BEAT Magazine via Plugins-Samples.com and get more gear, in-depth workshops, reviews and 11 GB exclusive plugins and new sounds with every monthly issue!
Subscribe to Beat Magazine for only 4.99€ per month