For creative delays, ping-pongs can also be conjured up using the stereo width section. The equalizer (low and high cut) and the drive control can be used to influence the timbre. Using the "State-Space Modeled Drive" function, analog simulated noise frequencies can be added to the sound to increase the vintage authenticity.
If you want, you can expand your effects arsenal with the Analog Effects Collection. In addition to the delay, the collection contains the tools Analog Chorus, Rotor, Distortion and Tricomp.
Price and available
Analog Delay is offered for free in VST, AAX and AU formats from now until June 30, 2022. Register for free here at Plugins Samples and get the plugin.
Additionally you can order now the Presonus Analog Effects Collection at Best Service: Analog Effects Collection
Workshop with Analog Delay - Human touch and maximum width
Load Analog Delay into your DAW, e.g. on a drum plug-in. Set TIME to 1/16, FEEDBACK to 0% and DRY/WET to 50%. To make the beat more wide-ranging, we set WIDTH to about 60. The effect is already more than noticeable, and the sound becomes softer and less aggressive. Depending on the song and instrument, there are several possibilities from here onwards.
A) Turn DRY/WET all the way up to shift the beat backwards via DELAY TIME. Values such as 1/8, 1/8T, 1/4 or 1/4T are particularly useful here. However, the kick should then be excluded from the effect.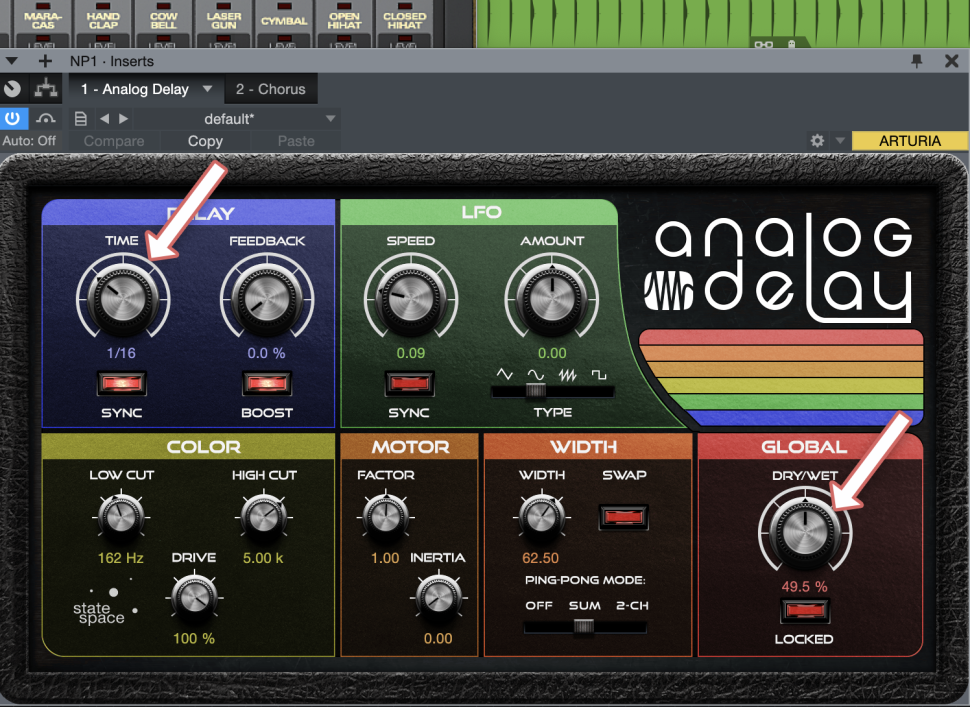 B) Influence the groove by allowing the MOTOR FACTOR to deviate minimally from 1.00. Percussion benefits enormously from this, especially in combination with Variant A. The delays are then always slightly in front of or behind the timing, which brings a neat human touch to the game without ending up in chaos, because the timing remains stable.
C) For non-drums you can turn up the FEEDBACK a bit and also the LFO AMOUNT with SPEED around 0.1 Hz. Not suitable for transient-heavy sounds, since the rhythm then no longer sits exactly, but a blast for effects.
Want more? Get more!
Subscribe to the digital edition of BEAT Magazine via Plugins-Samples.com and get more gear, in-depth workshops, reviews and 11 GB exclusive plugins and new sounds with every monthly issue!
Subscribe to Beat Magazine for only 4.99€ per month