In addition, there are three effect slots, an analog multimode filter and ADSR envelope for each voice, a performance arpeggiator with ratcheting with random functions and 40 controls consisting of buttons and encoders. The sound selection includes 256 factory presets and the same amount of presets for custom sound creations.
Also new is the MiniFuse 4 audio and MIDI interface, each with four inputs and outputs and two USB ports. In addition, there is the Minilab 3 controller keyboard, which is used to control software instruments, among other things. There are eight endless knobs, eight pads and four faders. A small display and apeggiator are also available for the 2-octave instrument. The fourth novelty is the Augmented Piano virtual piano.
Price and availability:
Du kannst MiniFreak ab sofort hier bei Thomann für 599 Euro bestellen.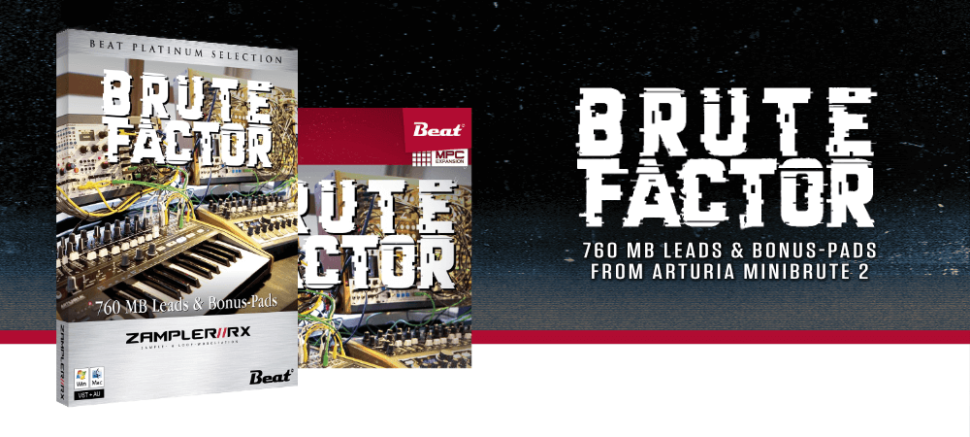 Gratis-Download
Get the Brute Factor soundbank for Zampler & MPCs now for free with the coupon: BRUTEFREE
47 MiniBrute 2S patches with finest analog sound from the Analog sound Arturia Brute for the Zampler//RX workstation are waiting for you.
Want more? Get more!
Subscribe to the digital edition of BEAT Magazine via Plugins-Samples.com and get more gear, in-depth workshops, reviews and 11 GB exclusive plugins and new sounds with every monthly issue!
Subscribe to Beat Magazine for only 4.99€ per month