Hybrid sound generation
Pigments offers four different sound engines: Analogue, Wavetable, Sample / Granular and Harmonic (additive). Two engines can be used in parallel, and there is also a utility engine with two noise generators and a VA oscillator. The sound is shaped by a dual filter section. Other highlights of the synthesiser are the polyrhythmic step sequencer and the arpeggiator as well as the powerful modulation section.
Arturia also releases free updates with improvements and new functions on a regular basis. Version 4 focuses mainly on an optimisation of design, handling and workflow, but also offers some additional functions in the sound generation.
New design, better workflow
For the first time in Pigments 4, you can choose to have a lighter surface instead of a dark one. Also new is the play view, which only shows the most important sound parameters. The complex sound generation and the correspondingly packed interface of the plug-in can be somewhat confusing, especially when starting out, which is why this play view is a real relief. If you primarily use presets and only want to adjust them to a certain extent, you will usually get by. Switching to the synth view with full access to all parameters is done at any time with one click.
New customers can purchase Pigments 4 until 4 January 2023 for 99€ and will also receive three sound banks with new presets for Lo-Fi, Neurobass and Cinematic Sound for free when registering! Existing customers will be offered the sound banks at a reduced price.
Overall, the graphical user interface has been optimised for easy navigation. Modulation sources can now be dragged and dropped onto the parameter to be modulated (e.g. LFO on filter frequency) and to adjust the strength of the modulation you just have to go over the knob with the mouse. The macro controls can also be assigned quickly and easily in this way. It is also easier to navigate in the multimode modules. Other workflow accelerators are the waveform presets for the LFOs and buttons to switch effects or sequencers on and off with a mouse click. The latter is very handy when you're scrolling through the numerous presets and want to quickly hear how the raw sound sounds without effects and sequencing.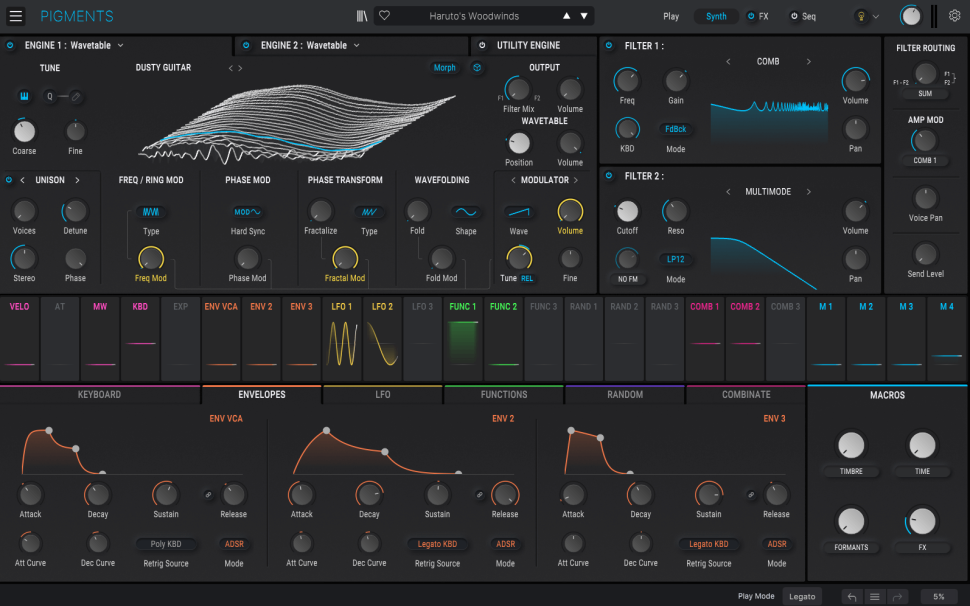 New filters, unison
There are also interesting new features in terms of sound, such as ring modulation and extended pulse width modulation for the wavetable engine and a wider frequency range of the modulator oscillator, with selectable ratio for harmonic FM. 63 new wavetables, 67 more samples and 36 new noise types expand the sound spectrum.
In the filter section, the MS-20 filter has been added. It was taken over from the successful Korg MS-20 emulation from the Vintage Collection and is available as 6dB highpass and 12dB lowpass. If you connect both filters in series, you can reproduce the signal path of the original. The filters can add a lot of dirt with their slightly unclean sound, especially if you boost the bass with the HP and turn up the resonance for the special distortion. Further improvements in the filter area are the frequency modulation of the Jupiter-8 filter as well as a selectable notch filter for multi and distortion.
The unison function has also been expanded and is now available in identical form for all engines, including phase adjustment for lively and wide stack sounds.
Very good new effects
For an even fatter sound, the effects section has also been expanded with a Super Unison, an extensively customisable super chorus for extra-wide and detuned waves of sound. Another highlight is the very successful Shimmer effect for huge spacy sounds, which can turn even the simplest basic sound into a breathtaking tonal floating surface. If you prefer it dirty and lo-fi, you will be pleased with the additional functions of the bitcrusher such as jitter, scale and additional downsampling. Pigments also benefits from Arturia's high-quality effects portfolio, in this case the FX Collection 3.
Our gift to you: 22+2 patches for Zamplers, MPCs and SFZ Samplers
With COLOURS you get 22+2 patches of the original library for your Zampler, MPC or any sampler that can load SFZ files. Unlike the demo version, the sounds are yours forever and are sweetened by our secret BEAT effect chain.
Here you can download the soundbank for Zampler and SFZ samplers and here you can find the expansion for Akai MPCs.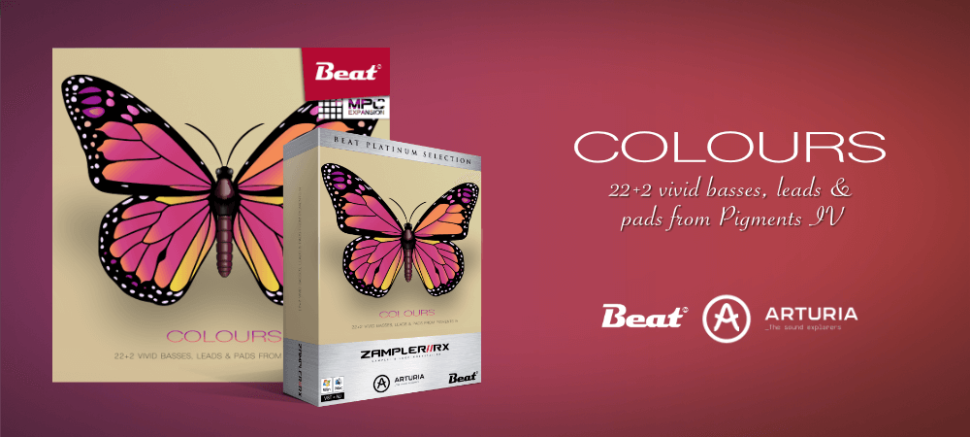 Conclusion
From our point of view Pigments 4 is a very special update of the exceptional synthesizer. In terms of sound and function, Arturia's software flagship has left hardly anything to be desired anyway, even though the new filters and effects are of course most welcome and Pigments is even more broadly positioned as a result. The improvements in design and workflow, however, now make the complex sound generators much more accessible to the user. In combination with the greatly expanded preset library, Pigments is thus also interesting for those who enjoy the sonic possibilities alone and do not want to tinker with the sounds down to the smallest detail.
Want more? Get more!
Subscribe to the digital edition of BEAT Magazine via Plugins-Samples.com and get more gear, in-depth workshops, reviews and 11 GB exclusive plugins and new sounds with every monthly issue!
Subscribe to Beat Magazine for only 4.99€ per month