From Mix to Master
At the end of every song production comes mastering. In this last step, the stereo mix of all tracks of the song gets its acoustic fine-tuning. In most cases, effects such as equalizers, compressors, maximizers or limiters are used again to get the best out of the overall mix. The mastering process fulfills different tasks at the same time. For one thing, the sound of the song should be optimized. For example, over- or under-represented frequency ranges can be adjusted so that no frequencies are booming or sound unpleasant. A pleasant and balanced sound image should be created. Simultaneously, the sound is processed so that the track not only sounds good under optimal studio conditions, but also makes a good impression on smartphones, in the car or on the kitchen radio. Then again, mastering also follows different technical specifications: for release on online music platforms, the song needs a certain volume, loudness and dynamics. All these parameters should be taken into account during mastering so that the song sounds catchy and coherent in a Spotify Playlist, for example, instead of being too soft, heavy or distorted.
Can This Be Automated?
To have this mastering process done by an algorithm seems very complex and difficult. Nevertheless, for some years now there have been services that have managed to achieve increasingly high-quality results in an automated way. The music distributor iMusician recently released its new "Instant Mastering" service and is achieving amazing results. It also saves producers a lot of work and time. The finished mixdown can be easily uploaded online and, for a small amount of money, an algorithm takes care of the mastering within minutes. Currently iMusician offers this service for 7.99 Euro (gross price) as a one-time payment without a commitment.
For Whom is Instant Mastering Suitable?
More and more producers are turning to Instant Mastering, as the results for beginners and advanced producers often exceed the quality of their own mastering. If you don't have professional mastering plug-ins yourself or have little experi- ence in mastering, Instant Mastering is a simple, direct and inexpensive way to improve the quality of your own music. Moreover, the result is available much faster than in mastering studios that have to be commissioned first. But if you want to be sure of the quality of your music before you pay for it, iMusician gives you the opportunity to re-master the song as often as you like and listen to the complete result for free.
This allows you to adjust and optimize the settings in Instant Mastering until the sound meets your expectations. You can also compare your mastering directly with the result of the algorithm.
One Template for Everything?
A Dubstep song cannot possibly be mastered in the same way as an orchestral piece of music. For example, they differ significantly in their frequency spectrum, dynamics and target loudness. That's why Instant Mastering offers the opportunity to select the genre of the song and to manipulate various sonic parameters. In this way, the artist can control the warmth, volume and stereo widening in mastering. In addition, depending on the settings, the bass, midrange or treble can be given special focus, so that even unbalanced mixes can still have a balanced sonic image. The result can be optimized in this way with one or two adjustment instances. You only have to pay for Instant Mastering if you are satisfied with the result and want to download or use it online. The result will be made available for download in the highest quality WAV format with a sample rate of 44.1 kHz and a bit depth of up to 24 bits within a few minutes.
The AI constantly improves the Sound
How can you achieve the best result in Instant Mastering? And what is actually behind the algorithm? We asked iMusician. Philippe Weber, Head of Product, explains who can benefit from Instant Mastering and how the quality of the result can be optimized.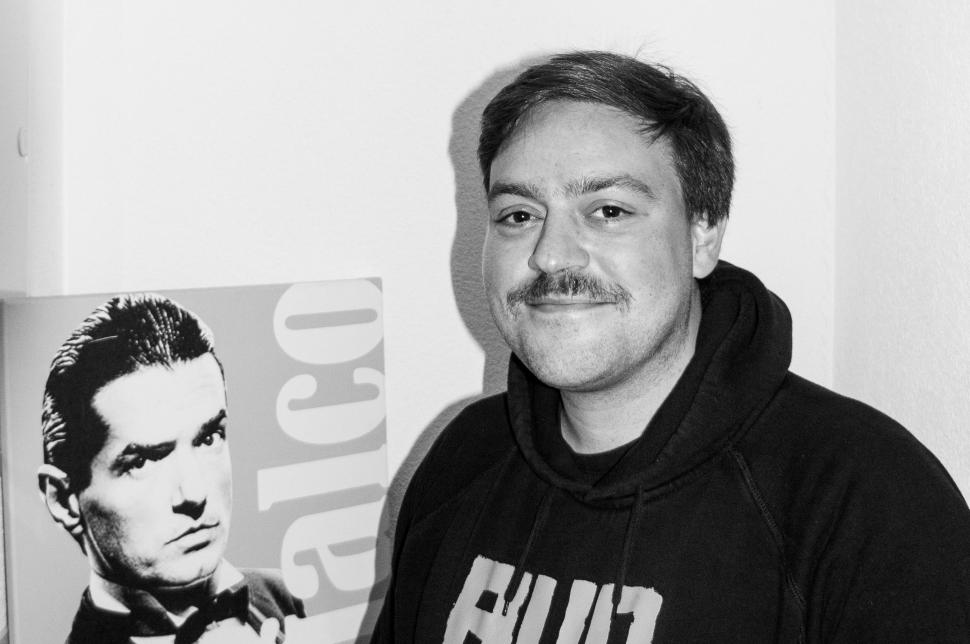 Beat / Mastering is the final touch at the end of each song production. Who is iMusician Instant Mastering for?
Phillippe / Like all products in the iMusician uni- verse, Instant Mastering is primarily aimed at DIY and independent artists* and labels. Due to the many different genre and sound options, it is suitab- le for home recording productions in the electronic or hip-hop area, as well as for professionally recor- ded and mixed band or singer/songwriter projects. While the speed of Instant Mastering is probably the big advantage for home recording productions, bands and labels can - ideally - save a large part of the mastering costs, because Instant Mastering is much cheaper than studio mastering.
Beat / The upload for Instant Mastering should be in WAV file format. What should I pay attenti- on to when exporting my mixed music to get the best result?
Phillippe / Since the loudness of a mix is also increased during mastering, it is important to ensure that the mix has headroom of -3 dB to -6 dB to avoid clipping artifacts. In addition, the stereo mix should, of course, already be well balanced and should not show any extreme dynamic changes. For you to be able to distribute your track directly, your track must have a bit rate of 16 or 24 bits and a sampling rate between 44.1 kHz and 96 kHz that is compatible with online stores.
Beat / Is Instant Mastering only suitable for online releases or can I also use it for releases on other media formats
Phillippe / Of course, you can download your mastered tracks in full quality and use them for other types of distribution at no additional cost. Your tracks are also perfectly suited to be distributed on CD or played on the radio; however, the algorithm is not designed to master your tracks optimally analog media, such as vinyl, as analog media may require additional subtleties. But this is exactly the same with studio mastering.
Beat / After uploading the music, the genre and various audio parameters can be selected. What influence does the selection of the genre have on the sound?
Phillippe / The different genre settings are empirical values, which the AI is constantly improving through "Deep Learning". While the focus in hip-hop, for example, is on clear lyrics and fat basses, the setting for classical music ensures that a coherent overall picture is created in which the individual instruments are easily recognizable.
Beat / How do you find the optimal settings for the sound parameters (volume, warmth, bass, mids, treble, stereo widening)?
Phillippe / Of course, it helps if you already have an idea how the final track should sound and set the genre and parameters accordingly. But since you can go back and forth between the settings and the previews endlessly and free of charge, and since creating new previews per track takes only 5 minutes on average, it is worth trying out different settings until the sound meets your expectations. You only have to pay for the mastering when the final, mastered WAV file is requested.
Practical Test: How Does Instant Mastering Sound?
We have tested iMusician Instant Mastering and show you three songs from different genres in direct comparison. Which settings led to the best result? What are the technical characteristics of the results? Get your own impression and listen online to the mixdowns and mastering results.
Paul Marx: Ideas for 100 Lifetimes
This hip-hop song depends on atmospheric pads and loud vinyl drums. The deep voice is in the foreground and is carried by a mix with high stereo width. To support the dark sound, I set the warmth sound parameter to +1 in Instant Mastering. The resulting sound is authentic and brings out the sound of the mix; however, the loudness range of 5.29 LU seems quite dense and takes away a bit too much dynamic from the song overall for my taste.
In addition, different frequencies in the low mids seem a bit overemphasized, probably due to the increase of the warmth parameter. This could be counteracted in the mix by using a dynamic equalizer at the problem frequencies, for example. Overall, the mastering sounds wide and punchy, the transients have been well preserved and make the drums appear full and present.
Mastering-Style: Hip Hop / Funk / Rap
Adapted Timbres:
Peak: 0
Volume: 0
Bass: 0
Warmth: +1
Center: 0
Stereo Widening: On
Average Loudness: -9.74 LUFS
Loudness Range: 5.29 LU
True Peak: -0,33 dB
Result: 4.5 / 6
Mario Schumacher: Black Hole
In this track, dry, smacking drums meet dark and atmospheric synths in a driving beat. In the arrangement, interesting highlights are set with swooshes, noises and synths, which make the high frequency ranges very dynamic. In Instant Mastering, an increased volume setting resulted in a round and powerful sound, which makes this track sound very consistent. Drum transients are still very present, while bass and pads are emphasized in a wide sound.
Overall, however, the mastering loudness of -6.65 LUFS is far above the recommended loudness values on common online music platforms. The dynamics are also correspondingly limited in the result. Experimenting with the treble parameter has shown that the dynamic treble is emphasized too much in the neutral position, but a setting of -1 has an unfavorable effect on the other passages, which sound too dark in this case. Here, too, you could counteract with dynamic high-shelf filters in the mix.
Mastering-Style: EDM / Dance Pop
Adapted Timbres:
Peak: 0
Volume: +1
Bass: 0
Warmth: 0
Center: 0
Stereo Widening: On
Average Loudness: -6.65 LUFS
Loudness Range: 4.46 LU
True Peak: -0.1 dB
Result: 4 / 6
Marco Scherer: Trickster
This Dubstep track is very dynamically arranged and puts Instant Mastering to the test with its long, quiet intro. The arrangement in the second part of the track is dominated by bass and dense drums, supported by a loud and powerful mix. To keep the dynamics, I set the Volume parameter to -1.
The result exceeded my expectations: The dynamics were very well preserved with a loudness range of 11.41 LU. Quiet and loud passages are well balanced and the overall loudness of -11.52 LUFS looks optimal. For my taste, only the kick- drum could be worked out a bit better in manual mastering.
Mastering-Style: DnB / Grime / Dubstep
Adapted Timbres:
Peak: 0
Volume: -1
Bass: 0
Warmth: 0
Center: 0
Stereo Widening: On
Average Loudness: -11.52 LUFS
Loudness Range: 11.41 LU
True Peak: -0.31 dB
Result: 5 / 6
Good Preparation Pays Off
Tests have shown that high quality mixes in Instant Mastering really pay off. In particular, resonances that may still be present in the mix cannot be eliminated by the algorithm and should be given extra attention during mixing. The stereo widening in Instant Mastering sounded natural and high quality in any case. Furthermore, adjustments in the sonic parameters have a quite strong effect on the result and should be used sparingly. The results often showed fairly high loudness and low dynamic range.
Here, adjustments to the volume parameter of -1 and 0 led to the best results. All in all, iMusician Instant Mastering has always produced a high-quality sound and solid overall impression. The service is highly recommended for both be- ginners and advanced producers.
Studio Mastering
What do Mastering Studios do?
What justifies the price of hiring a professional Mastering Studio? In this article, the mastering team of MeinHomestudio.de gives you an insight into the capabilities of a professional Mastering Engineer. Learn how to make the best use of revisions, what creative possibilities professional mastering offers and why fixed guidelines do not always lead to the best result.
Whether on CD, in a music video or in a playlist: your song usually has only one chance to impress your listeners. If the first impression is not right, your song will never end up in the listeners' personal music collection. And herein lies the dilemma of self-mixing: After many hours of mixing, you have played the song a hundred times and lost your ob- jectivity. It becomes almost impossible to hear the song the same way as someone who is discovering it for the first time.
For this reason, in professional productions there are often at least two people who shape the sound of a song: The Mixing Engineer and the Mastering Engineer. Even if you mix your music yourself, an external Mastering Engineer can often significantly improve the sonic quality of your song. But what are the advantages of working with a Mastering Studio?
We work together as a mixing/mastering team in all common genres. Let us give you an insight into the advantages of using a professional Mastering Studio. Sound samples and further mastering techniques await you at www.meinhomestudio.de/mastering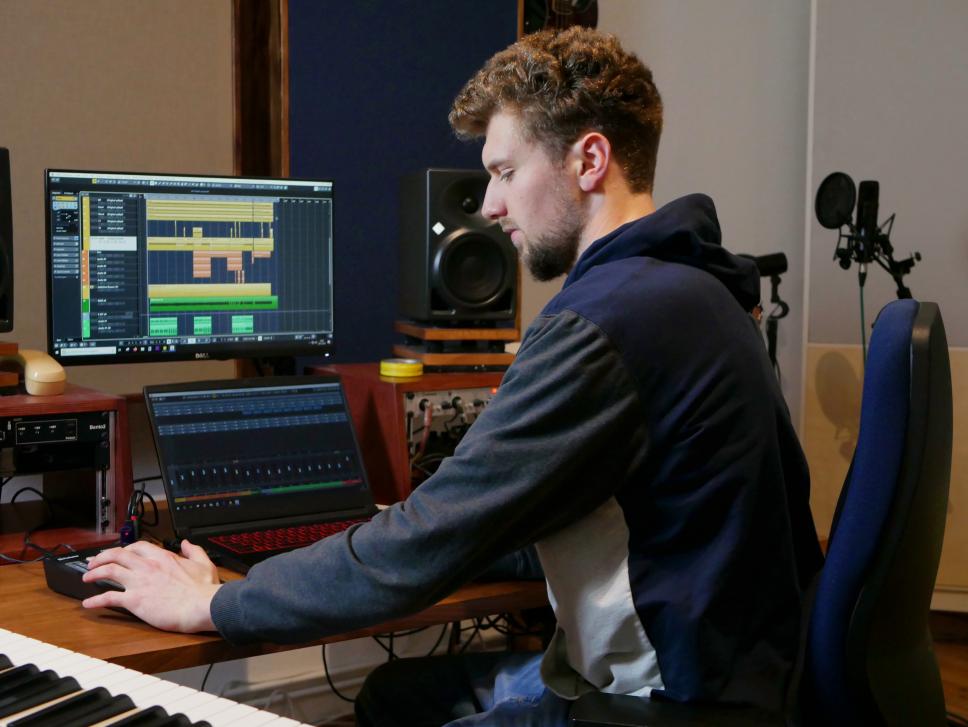 Robert Kade: There's No Arguing About Taste
The creative part of Mastering is often underestimated. Besides fulfilling the technical objectives, the Mastering Engineer has numerous opportunities to change the character of individual instruments and the overall effect. For example, the drums may sound fuller, the bass may be more prominent, or the vocals may form a more harmonious unit with the instrumental. There is no such thing as "The Perfect Blueprint" for a song. Different Mastering Engineers will also achieve different results in terms of design. The subjective decisions of the Mastering Engineer can sometimes differ from the artist's taste. To compensate for this, we usually use revisions. During the revision process, we consult with the producers and artists and incorporate your wishes and suggestions into the final processing.
Wolfgang Liebig: Contrasts Unfold to Their Fullest Effect
In Mastering, my goal is to make each track sound the best it can be and to strengthen its character. For me, the character of music is largely determined by the play of opposites - large and small, delicate and powerful, wide and narrow, hard and soft, airy and dense. I often start with such contrasts and amplify them by means of automation. If a chorus is to stand out from the verse as particularly large and powerful, it makes little sense to make the entire track "fatter" across the board. This would tend to reduce the difference between chorus and verse. If you want everything to sound "larger than life", you are gambling away the possibility of being able to add another one. Rather, therefore, I rely on shaping the contrast. For example, the chorus can benefit from an increase in bass and become much denser, while the verse may even be a bit narrower compared to the original mix and may be marked by more lively transients. I then write corresponding automations smoothly over the entire track, creating an organic whole in which the technical intervention goes unnoticed.
Matthias Basedow: The Sweet Spot Between Dynamics and Loudness
What actually happens to the dynamics of a mix when we "make it loud" during Mastering? We raise the level and eventually drive it louder into the limiter at the end of our Mastering chain. The more input, the more level peaks exceed the defined ceiling in the limiter and are massively compressed. The difference in level between the quiet and loud parts of the song becomes smaller. It is, therefore, hard to avoid that loud mastering is always accompanied by a higher loss of dynamics. But louder does not always sound better. For the Mastering Engineer, it is, therefore, one of the most important tasks to find the individual sweet spot between dynamics and loudness for each song. Depending on the genre, tracks from the electronic world often tolerate more dynamic restrictions than acoustic tracks. For example, an EDM track for the club can be quietly dense and loud, while a singer-songwriter performance can only sound open and lively if enough dynamic range is left. On the other hand, there are loudness guidelines from music streaming and download platforms that should not be ignored. All of this needs to be taken into account when we maneuver a song into its sweet spot area that fits the sound and its musical mood.
Is My Song Ready for Mastering? Ask the team from MeinHomestudio.de: As a Free Member on MeinHomestudio.de, you can get professional, personal feedback on the status of your mix for free.
Want more? Get more!
Subscribe to the digital edition of BEAT Magazine via Plugins-Samples.com and get more gear, in-depth workshops, reviews and 11 GB exclusive plugins and new sounds with every monthly issue!
Subscribe to Beat Magazine for only 4.99€ per month