Guide: The 4 phases of production
How AI brings more time & fun
Loved by some, hated by others: Artificial intelligence is a double-edged sword. It's actually great when idle tasks and time-wasters are taken over by an automaton. On the other hand, music is such a creative process with human results that a machine as the author seems downright absurd. That's why we've divided the development of a production from the idea to the release into four sections and show you how the AI can help you in each case. Pick a problem area, use the tools provided and stay in the flow. In the end, you'll have more time to enjoy the sound!
Making the mix rumble
Mixdown and mastering in particular can be hurdles when you're at war with compressors, EQs and limiters. That's where helpers that promise the "ultimate mix" and "unlimited pressure" come in handy. That's why in phase 3 we'll show you not only the best tools for getting a mix into shape, but also how to use them so they don't make things worse.
Jump start for inspiration
It doesn't make sense to let the AI design a track completely. But if your creativity falters or you're running out of time, there are handy helpers that can jump-start the flow so that the flow doesn't come to a standstill right from the start.
From loop to track
The well-known problem: The beat is there, an idea has been found, maybe even the hook for the whole song. But anything beyond the infamous 8-bar loop just won't work. That's why in phase 2 we'll show you some clever tools that will help you turn a loop into a basic framework for a whole track faster. There's still work to be done afterwards, but the uncreative part of moving clips and blocks is significantly reduced.
The perfect picture to the sound
Midjourney... ever heard of it? The "drawing artist" is celebrated on social media, as it "paints" complex works of art in seconds, which only require a few keywords as instructions. The results are truly impressive and could be used as artwork for a release. So in phase 4, we'll show you how to convert your sound into an image form using Midjourney and Stable Diffusion to give your release the visual impact it needs.
Phase 1: Beatmaking
Jump start for inspiration
It doesn't make sense to have a track completely designed by algorithms, no matter how clever they are. But if you're feeling creative or running out of time, there are tools that can help you get started, so that the flow doesn't stop right at the beginning. The tools for phase 1 shown on the following pages will help you find sounds and chord progressions, create grooves, and also help you with vocals.
Algonaut Atlas 2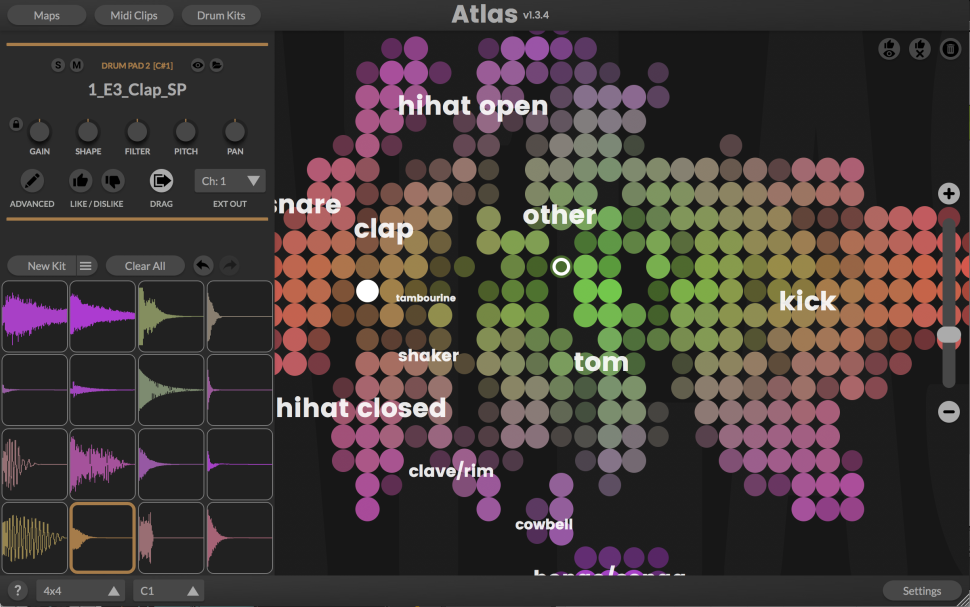 Atlas presents itself in a sober look with drum pads and the so-called sample map, which consists of countless points, each representing a sample. Depending on the type of sample, its color will be different, predefined terms like clap, snare or kick help with the overview. New kits can be created quickly and without the hassle of digging around in the browser, because if you are looking for a snare, they are literally all in one place.
If that is not fast enough, click on "New Kit" and - this is where the AI comes into play - Atlas itself searches for samples to fill the kit. The previously loaded categories, however, remain intact. Where there was a kick before, a new kick is selected at random. The selection of the samples can also be rated with a like or dislike, which influences the selection of the algorithm for the next new kit.
The real strength of the step sequencer is once again in the artificial intelligence. In this way, either individual tracks or the entire pattern can be automatically varied slightly or completely re-rolled.
Atlas is a practical, easy-to-use drum sampler that focuses not on endlessly variable sound design, but on finding sounds and creating drum kits at lightning speed. Atlas 2 is hard to beat as an inspirational and incredibly fast generator of grooves and ideas.
www.algonaut.tech | 99 US dollars | Win, Mac
Audiomodern Playbeat 3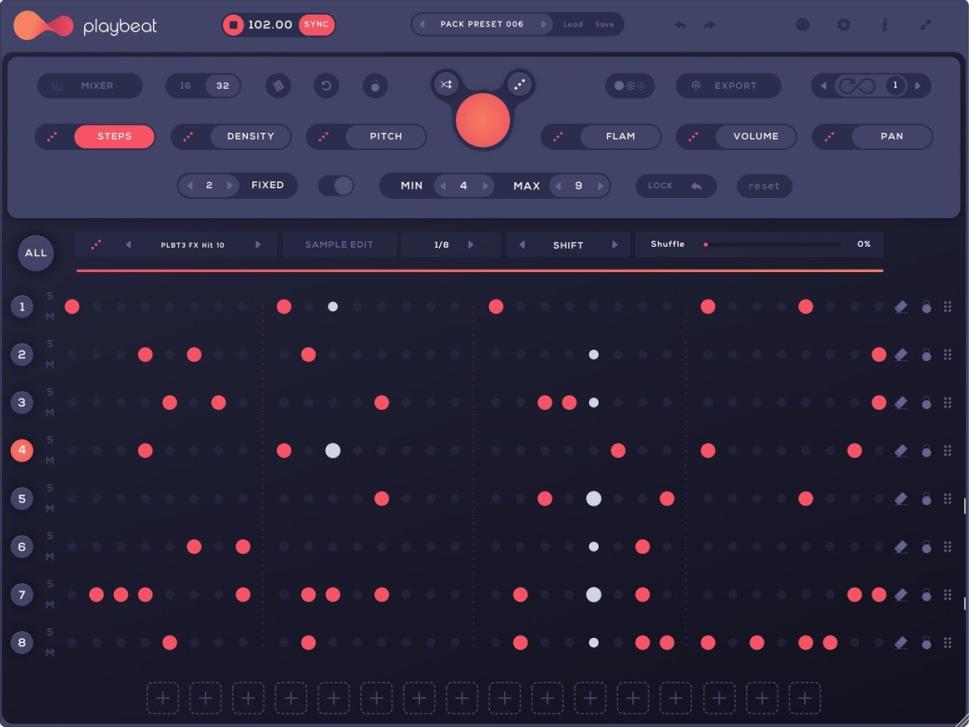 Playbeat is a groove randomizer with four tracks, into which you can load any sample via drag & drop or via the browser. It doesn't have to be drums or percussion, you can also create exciting grooves with other short sounds. The starting point of each sample can be adjusted. Each sample has its own sequencer track with up to 16 steps. For each step you can set whether the sound is triggered and in which pitch and volume it is played. If you click on the big cube, Playbeat sets these values randomly and creates independent beats.
The random function can be applied to all or selected tracks. In addition, the range can be limited, e.g. to 5 steps per track with a pitch from C2 to C3 and a volume between 67 and 127. Step, pitch and volume can be randomized individually and excluded from the global random function.
A loop function changes the groove after a selectable number of runs and thus provides variety. Successful variations can be stored and recalled without detour in the lower area. Shuffle and an adjustable time grid are further functions.
Playbeat allows you to create random grooves quickly and convinces with intuitive operation and musical results. An all around inspiring tool.
www.audiomodern.com | 69 Euros | Win, Mac
Sononym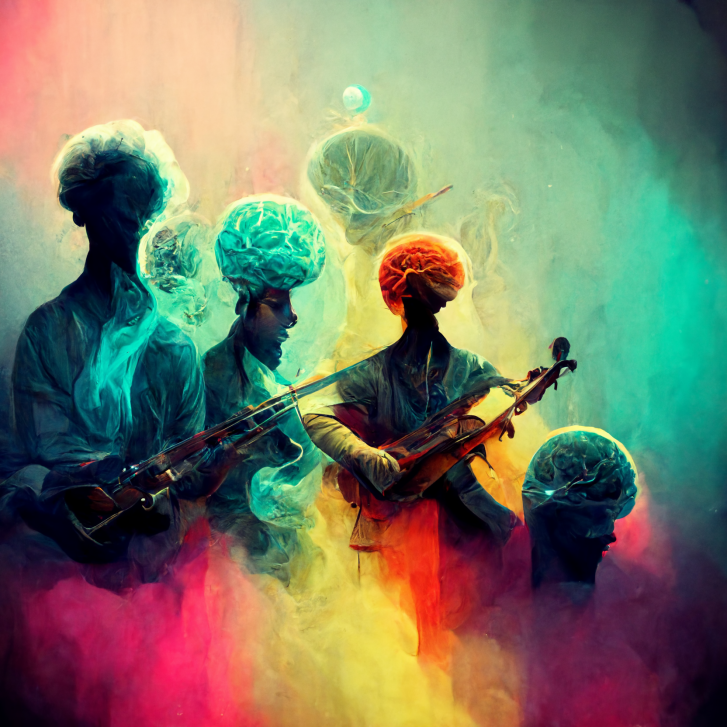 With the sample finder Sononym, samples do not only consist of static numbers for volume and length, but they are subdivided according to brightness, harmony, noise, spectrum, tuning and pitch. These properties can vary over the length of the sample, because a sung melody, for example, does not simply contain the pitch C3, but the complete melody is analyzed. The same applies to groove, volume and the other properties. Accordingly, Sononym can find not only samples that also have C3 as their fundamental pitch, but those that contain a similar melody to the original. Or a comparable groove, the same tuning and so on.
The technology works impressively well. Simply select a sample and seconds later all comparable samples in the library will be listed. The focus of the search - melody, mood, etc. - can be changed as desired and defined continuously from 0 to 100%. It is also possible to record sounds as a search template. A rhythm can be "sung" with the microphone and the app will provide rhythmically appropriate loops and samples.
With Similarity Search, Sononym has a truly extraordinary feature that works impressively reliably and makes almost every manual search for sounds obsolete. No other program finds really comparable samples so quickly, so a big compliment to the developers.
www.sononym.net | 89 euros | Win, Mac, Linux
Favourite tools for creative boost by Beat author Marco Scherer
Sometimes it's as if it's bewitched: Despite thousands of presets and samples without end, you always get stuck and can't come up with an idea. In such cases I have to use my secret weapons: Synplant and Permut8, both from Sonic Charge , as well as Loom 2 from AIR Music . Both synths offer generators for random sounds for desperate or experimental moments. Others can do that too, but usually with complete chaos as a result. With Synplant you simply select "New Random Seed", with Loom 2 you press the RANDOM button in the upper right corner. Tip: Hold SHIFT to only vary the current sound.
With Permut8, on the other hand, (almost) anything is possible anyway thanks to various firmware ROMs. My favorite of them is the Reciter: a language module in finest Atari style (there's another tip on that later, by the way).
3 ways to maximum emotion in 10 seconds
1 Dramatic chords
Ever faltered in search of new ideas? Okay, rhetorical question, it happens to us all the time anyway. The solution: Visit the EPIC Online Orchestra website , click on one of the examples and export the chords as WAV and MIDI files for use in your DAW. This gives you a super base within seconds.
2 Prefer arpeggios?
If you're not in a hurry, listen to the available chords above and arrange your favorites into a progression below until the result is coherent. But to make sure the results don't always sound like an orchestra, load one of the MIDI files onto the track of a synth with arpeggiator and it'll be a trance hookline in no time.
3 Or Hip-Hop style?
If you don't mind orchestras but want to be more creative with them, load an exported WAV file into a sampler that can slice and set a slice marker for each new chord. Now connect a controller with 16 pads and record not only new chord sequences, but also rhythmic patterns.
www.epiconlineorchestra.com; www.soniccharge.com; www.airmusictech.com
Hands-on: How to get vocals without a singer
Crypton Future Media Hatsune Miku
Hatsune Miku's performances are among the most spectacular the music industry currently has to offer. Accompanied by a perfectly rehearsed band and embedded in a maelstrom of special effects, the 16-year-old puts on a performance that fluctuates between hard metal passages and sweet pop moments. As if it were part of the choreography, the audience waves the glow sticks, screams along with the lyrics and is thrown into a collective frenzy of joy. One already knows the radical breaks in style and the anime-like aesthetics from other Japanese acts like Baby Metal. But Miku makes even these look old-fashioned.
The most insane thing about the performance: Hatsune Miku doesn't exist. At least not in physical form. Her body is projected onto a huge glass wall, her voice comes from a speech synthesizer, and it's available as software for everyone!
Creating dream vocals artificially is something Yamaha has been pursuing since they introduced their first speech synthesizer in 1998 with the FS1R. In 2003, the software Vocaloid followed, which is now available in version 5. The singer library Hatsune Miku is now also available in its fourth generation - after its debut in 2007 and the Append version in 2010 - and is delivered with an extensive bundle.
Hatsune Miku has a bright, innocent voice that sounds futuristically modern. Using Gender Factor, it can also be made into a cheeky child's voice, for example. Simply entering lyrics and melody led to rather sterile results in our case. However, if you invest a little editing time, you can achieve good and relatively lively results that are ideal for electronic projects, as background or vocal part demos. However, they are no substitute for real singers.
The included tools even allow complete arrangements in addition to programming Hatsune Miku. Small compromises in the operation fortunately do not prevent the user from creating good-sounding and even polyphonicvocal arrangements with a little effort.
The manufacturer puts together a package here that is worth its price:
www.bestservice.de | from 139 euros | Win, Mac
Want more? Get more!
Subscribe to the digital edition of BEAT Magazine via Plugins-Samples.com and get more gear, in-depth workshops, reviews and 11 GB exclusive plugins and new sounds with every monthly issue!
Subscribe to Beat Magazine for only 4.99€ per month