New: Pages
Studio One 4 and earlier had three pages to work from: The Start Page, Song Page and Project Page. The Start Page is where you configure audio interfaces, the artist profile, and open songs and projects. The Song Page is for recording, production, and audio/MIDI editing. The Project Page (in Studio One Professional only) is where you can master your tracks once they are finished.
In Studio One 5 (Checkout in the Thomann shop) there is a new page called the Show Page. This is a feature for performers to play their songs live. The- re's a setlist on the left side of this page. Here you can add, delete and modify song names; and drag-and-drop songs into a different order. This page also shows the song playback mode (continue, stop at end, loop), timeline start position, song length, time and key signatures, and the length of pause before a song starts.
There's also a Players list showing each input track that can be different for every song. It shows backing tracks, live audio inputs, and virtual instruments used in the song. Macros in Controls view can be mapped from any parameters to your hardware controller (i.e. transport controls, Player volume, effect sends, and anything else). This mode is the heart of a live performance rig.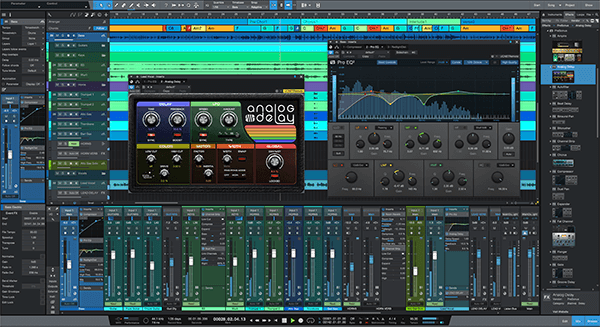 Arrange Features
Studio One 5 has some important features for composers, too. The biggest arranging feature is the Score Editor. Before version 5, composers had to use another product for traditional notation – like PreSonus' Notion or Sibelius or one of many others available. With the Score Editor, you can see multiple tracks of notes simultaneously in standard notation. There are a few notation tools available including notes, rests, recor- ding modes and actions. The Action Menu allows you to transpose, switch staff (from upper to lower staff and vice versa), fill with rests, and make tuplets.
The Inspector lets you choose a track from a drop-down menu, auditi- on notes, mute/solo, set default veloci- ties for new notes, and has basic music symbols for articulations and dynamics. These include accidentals, glissando, ties & slurs, trills and more. You can enter notes in any of the editors in different ways: add/remove notes with the Paint tool, use a mouse/keyboard combina- tion or, of course, real-time record mode. Unfor- tunately, you can't print sheet music from Stu- dio One, but using the Score Editor alongside PreSonus' Notion, you can create lead sheets for session musicians and print them very quickly.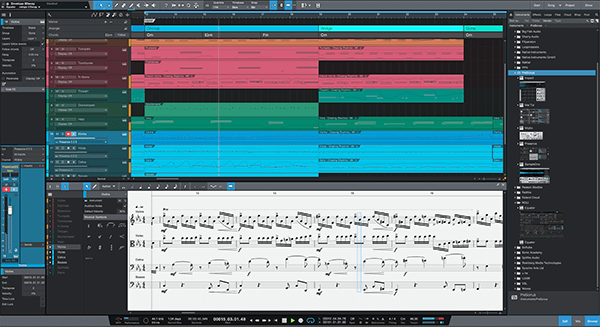 More Cool Stuff
Studio One 5 also adds several new recording, editing and mixing features including:
Clip Gain Envelopes: Now it's possible to draw in custom gain envelopes for each clip. In previous versions, you could only do this with au- tomation. Native Effects Are Updated or New: All built-in effects have been overhauled with more modern interfaces, including light & dark mo- des. That have also been enhanced for better performance and sound quality. Several of the plug-ins, including the Analog Delay, now have a drive stage with State Space Modeling that gi- ves them even more analog character. Several other plug-ins now have an external sidechain input. ProEQ even got a refresh with a 12-octa- ve analyzer, phase-linear low-frequency EQ, ad- justable meter range and input/out meter dis- plays. Extended Mixer Scenes: Scenes allow you to save/recall snapshots of different track/mi- xer configurations with completely different ef- fects, volume and panning, varying send levels and more, so you can try alternate mixes or unique effects chains in your song without changing the original configuration. Tracks can also be hidden or shown as part of a scene...and you can decide exactly what elements you want to recall such as volume, track visibility, mutes, panning, inserts, cue mixes and sends can all be recalled (or not) as you desire.Articulations/Key Switch Editing: Asi- de from the compositional tools I already mentioned, composers will also benefit from the ad- ded key switch support. Key switches can now be edited in Instrument parts. There's also a key switch mapping editor that makes using key swit- ches very flexible.
MPE/Poly Pressure Support: For me, it was a huge sigh of relief to hear that PreSonus has added MPE & poly pressure support, as I'm a long-time user of Roli products like the Seaboard RISE and their BLOCKS modular controller system. Anyone using any of these or similar products will have much greater creative control now Studio One 5.
And More: Here are a few more features of Studio One: groove extraction, hi-resolution note editing, multi-track MIDI editing, multi-track drum editing, a MIDI input filter, an input mixer, layers & takes for comping, OpenAIR convolution reverb, IR maker (for making your own reverbs in OpenAIR), a new listen bus, macros, the marker track, Melodyne Essentials, mix FX, multi-ins- truments, the Pattern Sequencer, tools to publish and distribute your finished songs, Scratch Pads – the list goes on and on.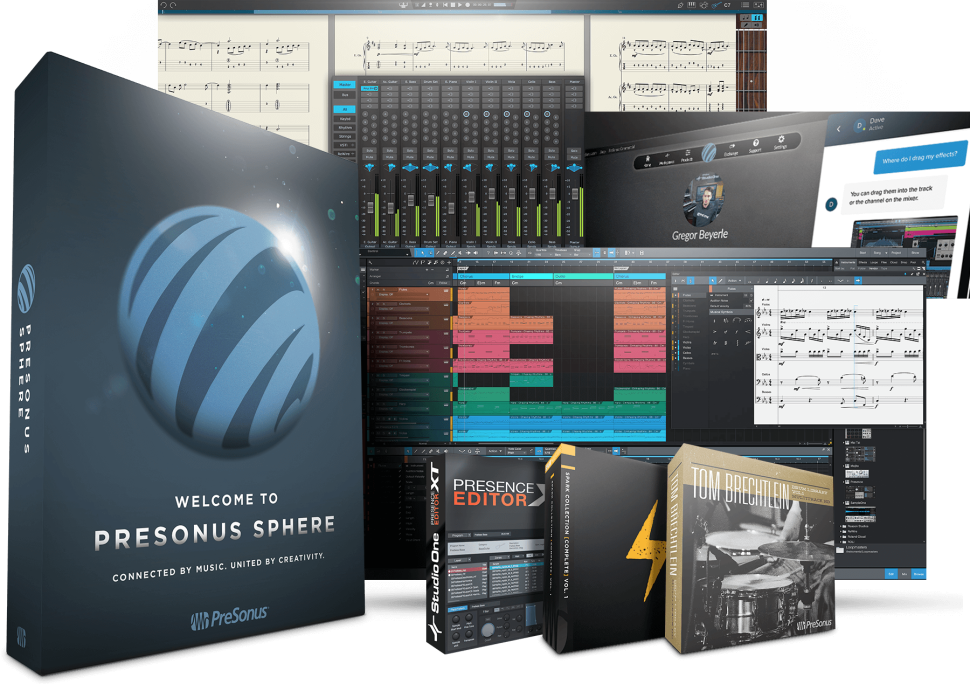 PreSonus Sphere
PreSonus have also just release Sphere – a membership giving musicians and producers access to the world of Studio One. With the monthly subscription price, users can get Studio One (even the Pro version), Notion, every add-in that exists and every sound library offered in PreSonus' online shop. What does that mean exactly? There's a large number of sample and loop libraries for Studio One's Presence XT sampler and Impact XT Drum module, as well as the Ampire XT guitar amp/fx plug-in, several beautifully modeled boutique com- pressors and equalizers in the form of their Fat Channel plug-ins, and expansion instrument libraries for Notion software. Additionally, Sphere offers 30 Gb of cloud storage for backing up your projects (and sharing them) and offers scores of 3rd party plug-ins and instruments to keep you busy. There are over 100 add-ons you have access to with Sphere that will enhance your Studio One experience. And there's also collaboration tools for working with others around the world (especially important in this time of social distancing).
Membership is only 12,65 Euro monthly or about 165 Euro annually and, as long as you have a membership, you keep the software and sound libraries. Considering that Studio One Professional costs about 389€ alone – and Sphere gives you Studio One Pro and Notion and all the other sounds and plug-ins that would cost several hundred euro more on top of that – it seems like Sphere might be the best way to become a Studio One users... especially if you're on a budget.
Verdict
All of these fantastic additions and refreshes make it hard to ignore Studio One as a serious challenger in the DAW race. Historically, there was only one workstation completely dedicated to live performance, and only a couple of work- stations that were really focused on tools and workflow for traditional composition. With Studio One 5 (Find the product in the Thomann shop), PreSonus has ensured their all-in-one DAW is firmly positioned to become the pace car for all others to follow. The subscription model is a great way to get started if you're on a budget.
Want more? Get more!
Subscribe to the digital edition of BEAT Magazine via Plugins-Samples.com and get more gear, in-depth workshops, reviews and 11 GB exclusive plugins and new sounds with every monthly issue!
Subscribe to Beat Magazine for only 4.99€ per month