According to the manufacturer, the Statement was developed on the same high level as their bass synth Monoment Bass, but in this case for lead sounds. In order to get the very best sound sources for Statement, Softube has sophisticatedly recorded and processed the sounds of rare and expensive hardware synthesizers, and just like Monoment, it has built-in effects of supposedly the highest quality.
These effects are designed to make it easy to fine-tune, create space, add clarity and further shape your lead sounds. These effects include Drive, Reverb, Delay, Multiband Compression and Spatialization. The effects are designed for polyphonic synthesizer lead sounds with the same excellent quality as Softube mixing plug-ins.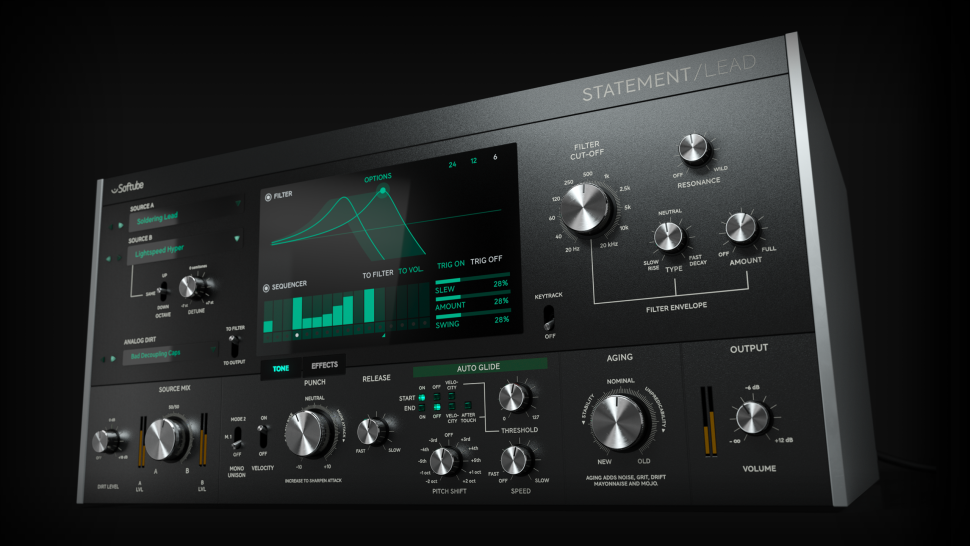 In addition to the effects, Statement Lead comes with created presets. There are no fillers - the effects are good and a perfect starting point. According to Softube, it is now easier to dig deeper and start fine-tuning until it is exactly the sound you have been waiting for.
Statement Lead is designed to inspire producers and songwriters to make a statement. The tool is said to be the lead synthesizer for creating hit songs that sound polished and finished without complications.
Features
- A 5-octave polyphonic synthesizer for lead sounds with organic, analog feel
- Sound quality through careful recording of rare, expensive hardware synthesizers
- Songwriting tool for EDM, Drum & Bass, House
- User-friendly interface and over 150 carefully designed presets
- Lead sound is the counterpart of Monoment Bass, with the same type of interface and similar features.
- The 90 sound sources can be used in pairs to enter the foundation of the sound.
- Analog sounding filter with its own modulation sequencer
- Advanced Auto Glide for creating organic sounding analog sounds
- Analog Dirt function: adds grain for a richer or dirtier sound
- Aging function for less stable pitches, more unpredictable attacks and even more dirt and grit Price and availability
The Statement Lead is currently available at a price of 89 Euro. Further information on this and other topics can be found on the manufacturer's website.
Want more? Get more!
Subscribe to the digital edition of BEAT Magazine via Plugins-Samples.com and get more gear, in-depth workshops, reviews and 11 GB exclusive plugins and new sounds with every monthly issue!
Subscribe to Beat Magazine for only 4.99€ per month