Description
The Platinum Plus Plan brings you 12 issues of Beat Magazine in English and German language, including its monthly software downloads (Studio Packs).
Plus a subscription gift of your choice. Find all currently available gifts here.
The magazine eBooks contain gear news, reviews, workshops and tutorials on music production, audio interfaces, studio setups, recording, vocals and everything that belongs to the cosmos of musicians and djs.
The exclusive software downloads brings you one commercial plugin totally free every month. Plus the latest VST/AU instruments and effect plugins for Windows, macOS and Linux, as well as WAV loops & samples, plus one soundbank for our free Zampler//RX workstation and an expansion for Akai MPCs.
Find issue 8/21 as an example: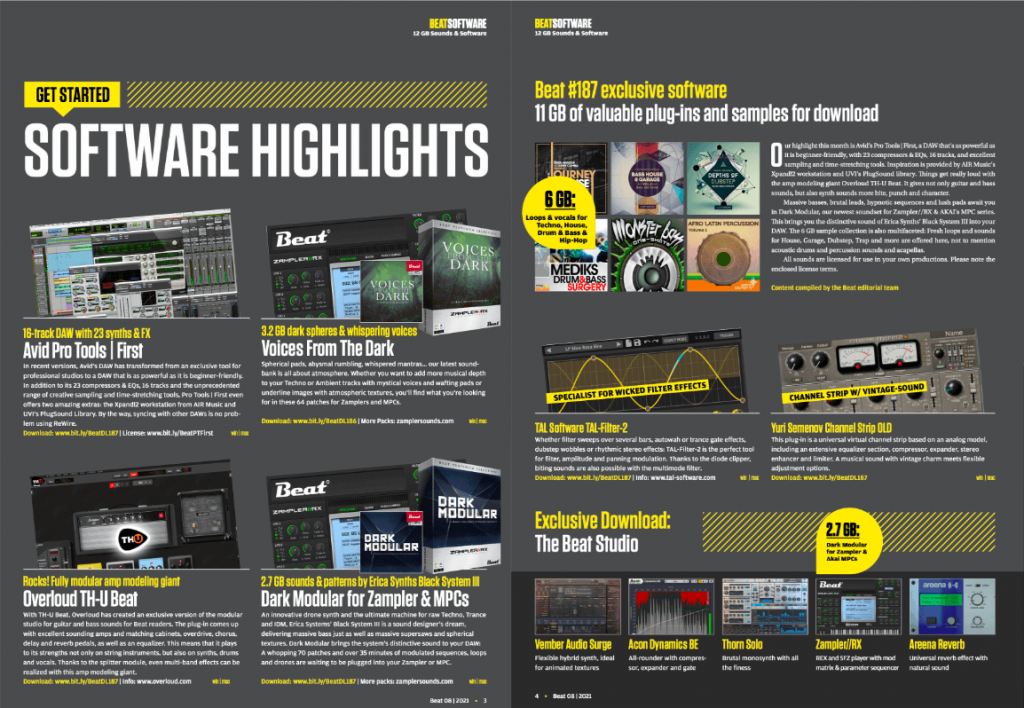 Unrivalled sampling: Avid Pro Tools | First incl. 23 synths & FX
In recent versions, Avid's DAW has transformed from an exclusive tool for professional studios to a DAW that is as powerful as it is beginner-friendly. In addition to its 23 compressors & EQs, 16 tracks and the unprecedented range of creative sampling and time-stretching tools, Pro Tools | First even offers two amazing extras: the Xpand!2 workstation from AIR Music and UVI's PlugSound Library. By the way, syncing with other DAWs is no problem using ReWire.
Rocks! Fully Modular Amp Modeling Giant: Overloud TH-U Beat Edition
With TH-U Beat, Overloud has created an exclusive version of the modular studio for guitar and bass sounds for Beat readers. The plug-in comes up with excellent sounding Amps and matching Cabinets, Overdrive, Chorus, Delay and Reverb pedals, as well as an EQ. This means that it plays to its strengths not only on string instruments, but also on synths, drums and vocals. Thanks to the Splitter Module, even multi-band effects can be realized.
2.7 GB sounds & patterns by Erica Synths Black System III
An innovative drone synth and the ultimate machine for raw Techno, Trance and IDM, Erica Systems' Black System III is a sound designer's dream, delivering massive bass just as well as massive supersaws and spherical textures. Dark Modular brings the system's distinctive sound to your DAW: A whopping 70 patches and over 35 minutes of modulated sequences, loops and drones are waiting to be plugged into your Zampler or MPC.

Top Ten Sounds: Make your songs go viral!
Most of the acts on Spotify and TikTok are already known, but many newcomers are also starting out here. The recipes for success for a hit are the same as ever: a catchy melody, distinctive vocals, a gripping groove and musical hooklines. But what can be learned from the big hits – whether for underground or high-gloss pop? And how can you recreate the sound of the hit guarantors? In our huge feature we reveal the songwriting, groove and sound secrets of the hits and reveal how you can reach a larger audience on streaming portals.
Extra-feature: Producer schools and courses
Anyone who produces music usually has several roles: composer, songwriter, mix and mastering engineer, remixer, sound designer, etc. The required know-how is correspondingly broad. To acquire this knowledge, courses and schools are of great help. The offer ranges from universal courses to DAW and genre-specific tutorials to videos that are dedicated to specific tools or topics (such as compression, equalizing or remixing). But which offers will really get you ahead? Beat helps out with concrete guides and recommendations.